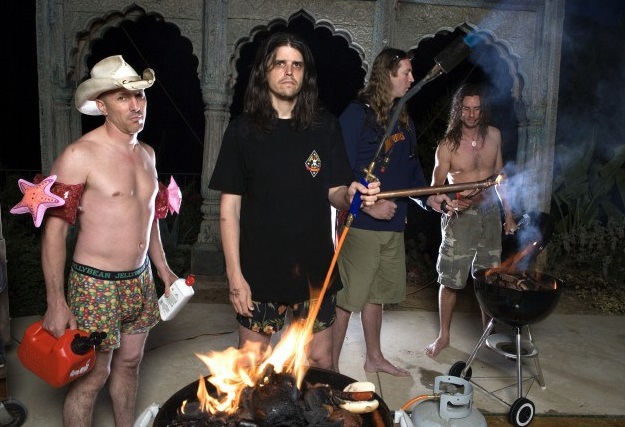 In 2006, I was fairly certain I could sooner have a beer with Bigfoot than land an interview with Tool.
While the band dropped its mysterious shroud for international music publications like Rolling Stone and SPIN, it was rare for the guys to speak to every daily newspaper along the latest tour route. That grip of secrecy loosened a bit over time, but in 2006 — after multiple attempts — I still considered it a victory to finally score some Tool time.
On the eve of a reported new album and a current tour that stops in Austin and Houston March 24-25, I asked my former San Antonio Express-News editor Robert Johnson to crack the vaults and dig up the Tool. Welcome to the dark side …
By David Glessner
Special to the Express-News
The progressive alt-metal rock band Tool has a wrench in the gears when guitarist Adam Jones finally calls from Calgary, Canada.
"We've been touring through Japan, Korea, Hawaii and now into Canada," he says, while apologizing for calling two hours late. "When we got to Canada, we picked up a whole new (stage production). It's very big and spectacular, but there were a few little bugs to work out so there were meetings about what was working and what wasn't working. I'm kind of running around with my head cut off like a chicken."
Considering Tool's tight-lipped past, a late interview is still a major score. Tool fans apparently feel the same about the band's latest album, "10,000 Days," which sold more than 500,000 copies during its first-week release. Like top-selling predecessors "Aenima," and "Lateralus," "10,000 Days, " is a visual and audio explosion of helter-skelter soundscapes, three-dimensional artwork, pained vocals and sci-fi sounding noises.
"One journalist asked me if I could explain Tool in just one word and I said, 'experimental,'" Jones said. "We start off with a lot of jamming and experimentation. It's four people meeting in the middle of a room and expanding out from there with creativity and arguments, and all the good and bad of the process. It's a very rewarding thing for us."
The resulting rewards will be shared with the band's many fans Tuesday when Tool hammers the AT&T Center for what promises to be a gripping attack on the senses. Joining Jones is eccentric vocalist/showman (and part-time A Perfect Circle singer) Maynard James Keenan, drummer Danny Carey and British bassist Justin Chancellor. Isis opens. It's the band's first area appearance since a 2002 Verizon show.
"One thing I really like about the four of us is we have very different tastes in music, but it's all overly eclectic," Jones says. "We learn from each other. Maynard really loves Joni Mitchell and I'm not really into her, but I listen to some of her stuff and go 'Oh man, that's really cool and this is really cool.' Tool is not four guys who think exactly the same."
Forged in Los Angeles in 1990, Tool has been on the cutting edge of popular music since its inception. At once strangely beautiful, menacing and majestic, Tool is known for its epic, metallic songs, shadowy subject matter and grotesque imagery and videos.
"We've always shot big," Jones says of the "stereoscopic lenses" that allow fans to view magnified and distorted images within the "10,000 Days" packaging. "The four of us grew up in the '70s with vinyl (records). You'd sit on your bed and smoke pot and look at the double gatefold of Yes or whatever album. It was a very visual and stimulating time. With my favorite records, I felt like I was always getting more than my money's worth. That's what we want."
Getting what the band wants comes with a price, Jones says.
"We fight everybody," he says. "We're in this for the long, slow climb and most of the people that are investing money in us, like the record company, they want the fast money as soon as possible. But we don't want to sell ourselves short. As a band, a lot of times, we eat (dirt) on our residuals (in exchange) for better artwork or a better T-shirt or poster or video. When we first started this band, we decided we were going to push the music and not ourselves. It's been a fight all the way."
For those keeping score, Tool is winning the battle. From its early recordings, including the 1992 EP "Opiate" and the 1993 full-length album "Undertow" featuring breakout singles "Sober" and "Prison Sex," Tool has amassed impressive critical and commercial acclaim. From pivotal performances at Lollapalooza '93 and '97 to Grammys for Best Metal Performance in 1998 and 2002, Tool has been plated in platinum for more than a decade.
Part of the appeal, Jones says, is Tool's musical mystique, which invites listener interpretation.
"Oh, absolutely," Jones says. "We could sit there and spoon-feed everyone and go, 'OK, here are the lyrics, this is exactly what the song means, blah, blah, blah' and you still can't connect with everybody. What we like about other music is coming up with our own conclusions. That's why we've always kept our lyrics out (of the album notes) and just let people come up with their own conclusions."
Pressed for insight regarding new songs on "10,000 Days," Jones shines a light on the track "Lost Keys (Blame Hofmann)."
"Hofmann is Albert Hofmann who basically, accidentally, invented LSD," Jones says. "We've done songs about expanding your mind with different kinds of drugs, (but) in a good way. On this song, I'm not quoting Maynard, but he's kind of showing the irresponsible side of doing drugs and having an experience that maybe doesn't have such a mind-expanding result."
If Tool comes off as heavy or pretentious, Jones assures there is a lighter side to the band.
"We take our music and our art very seriously, but we don't take ourselves seriously at all," he says. "It really balances out. People meet us and a lot of times they're very disappointed because we're goofy guys who like 'Caddyshack' and having fun and pulling pranks. I meet fans and you can see it in their eyes that they're disappointed because I'm not some kind of Aleister Crowley guy. I'm a guy just like you. I love '40-Year-Old Virgin' and I've seen it, like, 40 times."
For 2014 Tool tour info, go here.