I never intended to piss off Joey Ramone, but you know what they say about the road to hell. The article below really ripped his leather, but to fully understand all the drama (and my dread), you should first read this. Enjoy at my expense.
RAMONE, LEIGH GETTING A HANDLE ON SIBLING RIVALRY
By David Glessner
The Daily News
Dec. 11, 1994
For punk rock legend Joey Ramone and his brother, Mickey Leigh, Sibling Rivalry is more than just the name of their current musical collaboration — it's a way of life.
"Actually, since this project we have a better relationship now than we had before so I'm happy about that," Ramone said from his home in Manhattan. "There's nothing worse than not getting along with your family."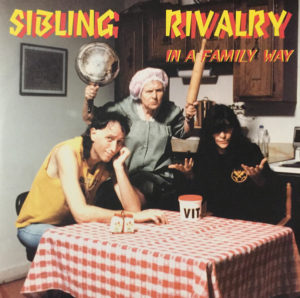 For all its good intentions, Sibling Rivalry's "In a Family Way," released on Alternative Tentacles Records as a CD single and seven-inch vinyl, is more a symbolic truce than a collection of bona fide Ramone-Leigh collaborations. The three featured tracks are obscure oddities.
"See My Way" finds the brothers sharing vocals on a nicely rocked-out version of a Bloodwyn Pig song. "On the Beach" is a 1979 Leigh leftover inspired by a low-budget sci-fi movie. Originally recorded by Leigh and his band the Rattlers, the track features the not-yet-legendary Ramone on backup vocals. It was salvaged from master tapes for this project. The original single is now considered a collector's item. "Don't Be So Strange," the final track, is a bizarre diddy with distorted vocals Leigh wrote in 1988.
"My brother gave me a call about a year ago," Leigh said. "It was kind of his idea to do something like this."
Fans may wonder why the brothers didn't write and release original compositions. In sibling rivalry fashion, it depends on whom you ask.
"It's (record company) politics," Ramone said. "My manager said we were too close to releasing the next Ramones album."
This is news to Leigh.
"He never told me that," he said. "Maybe he was too embarrassed. It doesn't surprise me though. His management has always gone out of their way to not help me."
Leigh contends his feud with the Ramones and his brother goes back to the early 1970s when guitarist John Cummings (aka Johnny Ramone) left Leigh's band to join Joey Ramone.
"We had a falling out and John's the kind of person who's proud to hold a grudge," Leigh said. "He's just a miserable person."
"I have a lot of things that feed my heart, but not my belly. At this point, being Joey Ramone's brother and having a token will get me on the subway." — Mickey Leigh
The feud came to a head in recent years when the Ramones' "Blitzkrieg Bop," a track off the group's 1976 debut, was picked up by Budweiser as a jingle for a television commercial. Leigh claims to have contributed backup vocals on the 1976 track without being compensated.
"I kind of put my brother in the position where he would either have to do the right thing and start trouble with his band or he would screw me," Leigh said. "He screwed me and got mad at me for putting him on the spot. It spilled over into the family."
Ramone is miffed by the accusations, especially considering the band's shoestring budget.
"I never felt I was in the wrong," he said. "When you're making a record, people willingly contribute hand claps and sing a line here or there because they want to help out. Nobody planned on paying him anyway. There was no money. Besides, it's not just me. It was a band decision.
These days the boiling family blood has reduced to a simmer. While Ramone, 42, and Leigh, 39, admit releasing a project as a duo had many healing qualities, neither expects "In a Family Way" to pad their wallets.
"It's really just a one-off thing done in the name of good fun," Ramone said
Having fun has not come easy for the native New Yorkers. The products of a broken home, the brothers endured more than their share of hard knocks while growing up.
"It was definitely not the Ricky Nelson childhood," Leigh said. "My parents divorced when I was five and my stepdad was killed in a car accident."
Not all the memories are bad. Leigh remembers dancing uncontrollably in the basement to Loving Spoonful's "Nashville Cats" with his brother and some friends. He also remembers a more dangerous form of entertainment.
"One thing I'll never forget was when I was four," Leigh said. "I laid down in the yard with my arms and legs spread, and my brother would practice throwing knives or darts. We had some good times back then, but kind of went our separate ways."
Initially bonded by a shared love of the Beatles, the Stones and especially the Who, the brothers drifted apart musically and emotionally during their teens. Leigh took up the guitar and eventually studied music in college while Ramone gave up the drums to concentrate on singing.
Instead of joining forces, the brothers formed their own bands. The Ramones were named after their shared fictitious surname and became known for their sped-up, minimalist musical approach. Leigh was never asked to join the Ramones, but he did spend some time helping the band as a roadie, stage manager and guitar technician, Ramone said.
"I think they thought I was over qualified," Leigh said. "I was the guy who could listen to a Jimmy Page solo and be playing it 10 minutes later. "I think they thought I'd think their stuff was too simple. I like it, but I don't think I would have been happy playing the same thing all these years."
While the brothers went their separate ways, their mother Charlotte Lesher, continued to offer emotional an artistic encouragement.
"My mom was always very supportive," Ramone said. "One time, we had this house and my brother and I had bands practicing in the basement. She was cool with that. My father wasn't too cool with it. They weren't married at the time, but he'd come over and go crazy. He was definitely not supportive."
The brothers' musical careers went in opposite directions. Ramone, of course, is still fronting punk pioneers the Ramones. Though the band has a loyal underground following in the states, the number of fans here pales in comparison to other parts of the world.
"In South America, the biggest bands are Metallica, Guns N' Roses and the Ramones," he said. "Over there, the Ramones are like a religion."
Success not only brought adulation from peers and fans worldwide, it brought Ramone reconciliation with his father Noel Hyman.
"We didn't agree with each other when I was growing up," Ramone said. "Now he wears his Ramones T-shirts on the beach and has a license plate on his car that says ROCKPOP. It's cool. He gets off on it."
Leigh has gained critical success as the leader of Birdland and the Rattlers among other underground New York bands, but hasn't achieved the same commercial success as his brother. His relationship with Hyman is not quite as rosy as Ramone's.
"My father is the first one to jump on the bandwagon now that my brother is successful," Leigh said. "He's afraid he won't get into the next show. The guy's out of his mind."
Leigh remains undaunted by his lack of commercial success. Today he fronts Stop, a three-piece "avant punk band with elements of jazz" that Ramone calls "really good." Leigh makes a strong case for not being handed anything because of his brother's good fortune.
"I have a lot of things that feed my heart, but not my belly," he said. "At this point, being Joey Ramone's brother and having a token will get me on the subway."
Despite their varying degrees of success, Leigh is not bitter or envious about his brother's achievements.
"Believe it or not, I've only felt happy and proud for him," he said. "I've always been sort of rooting for him. He's a cult legend."
"In a Family Way" may be a must-have for diehard Ramones fanatics, but for the rest of the world, it will go unnoticed. The real achievement, apparently, is the peace it brings to its collaborators.
"It's a start," Leigh said. "My mother's really happy me and my brother are talking again. I feel hopeful about the future."
*** To read Joey's reaction to this article, go here.