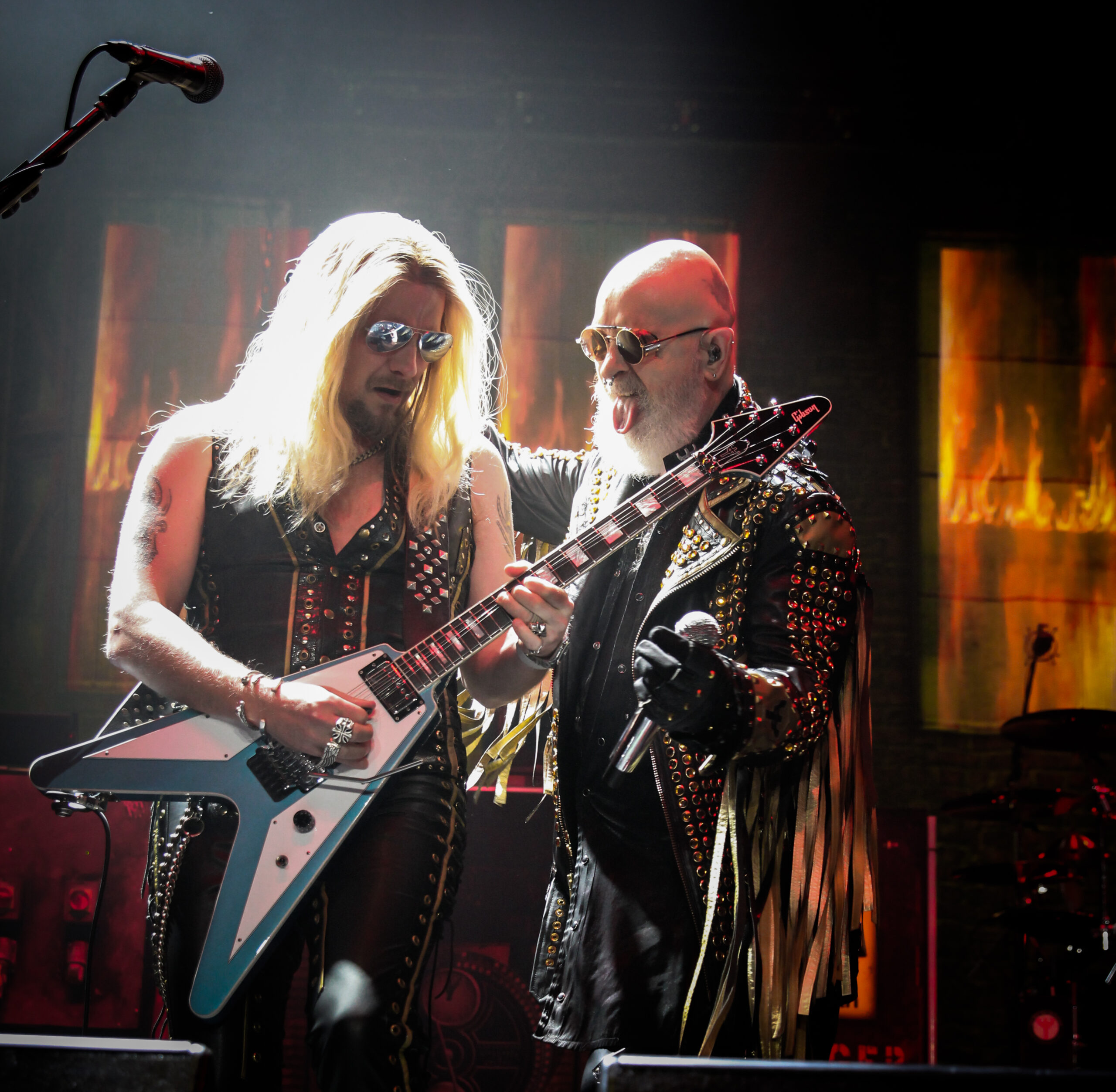 By Metal Dave
Five decades into a genre-defining career, heavy metal gods Judas Priest still hit the stage with all guns blazing.
Resuming the Covid-delayed "50 Heavy Metal Years" tour at the H-E-B Cedar at Cedar Park near Austin on Sunday, the leather-clad titans were clearly re-energized following last September's near-death aortic aneurysm of guitarist Richie Faulkner (he's only 42!); singer Rob Halford's recently revealed bout with cancer; and the public relations backlash resulting from second guitarist Andy Sneap being dropped from the band and then reinstated. Whew!
Emerging beneath a giant lighting rig shaped like a glowing cross (the one that's familiar to Priest fans as the "t" in the band's latter-day logo), the band – rounded out by original bassist Ian Hill and longtime drummer Scott Travis – prowled and pummeled through 1990's "One Shot at Glory" on a stage designed to look like a steam-belching steel mill. "Lightning Strike" from 2018's excellent "Firepower" album followed, and "You've Got Another Thing Coming" locked the crowd in Priest's mighty grip.
The crowd singalong to the piston-pumping "Turbo Lover" proved to be a memorable moment as the houselights illuminated the swaying audience to the obvious delight of a grinning Halford. "Touch of Evil" received another wicked welcome and set the stage for one of Halford's few public addresses when he announced that "Priest has been making metal for 50 years and we couldn't have done it without our fans." The statement was punctuated by "Rocka Rolla," the title track from Priest's 1974 debut album.
At 70, Halford's voice has lost some of its shrill factor, but not one bit of its power. Opting for a lower register but no less of his gale force wind, the singer hunched and clutched his microphone to bark and screech like a man in the fight for his life. "Freewheel Burning," "Hell Patrol," "Victim of Changes" and "Painkiller" were all screamed with vigorous vengeance.
Also of note was "Desert Plains" from 1981's "Point of Entry" album. Memorable to fans for its atmospheric vibe, the song on recent tours has been sped up to ill effect. On this night, it was perfectly paced.
In a set that also included "Blood Red Skies," "Diamonds & Rust" and a crackling "Electric Eye," it was the rumble of Halford's Harley Davidson that brought the crowd to a boil for the timeless metal anthem, "Hellbent for Leather."
Could things get any better? Actually, yes. Cue the surprise introduction of "the master of metal guitar, Mr. Glenn Tipton!" and the joyous eruption that followed as the mostly retired, 74-year-old original Priest guitar hero took the stage (Parkinson's disease be damned) for the three-song finale of "Metal Gods," "Breaking the Law" and "Living After Midnight." Instant bragging rights for all who witnessed.
Opening act Queensryche was a perfect fit on this night made for metal. Original singer Geoff Tate is long gone, but "new guy" Todd La Torre (who is also an accomplished drummer) launched all the signature, moon-shot high notes in a fantastic set that included "Queen of the Reich," "Take Hold of the Flame," "Empire," "Eyes of a Stranger," "Warning" and "Operation: Mindcrime."
At the half-century mark, Judas Priest has nothing left to prove. Fortunately for the fans, the band delivers otherwise.
♦ ♦ ♦ ♦ ♦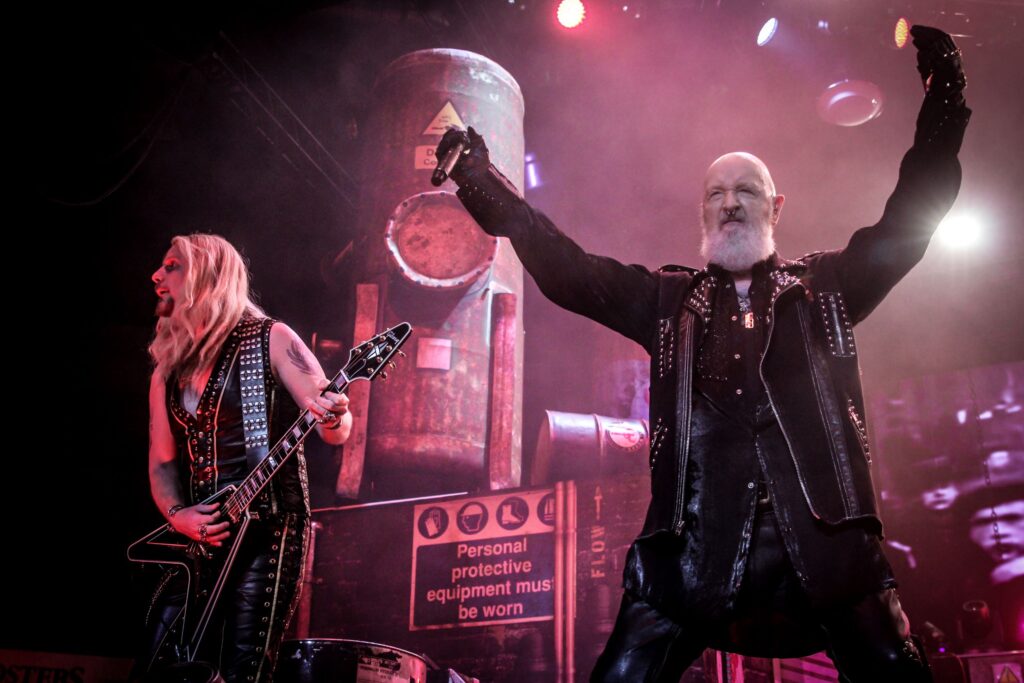 ALL RISE: Faulkner and Halford summon the metal faithful.
(Photo by David Castillo)