I've been a Poison fan since 1986 when I saw the unknown upstarts open for Cinderella and Loudness at Sunken Gardens Theater in San Antonio. Thirteen years later, singer Bret Michaels started making a habit of welcoming me backstage, onstage and anywhere else within reach of some cold Coronas.
According to his publicist, Bret thought we hit it off so well during the first interview I did with him in 1999 that he made a point of having his people contact me every summer for the next 10 years whenever Poison rolled through Texas. I can't speak for Bret, but I'd say a friendship was formed.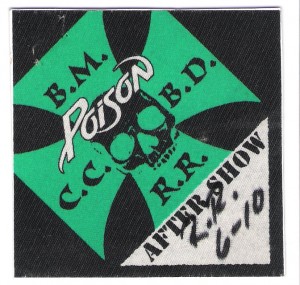 If you've seen Bret on stage or TV, you know he exudes sincerity and enthusiasm. He may come across as over-excited, but I can tell you it's not an act. The guy can't wait to share his party hearty hospitality. In fact, I think he lives for it.
What follows is the 1999 San Antonio Express-News interview that started a decade of dialogue.
Special thanks always to Janna Elias, Big John, Rob Stevenson, Rikki Rockett, C.C. DeVille and Bobby Dall
POISON CONTROL: HAIR-METAL HEROES CONQUER BAD HABITS 
By David Glessner
Special to the Express-News
Admit it, tough guy. Somewhere in the guilty- pleasure region of your macho black heart is a soft spot for the sexed-up, cartoon metal of those noted hair farmers, Poison.
"There's a band out in L.A. called the Mistakes that comes to all our shows," said pouty Poison ringmaster Bret Michaels. "The singer's got a flaming orange mohawk that's two feet off the top of his head. Even death-metal thrash guys have come up to us and said, 'Me and my girlfriend love 'Every Rose Has Its Thorn.'' I think the reason those guys respect us is because if you strip Poison down to the bare essentials, we're as close to an independent, punk- rock band as you can get. We just happened to be successful."
Indeed. Since forming in 1983, Poison went from opening for Japanese rock band Loudness to selling 21 million records, earning 15 Top 10 hits and becoming MTV mainstays. In between, the flamboyant band became synonymous with "hair metal," thanks to enough hairspray and cosmetics to make any red-blooded American boy do a doubletake.
With fistfighting and toilet-hugging finally behind them, Michaels, drummer Rikki Rockett, bassist Bobby Dall and detoxed guitarist C.C. DeVille are back together for the first time since 1992.
"This will truly be an extravaganza," Michaels said about tonight's show in Sunken Garden Theater with co-headliners Ratt and guests Great White and L.A. Guns. "There's gonna be strobe lights, cannons, pyro, pinwheels, confetti. One thing people can count on Poison for is a lot of energy and a lot of effort put into the show."
As far back as the band's inception in 1983, Poison went the extra mile to wow its audience. With homemade flashpots and stolen gear, Poison took a page from Kiss' how-to book of theatrical rock and began strutting its stuff at any VFW hall or back yard party that would have them. Becoming too loud and obnoxious for their native Harrisburg, Pa., the group sold everything and drove a beat-up Chevette to Los Angeles, where they toiled in poverty and dreamed of stardom.
"I remember it like it was yesterday," Michaels said. "Struggling back then was the best thing that could have happened to me. Those experiences became (the hit songs) 'Every Rose,' 'Nothin' But a Good Time' and 'Something to Believe In.'"
By 1984, the gutter-rat lifestyle proved too much for original guitarist Matt Smith, who returned to Pennsylvania. Auditions were held for a replacement and the job went to C.C. DeVille. Soon after, a small, independent label, Enigma Records, signed Poison for a small advance and ponied up the paltry sum of $30,000 to record "Look What the Cat Dragged In." The fuse was lit.
"We're out (touring) our first album, playing to 83,000 people at the Texxas Jamm," Michaels recalled. "I'm walking up to the stage and there's Steven Tyler, David Coverdale and Paul Stanley (who joined Poison onstage for a cover of Kiss' 'Strutter'). I'm trying to be cool, but in my mind it was surreal."
Slammed for their less-than-eloquent lyrics and glam Gypsy image, Poison let the music keep on talking with the follow-up album, "Open Up and Say Ahhh." On the strength of "Fallen Angel," a cover of Loggins and Messina's "Your Mama Don't Dance" and the mega-blockbuster acoustic ballad "Every Rose Has Its Thorn," Poison rocketed to the top of the charts and dispelled the notion that it was just a dolled-up party band with a one-track mind.
Next up was "Flesh and Blood," another blockbuster that featured "Give Me Something to Believe In," a piano ballad inspired in part by the death of the band's bodyguard and friend. Poison toured for more than two years, but the joyride's wheels were about to fall off.
"Our bitch with C.C. was his addiction," Michaels said, outlining the guitarist's departure following the grueling tour. "He was going into the Kurt Cobain category and I couldn't watch my best friend die. C.C. and Bobby struggled, but C.C. was extreme. I was partying too, but I wasn't killing myself. We had a huge, knock-down, drag-out fistfight in New Orleans and C.C. said '(Screw) you, I'm out!' It's tough to see someone leave like that after so many great years together."
DeVille was replaced by Richie Kotzen and Poison released "Native Tongue" following the live album, "Swallow This Live." Kotzen was a capable guitarist, but trouble was brewing.
"Richie was a great guitarist, but he was (fooling) around with Rikki's girlfriend," Michaels explained. "His suitcase went over the fence in San Francisco and we told him he's out."
With Poison on hiatus following Michaels' death- defying Ferrari crash in 1994, the band hired acclaimed guitarist Blues Saraceno, who recorded the still-unreleased album, "Crack a Smile." Michaels guesses the album will finally see the light of day following the current tour. Although Saraceno toured with the band following Michaels' recovery, it was the singer's hospital stay that was the catalyst for a reunion with DeVille.
"C.C. called me in the hospital and said he was taking charge of his life," Michaels said. "He said he was capable of staying clean and sober and not falling off the wagon. I wanted to be there to support that. Blues was a great guy. His first show with Poison was in front of 80,000 people in South America, so he had some fun."
Proud rather than defensive, Michaels is at ease with the idea that Poison will forever have to defend its gaudy image.
"In all the interviews I've ever done, from MTV to Kurt Loder to Metal Edge magazine, you're the first guy anywhere to say the death-metal guys and punk rockers spend as much time on their image as we do," he said. "True, the image is different, but you're right, they spend time on it just like we do. I've taken a beating over the years because of our image, but you know what? If it lets me live out my dreams, I'll take the beating."