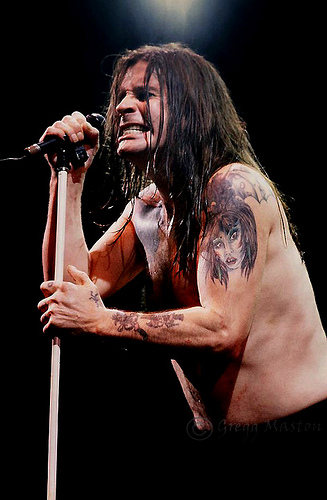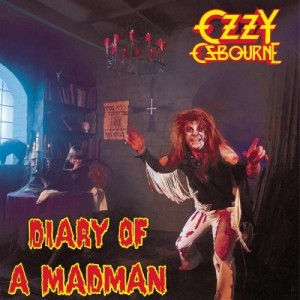 By Metal Dave
When it comes to heavy metal, Ozzy Osbourne hung the moon. Not only did he and his Black Sabbath band mates invent the sludge-thunder genre of demons and doom, but as a death-defying solo success story, Ozzy also discovered and introduced us to a stellar slew of metal guitar shredders.
As such, few of my countless interviews have been more of an honor. Here then, is my second Ozzy interview, which took place in 2008 when the iconic metal madman phoned my home and cracked me up.

WILDMAN OZZY JUST KEEPS ON GOING
2008 Ozzfest a tribute to heavy metal's longevity
by David Glessner 08/08/2008
Special to the San Antonio Express-News

Talking to Ozzy Osbourne is like spilling alphabet soup. The splattered puzzle is oddly intriguing, but it's hard to make out a word.
Jovial and chipper on the phone from Los Angeles [in 2008], the legendary heavy-metal madman sounds like a lovable British uncle with a hiccupping habit of mid-mutter f-bombs.
"Oh, (freakin') hell, man!" he howled when reminded of his infamous 1985 world tour with sleaze-metal upstarts Motley Crue. "I can remember saying to (manager) Doc McGhee, 'One of us is going to (freakin') die.' Motley Crue would have a (freakin') chest full of Jack Daniels, gin, vodka. We would just get (messed) up. I always get asked if I really snorted that line of ants, and I always say, 'It's very possible.'"
Finally keeping his nose clean and due in the Dallas area Saturday to host his annual heavy metal Ozzfest concert at Pizza Hut Park, the former Black Sabbath singer and perennial Prince of Darkness holds the keys to one of the deepest, darkest vaults of heavy-metal classics. From Sabbath's 1970s-era satanic sludge to his high-flying solo career, Ozzy's repertoire includes timeless air-guitar anthems such as "Paranoid," "Iron Man," "Crazy Train" and "Mr. Crowley."
Other Ozzfest heavy hitters include Metallica, Hellyeah!, Serj Tankian, Jonathan Davis, Shadows Fall and a side stage dedicated to Texas-forged metal acts the Sword, Drowning Pool and back-from-the-dead Rigor Mortis.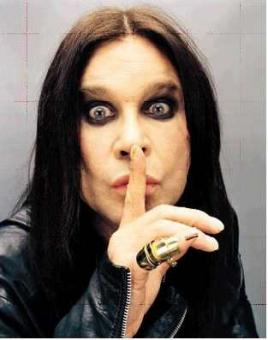 While every band on the bill owes a debt to the festival's namesake, it's Metallica that makes Ozzy particularly proud. In 1986, Osbourne took the rising speed demons to worldwide stages as his opening act. The rest is multimillion, mega-metal history.
"They were just kids back then, but one thing I can honestly tell you is that they truly believed in what they were doing," he said of Metallica. "If a band is like that, you can't stop them. If four or five guys are in a project together and they all believe in what they're doing, they're going to win, eventually."
Unlike the past 12 years, Ozzfest 2008 is a one-day stadium extravaganza rather than a multiple-date amphitheater tour. Apparently, only Osbourne's wife/manager, Sharon, knows why.
"Every year I always start committing to doing the Ozzfest, and I look at Sharon and say, 'Look, I need some (freakin') time to stop and think about what I want to do," he said. "I'm not complaining about the Ozzfest whatsoever. It's been bigger than I ever could have expected.
"I'd have to get back to you on why Sharon decided on doing this one (in Dallas). I ask her how long it's going to go on and she says, 'Darling, we'll know (when to retire Ozzfest).' I'm, like, 'Give me a (freakin') clue, ya know?'
"My career is 40 years old this year," he continued, "and it's not about money because money ain't gonna (freakin') be worth anything the way things are going, ya know?"
Adding bang to this year's buck, Ozzfest promises an all-star tribute to late Pantera guitarist and Dallas resident "Dimebag" Darrell Abbott, who was killed on stage in 2004 by a deranged gunman. The tribute will put special-guest members of Slayer, Anthrax and Alice in Chains alongside Ozzfest 2008 musicians to perform Pantera classics.
"I didn't go to (Dimebag's) funeral, but a lot of people went and got loaded," Osbourne said. "I didn't want to be around that kind of thing, ya know? I don't drink or take drugs or smoke cigarettes anymore, but I must confess, I've turned up (freakin') out of my mind at my share of funerals. (The way I see it), there's already one dead person here, let's not see how fast the rest of us can catch up, ya know?
"(The funeral) was a good old ding-dong, apparently. He was a phenomenal guitar player, man."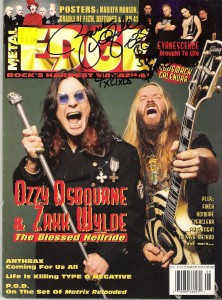 Another great guitar player is Ozzy's longtime sidekick Zakk Wylde, whose reputation as a human beer funnel would seemingly trash the boss' sobriety.
"All I need is Zakk standing next to me and I go, '(Screw) that!'" Osbourne said. "There was a period of time when I decided to go out drinking again with him. It ended up costing me $35,000 for a new (freakin') hotel window and a television.
"To be honest to God with you, if I thought I could drink and get (messed) up and have fun, I wouldn't be sitting here (doing this interview) right now. For some reason, the last few times I was drinking and using (drugs), I was not having fun."
While music remains in his blood, Osbourne has enjoyed a whole new high on TV. His 2002-2005 "The Osbournes" series was a staggering success that turned his foul-mouthed family into bleeping tabloid celebrities. Previously known only for his music and drunken stunts such as biting the heads off birds and bats, Ozzy and "The Osbournes" garnered unlikely new fans, including President Bush, who publicly acknowledged the rocker at a White House Correspondents' Association dinner.
"He couldn't even (freakin') say my name right," Osbourne said. "He called me Ozzy 'Os-burn' and said something about his mother liking my music. He just waffled on. And all my songs he was reading off were like (freakin') Japanese B-sides and songs that no one ever heard (laughs). 'Party With the Animals' or whatever it was?"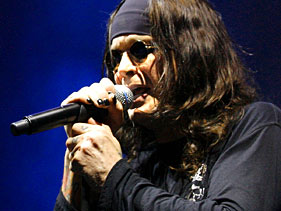 Soon to return to America's living rooms, Ozzy and his family are set to star in an upcoming new Fox TV series, "The Osbournes: Loud and Dangerous."
"The thing about the entertainment game is none of us go out and make a couple of great records and then decide, 'OK, now it's time to make a piece of (dirt),'" he said. "Just like you don't do the reality (TV) thing and think, 'OK, I want it to flop.' That TV (stuff) is a whole other zone. We're doing this new TV comedy that's being billed as a variety thing and that word 'variety' sorta (makes it sound) like Burl Ives and (freakin) Bing Crosby!"
Sharon, meanwhile, is a celebrity judge on "America's Got Talent." Is Ozzy an avid viewer?
"You know what?" he asked. "I like it because the people who do have talent are (freakin') unbelievable, ya know? But sometimes you sit there and go, 'What the (freak) are you thinking?' There was a guy on there last week who was lying on his back yodeling or some (freakin') thing."
**********************************************************
Ozzy Osbourne brings his "Scream" tour to San Antonio's AT&T Center this Monday, Jan. 24 with special guest Slash. Ticket info for AT&T Center here.