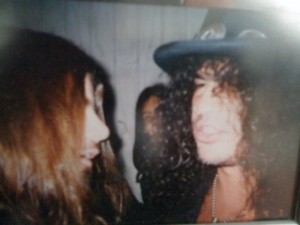 By Metal Dave
It seems I went through a Rob Zombie/Phil Anselmo phase in 1997 as evidenced by the above photo of me and my beard hanging out with Slash. The photo was taken by my good friend Houston Ritcheson behind Austin's now-defunct Back Room music venue when Mr. Top Hat was touring with his post Guns N'Roses/Snakepit cover band, Slash's Blues Ball.
Houston was employed at the Back Room as a security honcho, but never had a ride to work. I had a car and an appetite for free beer so we made quite a pair. Thanks to Houston, "Metal Dave" had a years-long permanent spot on the Back Room guest list. Likewise, "Metal Dave," more often than most, made sure Houston got to work on time and took home a paycheck.
Anyhow, the photo came about because I had interviewed Slash for the San Antonio Express-News as he was touring the country and fighting boredom with his classic rock-inspired (horribly named) Blues Ball band, which covered the likes of Hendrix, Steppenwolf, James Gang, etc. After his Back Room gig, I tracked the guitarist and his dangling cigarette to a dark corner outside the venue (it's safe to say I knew the Back Room's every nook and cranny better than the roaches).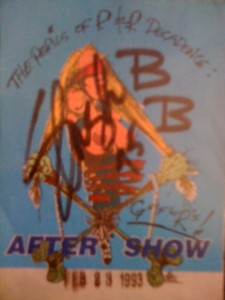 Upon introducing myself as the guy who interviewed him over the phone a couple weeks earlier, Slash was immediately jovial. We revisited our interview dialogue and he complimented me with a knowing, "Yeah, that was a good conversation." Listening to him pick up where we left off (Def Leppard, the Cult and Iggy Pop), assured me he wasn't blowing smoke. I also reminded him we previously met backstage on GN'R's 1993 "Use Your Illusion Tour" when he autographed my backstage pass (he was wearing a T-shirt that said "F**k Me and the Horse I Rode in On") and again in 1995 in an alley during a Snakepit tour stop in Houston.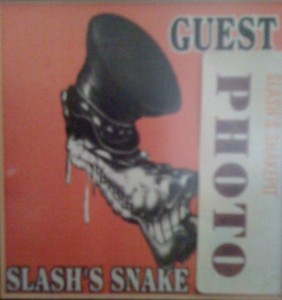 When Houston (my friend, not the city) followed me outside a little while later, a small Back Room crowd got wise and soon began to gather. With Slash on the verge of having to share his attention, I handed Houston my camera so he could pop a couple shots. As you can see, there was no shortage of hair between me and Slash, and I walked away with a great souvenir shot with one of my rock-n-roll heroes.
Following are excerpts from my 1997 interview with Slash:
On opening for the Cult in GN'R's early days and hiding from the cops after cursing onstage at Sunken Garden Theater in San Antonio
Me and (Cult singer) Ian (Astbury) were hiding on the bus after the show. We got pulled over a few blocks down the road and we were hiding in the luggage bays, which are really hot because they're right behind the engines.
On Iggy Pop
"He doesn't care if the ceiling's caving in. He's gonna do the gig! He's got that blood, sweat and tears, all-or-nothing attitude, which is where I come from, too.
On keeping busy as a means of self-preservation
I'm an extreme person. I can't sit at home and have a beer, 'cause it turns into 20 beers. Too much dead time means I'm partying too hard, so I circumvent that by playing (guitar).
On the possibility of reuniting with Axl Rose and the original GN'R lineup to record a new album (remember, this interview took place in 1997)
I'm tight with the band, it's just that there's this thing with me and Axl. If we can have a meeting of the minds and put out a good rock-n-roll record, I'll be there. I'd be more disappointed putting out a (lackluster) Guns album than none at all.