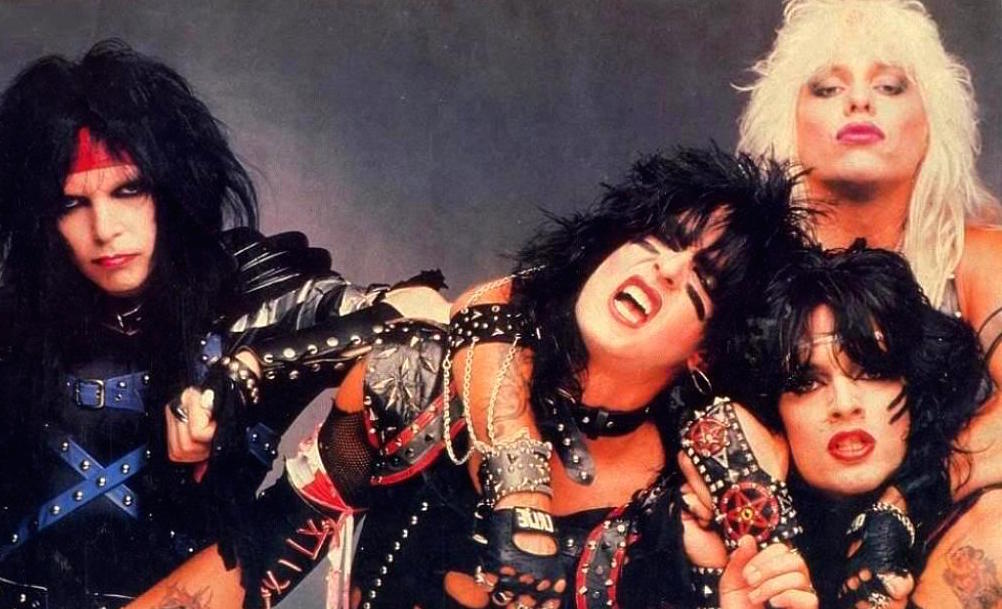 Some punk-rock snob will find reason to argue, but I like to think of Nikki Sixx as Johnny Thunders without the obituary. Certainly both are/were minimalist musicians, but their creative sense of style and swagger refashioned rock-n-roll like few others before or since. From the haywire hair, stacked heels and black eyes to the killer-cool stage name, needle-poked arms and bathroom-stall death wishes, none were more notorious, reckless or dangerously alluring. I'll come right out and say it: if Nikki Sixx died after "Shout at the Devil," his mug would rival that of Sid Vicious for T-shirt sales.
Fortunately, the anarchy fueled some great Motley music. The aforementioned "Shout" would, of course, be the breakthrough with all its lipstick-n-leather Satanic majesty, but it was 1982's Jack-and-coke fueled "Too Fast for Love" that spat Motley into the face of Duran Duran Speedwagon with all the defiance of a diseased loogie. Low-budget, drunk, painfully distorted and shrieking like a police siren, "Too Fast for Love" is perhaps the greatest fishnet-tangled metal/punk/garage/glam cowbell-fueled Molotov to ever destroy a turntable.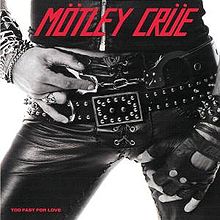 For these two albums (and Nikki's haircut, of course), I am forever indebted. I also appreciate the fact that Sixx is always a great interview. How could he not be? In the world of Sixx, even a trip to the grocery store could take a violent detour into drugs, strippers, tattoos and switchblades (or at least it could in the past now that sobriety somehow took hold). Even better, Nikki will spare you no gory detail if you dare to ask.
I've had the pleasure of speaking to Sixx on more than one occasion, but the excerpts below are particularly memorable for a number of reasons. For one, Sixx was registered in a Philadelphia hotel room under the alias A. Hole (imagine having to ask the front desk receptionist to please, kindly connect you to Mr. A. Hole's room). Secondly, as soon as Sixx and I connected, a maintenance man barged into my apartment and started a long-overdue garbage-disposal repair that created such a ruckus I had to retreat to a bedroom closet to continue the interview. Sixx, of course, seized the opportunity to get his gay-joke kicks at my expense when he razzed me with "C'mon, Dave! Come outta the closet!"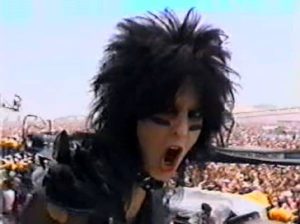 Ladies and gents on his 52nd birthday today (Dec. 11), I give you then-38-year-old Nikki Sixx (aka A. Hole) on Motley Crue's 1997 "Generation Swine" tour.
On drugs and addiction
Heroin addiction was my downfall. There were overdoses, seizures, collapsed veins. I embraced everything everyone else was afraid of. Looking back, I have no regrets. I'm always gonna be an outlaw or a rebel, but now it's based more on pride and doing the right things.
On temporary Motley singer John Corabi who was replaced by returning original singer Vince Neil
It's a heartbreak more than anything. Here's a guy who was sleeping on a futon, then made hundreds and hundreds of thousands of dollars and blew it. We said, 'Dude, we've been doing this for 17 years; you gotta slow down and save your money.' The sad part is I think he turned a lot of Motley Crue fans against him.
On being called an '80s hair-metal band
Those bands attached themselves to us and we weren't necessarily happy about it. We're not about an era, we're about an evolution. There's a lot of bands from that era, like U2 or Metallica, that don't get called '80s bands.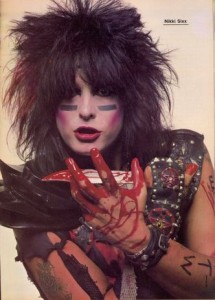 On the notorious 1984 tour with Ozzy Osbourne
Ozzy gave us our shot. There were some wild, sleepless nights and destroyed hotel rooms. In Orlando, these Bible thumpers asked me if I believed in the devil and I said yes. Then they run off calling me a Satanist! I never said I was a Satanist. I said I believed in the devil.
On having a deathwish and a broken childhood
I was never afraid of dying. I wanted to die. The problem was my (absent) parents There's nothing that's ever going to replace not having a father. As you get older and angry, you don't know how to cope. You need tools to get solutions and I didn't have the tools to cope.
On being a rebel with a cause
Anarchy is still something I embrace, but my children are so important to me. I'm very fortunate. I died, I survived and I'm still playing rock'n'roll with a sneer.
Photos by the great Neil Zlozower (blood), Ross Halfin (Hustler) and unknown.
For the full 1997 story/interview, go here. For my 199 follow-up interview with Nikki Sixx, go here.
Below: Motley Crue performing at the US Festival in 1983. "Shout at the Devil" had not yet been released, meaning the boys are fresh outta the clubs and soon to take over the world.