2Fast2Die Note: As Motley Crue threatens to uncork some raunch-n-roll debauchery in San Antonio June 9 at the AT&T Center with special guests Poison and the legendary New York Dolls (get there early!), I decided to dig up a few of my previous interviews with rock's most notorious dirtbags. The Crue's current setlist is reportedly chosen by fans, which means the band will be playing songs they haven't played in 20 years, according to a press release. Also, Tommy Lee's drum solo will reportedly incorporate a roller-coaster loopty-loop spin that would leave lesser freaks reaching for the barf bag. Concert ticket info is here.
Anyhoo, here's my 1997 interview with one of my rock heroes, Nikki Sixx, as it originally appeared in the San Antonio Express-News …
REBORN TO BE WILD: Motley Crue a survivor of '80s excesses
By David Glessner
Special to the Express-News
Fifteen years before Marilyn Manson was the "Antichrist Superstar," Motley Crue was "Public Enemy No. 1."
Sporting thrift-store bondage gear and singing about quickie sex in elevators, the Crue went from Los Angeles alleys to worldwide stardom as poster boys for teen lust. If drugs, booze and babes fueled rock's life in the fast lane, then Motley Crue was the aptly named heavy-metal mob flashing its high-beams in Aerosmith's rearview mirror.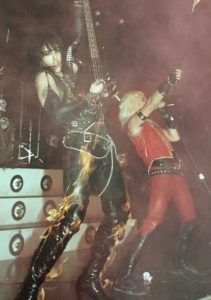 "Heroin addiction was my downfall," said bassist Nikki Sixx from a Philadelphia hotel room where he was registered under the alias A. Hole.
"There were overdoses, seizures, collapsed veins. I embraced everything everyone else was afraid of. Looking back, I have no regrets. I'm always gonna be an outlaw or a rebel, but now it's based more on pride and doing the right things."
Now sober and the father of two, the 38-year- old Sixx, guitarist Mick Mars, drummer Tommy Lee and reunited singer Vince Neil bring the Crue to the Alamodome tonight with special guest Cheap Trick. Motley Crue is touring in support of its eighth album, "Generation Swine," which debuted at No. 4 on the charts. Sixx, whose musical beginnings can be traced back to a guitar stolen from a Seattle music store, says bootlegging is encouraged on the current tour.
"In Detroit we played for 12,000 people and there must have been 9,000 little red lights from video cameras and tape recorders," he said. "We talked to the fans and they said they wanted a live album, so we decided to let them make their own."
"Generation Swine" marks the return of Neil, who departed in 1992 amid a furor of name- calling and lawsuits. The split followed the highly successful, double platinum "Girls, Girls, Girls" and quadruple platinum "Dr. Feelgood" albums. With John Corabi as Neil's replacement, the band recorded "Motley Crue," which record stores couldn't give away. Corabi is now suing the band for wrongful termination.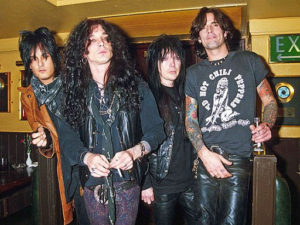 "It's a heartbreak more than anything," Sixx said of Corabi. "Here's a guy who was sleeping on a futon then made hundreds and hundreds of thousands of dollars and blew it. We said, 'Dude, we've been doing this for 17 years; you gotta slow down and save your money.' The sad part is I think he turned a lot of Motley Crue fans against him."
The Crue's rule over the Los Angeles metal scene began with the 1982 release of "Too Fast For Love." The album's sleazy cover art and buzzing guitars set the stage for an explosion of copycat bands with haystack haircuts, tattoos, stiletto heels and trashy makeup. Ratt, Poison, L.A. Guns, Quiet Riot, Warrant and countless lesser-knowns hit the charts celebrating the joys of groupies and marathon parties. Then as now, the Crue was often imitated, but never duplicated.
"Those bands attached themselves to us and we weren't necessarily happy about it," Sixx said. "We're not about an era, we're about an evolution. There's a lot of bands from that era, like U2 or Metallica, that don't get called '80s bands."
The 1984 release of "Shout at the Devil" and a supporting tour with Ozzy Osbourne found Motley Crue gaining international attention. Emblazoned with a pentagram and a gatefold sleeve that pictured each band member decked to the teeth in black leather, chains and fishnet, "Shout at the Devil" sold 3.5 million copies. Off the charts, the band had the press in a tizzy as it openly talked about backstage debauchery.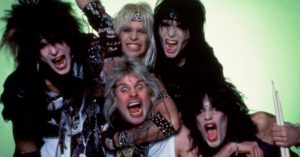 "Ozzy gave us our shot," Sixx said. "There were some really wild, sleepless nights and destroyed hotel rooms. In Orlando these Bible thumpers asked me if I believed in the devil and I said yes. Then they run off calling me a Satanist. I never said I was a Satanist; I said I believed in the devil."
The controversy continued with the release of "Theatre of Pain," an album that was in jeopardy following Neil's arrest for a drunken- driving accident that killed his passenger, Hanoi Rocks drummer Nicholas "Razzle" Dingley. The death-defying car crashes, overdoses, banned concerts and drunken arrests were no longer funny.
"I was never afraid of dying," Sixx said. "I wanted to die. The problem was my (absent) parents. There's nothing that's ever gonna replace not having a father. As you get older and angry, you don't know how to cope. You need tools to get solutions and I didn't have the tools to cope."
Despite passing out on death's door, Sixx is reportedly clean and sober, and happily married to "Baywatch" goddess Donna D'Errico (the Crue's list of girlfriends/wives has included "Melrose" star Heather Locklear, "Baywatch" babe Pamela Anderson Lee, Vanity, Playboy playmate Brandi Brandt, rocker Lita Ford and numerous other drop- dead lookers).
"Anarchy is still something I embrace," Sixx said, "but my children are so important to me. I'm very fortunate. I died, I survived and I'm still playing rock 'n' roll with a sneer."
BELOW: Something classic and something new from the Crue.