By Metal Dave
Before Southpark Meadows was home to Bed, Bath & Beyond, it was a sprawling cow pasture that hosted some of the biggest rock concerts in Austin. How big? During the 1990s, I was at Southpark Meadows for Metallica with Fight, Suicidal Tendencies and Candlebox; Van Halen with Skid Row; Pearl Jam with the Ramones; and one of the earliest Warped Tours featuring the knockout succession of Rancid, NOFX and Bad Religion closing the show. Good times under the sun and stars.
The (crappy) photo to the right was shot at Southpark Meadows circa 1999 and captures me displaying one of the original Broken Teeth stickers alongside Texas metal legend/Broken Teeth singer Jason McMaster and longtime Austin rocker, Scott Janes. The photo is memorable because we are at an all-day rock festival featuring Lenny Kravitz, Kenny Wayne Shepherd, Buckcherry and some others. The kicker on this day was that Jason drove me to the gig as my "plus one" since I was on Buckcherry's guest list. As we pulled into the "parking pasture," Jason asked if I was certain we were on the guest list to which I replied, "You know how these things go. It's all a crash landing affair." Jason's eyes lit up. "What'd you say?" he asked. "Huh?" I grunted.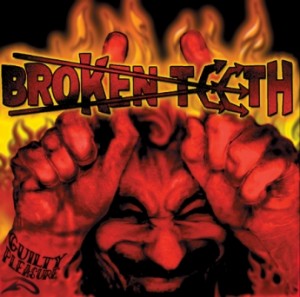 Reaching for some scratch paper and a pencil, Jason again asked, "What was that bit about a crash landing affair?" I repeated that the guest-list scenario was a "crash landing affair," meaning everything would likely fall into place although I had no ironclad guarantee (you never do when it comes to guest lists). Jason, of course, ran with it, twisting my off-the-cuff remark into an inspired mile-high sex romp that became the song "Crash Landing Affair" on Broken Teeth's "Guilty Pleasure" album (left). I also had the honor of singing backup vocals on that record.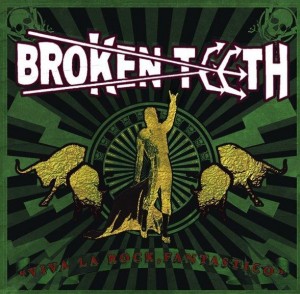 At some point in the future, I again (apparently) babbled gold when I figuratively described Broken Teeth's music as being "dressed up in flames." That little gem inspired Jason to write and record the Broken Teeth song "Dressin' Up in Flames" found on the band's latest album, "Viva La Rock Fantastico!" (right).
Talk about your crash landing affairs!