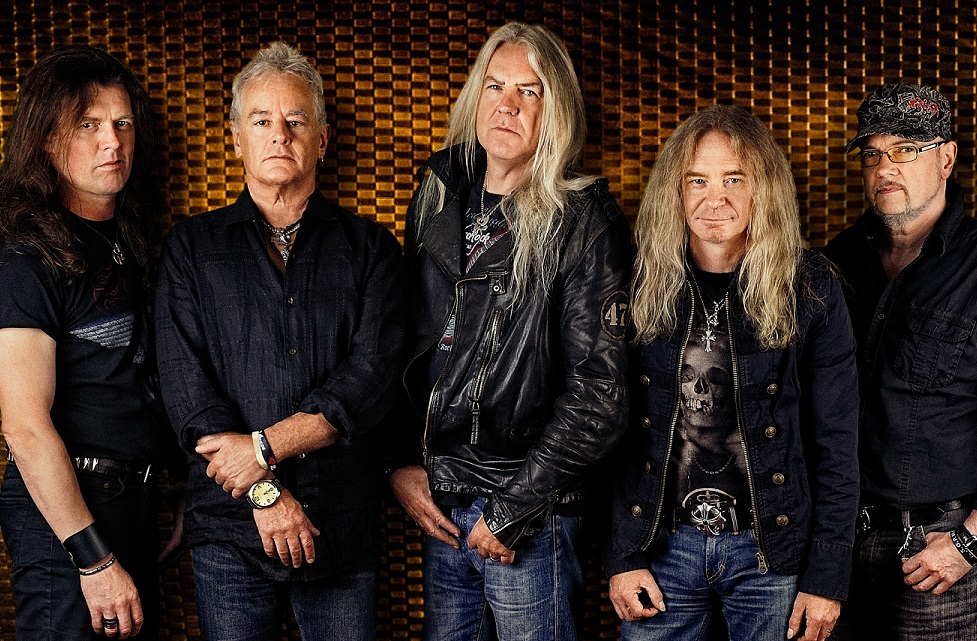 By Metal Dave
The New Wave of British Heavy Metal is more than three decades old, and while the concerts can still stir excitement, the recent recorded output of the genre's forerunners — Iron Maiden, Judas Priest and especially Def Leppard — has lost some of its urgency and fire. God bless Motorhead for staying the course.
Saxon, too, can take a bow for keeping deadly aim. While the band will always be best remembered for its classic 1980s discography, Saxon can rightfully hold up its recent albums with an "I dare you" defiance to doubt their tenacity. In fact, it could easily be argued that some of Saxon's latter-day output is heavier than its past.
And now there's the band's 20th album, "Sacrifice." Since its release earlier this year, "Sacrifice," has been in heavy rotation at 2Fast2Die thanks to its perfect blend of Saxon's former glory and modern-day power. With the legendary band recently announcing a North American tour that stops at Backstage Live in San Antonio on Sept. 27, I caught up with Saxon's ever-gracious lead singer, Biff Byford, to discuss the making of this fantastic album.
You self-produced "Sacrifice" with mixing assistance from Andy Sneap who has some pretty impressive heavy metal credentials, including Accept, Kreator, Opeth and Megadeth, among others. Was there a particular album to his credit that you wanted to use as a template for the sound of "Sacrifice"?
I know his work with Killswitch Engage. I wanted to make a heavier album, so he was the guy to go to, really. He had some free time, 'cause I think Killswitch was delayed for a couple of weeks. I wanted the guitars to sound like Gibsons and Marshalls. He's into the band anyway, and into all that British heavy metal. I wanted to go back to that time a little bit on a couple of the songs and see if we could write something in that spirit – sort of early thrash-metal days. We wanted it to be more real (sounding) and not depend too much on the digital and Pro Tools stuff. We sort of wrote the songs in the rehearsal studio so they're all written very live.
Besides being a quality album, I also appreciate that "Sacrifice" was kept to an efficient 10 songs
We go for more quality than quantity. I feel you're better off with nine or 10 great songs rather than nine great songs and 10 rubbish songs.
Let's talk songs. I like your lyrical angle on 9/11 in the song "Walking the Steel." You don't often hear stories about the reconstruction effort given all the tragedy involved on that date.
The first time I went (to Ground Zero) there was nothing there. I went back in 2011 and the Towers were halfway up already. It was at night when I went there and these two big towers are disappearing up into the mist with all the lights blazing. I looked into it and the guys that build these things — when they're up there — they call it walking the steel. I thought that was such a cool title so I ended up writing a song about it.
I also like the frustrated humor in the song "Standing in a Queue."
You either get that song or you don't, really. It's a very sort of English thing, really. We're famous queuers, but I'm sure people over there (in the states) can get it, too. We're all in queues in traffic, waiting at the airport, waiting at the supermarket. I just thought I'd write a simple song and try to get across the frustration of waiting in a queue.
I understand the title track was inspired by a visit to Mexico. Had you been there before?
I'd been to Mexico before, but I never visited any of the ruins there. It was a bit of an eye-opener for me. The human sacrifice stuff they were telling me about … They were telling me about the heart (still) beating and all this stuff. I thought it was a good metal sort of subject (laughs). That song came really quickly. It was the first song we wrote. It's a heavy track. It gets your blood flowing.
"Stand Up and Fight" is another in a long line of Saxon anthems dedicated to the rock-n-roll spirit and lifestyle, yes?
It's a great guitar riff with me singing on top of it. It's quite a simple song. Yeah, I like that song. It's a call to arms again. It's a song to a new band or people learning to play or trying to get forward. They're always asking us what the secret is and that's it: Stand up and fight for all you believe in.
Going back to "Dallas 1PM," and "The Eagle Has Landed," for example, Saxon has written some great songs with historical themes. What qualities must an historical event have to inspire you lyrically?
A good story, really, like "Made in Belfast" or "Guardians of the Tomb" (from "Sacrifice"). A good story that's imaginable. I watched this film "The Gray," which inspired me to write the song "Night of the Wolves."
That song reminds me of "Nightmare" from "Power and the Glory." Maybe it's the chorus?
A little bit, I suppose. It's a bit heavier than "Nightmare" I think. It's like this mad, 12-bar metal riff that Doug wrote.
"Sacrifice" includes a bonus disc of reworked Saxon tunes like "Frozen Rainbow," "Just Let Me Rock" and others. I like the second-disc approach of offering extra material without compromising the integrity of the proper album.
I think it works. One of the songs is "Crusader," which is a massive song with an orchestra. It's an epic now. It's a lot more majestic now. The acoustic tracks are just real simple: me and two guys playing acoustic guitars, really. There's no bass guitar or drumbeat or tambourine or anything on those songs so it's cool.
As always, thanks for your time, Biff. Anything else?
Definitely say hello to all our fans over there in Texas
Will do. See you soon
+++++++++++++++++++++++++++++++++++++++++++++++++++++++++++++++++++
For my review of "Sacrifice," go here. To read my in-depth 2011 career retrospective interview with Biff, go here. For my own personal Spinal Tap moment with Saxon, go here. For more official Saxon info go here. For Backstage Live ticket info, go here. For the ass-kicking video for "Sacrifice," click below.