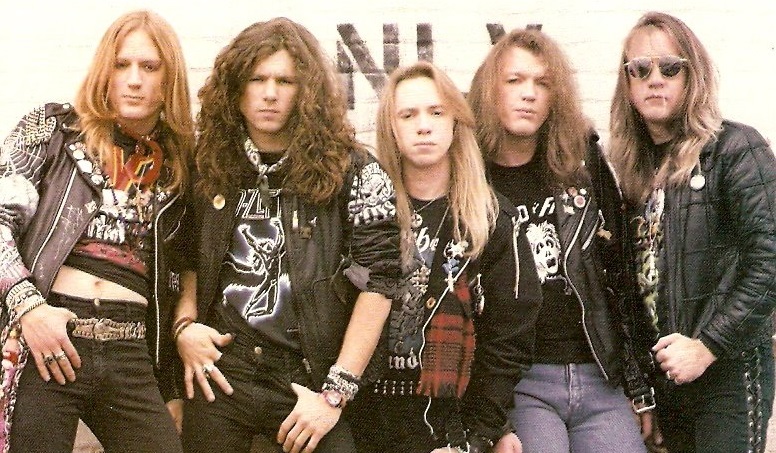 By Metal Dave
Once upon a time, circa 2007, I was asked to contribute to an issue of Classic Rock magazine dedicated to Guns N' Roses. Besides the main features on GN'R, the mag also wanted to highlight some of their lesser-known peers. Being from Texas, I offered up Junkyard and Dangerous Toys as worthy contenders to the GN'R theme. Due to space constraints, the articles never published. Until now.
DANGEROUS TOYS HAD A RED-HEADED SCREAMER WITH TATTOOS TO SPARE, BUT THE OUTLAW TEXAS ROCKERS WEREN'T AIMING TO BE THE NEW GN'R
BY DAVID GLESSNER
In his wickedly clever autobiography, "White Line Fever," Motorhead speed demon Lemmy Kilmister fairly recalls Texas tour mates Dangerous Toys as being "the apple of Sony's eye" during the aborted 1991 Operation Rock-n-Roll Tour, which also featured Alice Cooper, Judas Priest and Metal Church.
"The singer had red hair and sang with a falsetto just like Axl Rose," writes Lem, "so you figure out (Sony's) motives."
The singer in question is Jason McMaster and he's far too wise to argue with God.
"Anyone with red hair who had tattoos and sang with a screech was gonna get called an Axl clone," says the Toys singer and lifelong Lemmy fanatic. "Hell, I was trying to be Steven Tyler (laughs). One time, I was approached by two women who asked me for my autograph because they thought I was Axl. I politely declined and told them they should go home and study their Axl photos to see if our tattoos matched."
Of course the tattoos didn't match, but one could hardly blame the ill-informed for mistaking McMaster for Rose during the Toys' early days.
"When the Toys first got started, we did some cover tunes that were hot at the time," McMaster says. "We covered GN'R, Faster Pussycat, L.A. Guns and some others. I wore the big, sprayed hair and did a few Axl moves, but it was just a gag for fun. Once we got our record deal, I tossed the hairspray because we needed to find our own identity."
Following a successful showcase at the SXSW music festival in the band's hometown of Austin, Texas, Dangerous Toys signed to Sony Records and recorded a 1989 self-titled debut album produced by Max "Blizzard of Ozz" Norman. The follow-up record, "Hellacious Acres," was produced by Roy Thomas Baker of Queen, Cheap Trick, Journey and Cars fame. The albums yielded a collective of moderate radio and MTV singles, including "Scared," "Teas'N Pleas'N," "Sport'N A Woody," "Queen of the Nile," "Gimme No Lip" and "Line 'Em Up."
"Musically, I don't think the Toys had much of a Guns influence," McMaster says. "We were more like a machine-gun Foghat-meets-ZZ Top with some Aerosmith and a bit of heavy metal added as spice. Guns definitely had more of Aerosmith's grind and slither, plus a lot more punk rock."
Lyrical themes differed as well, McMaster says. While Guns were more about rage, drugs, street survival and mayhem, the freewheeling Dangerous Toys were more lyrically slanted toward bad girls and good times.
"Lyrically, the Toys were a mixed batch of rock and metal," McMaster says. "'Sport'N A Woody' is about my dick having a mind of its own, but 'Bones in the Gutter' is about a murder. So, yeah, the Toys were more about parties, but we also had room for the occasional psychopath."
While the Toys won their share of fans touring with fellow Texans and former schoolmates, Junkyard, as well as Faster Pussycat, The Almighty, L.A. Guns and The Cult, Sony pulled the plug and decided to play dirty when grunge oozed out of Seattle.
Not ready to pack themselves in, the Toys befriended smaller labels that released the excellent third album, "Pissed," and the moodier, industrial-tinged Prince piss-take, "The R*Tist 4*merly Known as Dangerous Toys."
"We were lucky to have a decent run and a few decent songs on our records," McMaster says.
And while the Sony recording sessions and slick video shoots did indeed land the Toys in Los Angeles for a time, the Texans felt out of sorts on the neon-lit Sunset Strip.
"Dangerous Toys never really had a Hollywood connection," McMaster says. "We were there and we definitely went looking for bands we loved like Salty Dog, Love/Hate, Rhino Bucket and Bang Tango, but we found them through music, not some glitzy scene."
What seemed painfully obvious to Dangerous Toys was ultimately lost on many who never saw past McMaster's red hair, tattoos and the band's mix of leather and jewelry.
"I don't think half the Sony staff knew we were from Texas," McMaster says. "Obviously some of them did and always asked about the Texas mystique. We had Texas tattoos, Texas-flag leather pants and big, Texas flags in the backdrop of our videos, and people still thought we were from the Sunset Strip. We thought it was cool to be from Texas. And hey, I don't see a lot of California tattoos (laughs)."