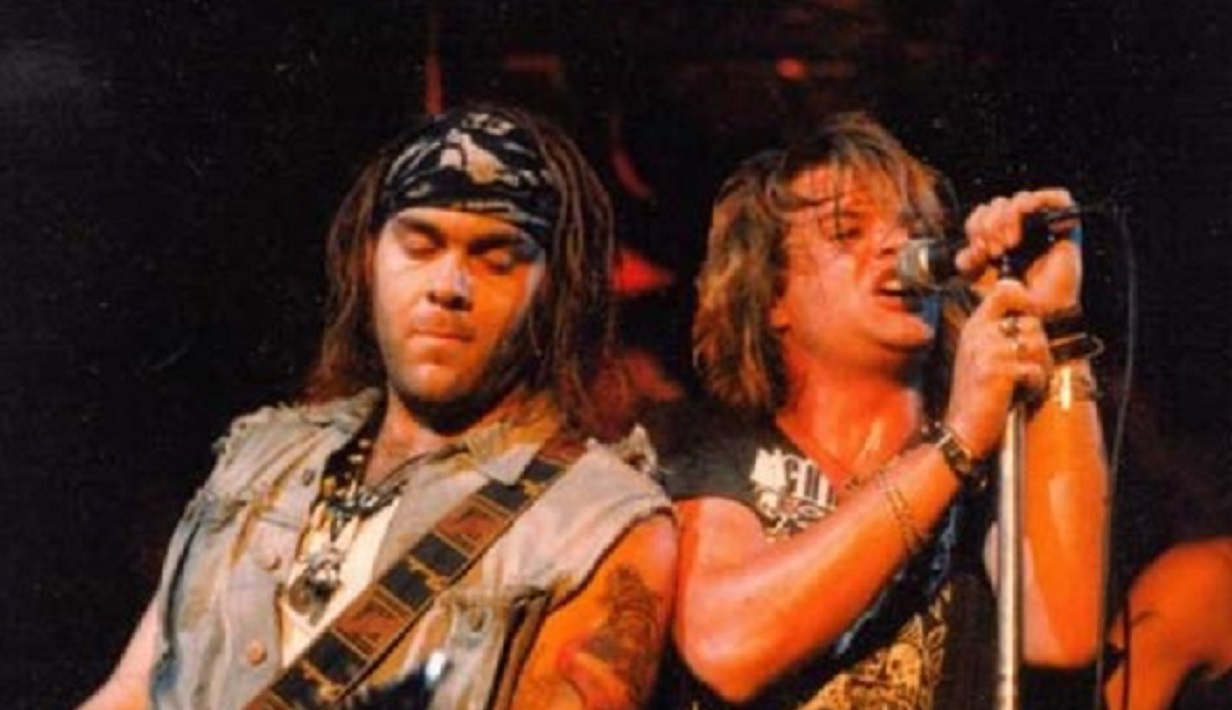 Once upon a time, circa 2007, I was asked to contribute to an issue of Classic Rock magazine dedicated to Guns N' Roses. Besides the main features on GN'R, the mag also wanted to highlight some of their lesser-known peers. Being from Texas, I offered up Junkyard and Dangerous Toys as worthy contenders to the GN'R theme. Due to space constraints, the articles never published. Until now.
THEY SHARED A RECORD LABEL WITH G N'R AND HAD A FAN IN AXL ROSE … WELCOME TO THE JUNKYARD
By DAVID GLESSNER
Before Guns N' Roses were the fiercest beasts in the jungle, a fluffier breed of rock-n-roll animal ruled the Los Angeles landscape.
"When I moved to L.A. in 1986, all the Hollywood bands looked and sounded like Warrant," says Junkyard guitarist Chris Gates. "At the time, all the labels were looking for the next Whitesnake, not the next GN'R."
Not caring a Ratt's ass about power ballads or stuffing their trousers, Junkyard played a tougher-than-denim blend of black-eyed blooze that snarled like Rose Tattoo getting wasted on Skynyrd's moonshine. If Hollywood was a helium balloon filled with glammy guitar wankers and shirtless pretty boys, Junkyard was the dirty needle aiming to take it down.
"When 'Appetite' came out, it stiffed for about eight months," Gates says of the GN'R milestone. "As soon as 'Sweet Child' hit big, a bunch of L.A. bands completely changed what they were doing. Hell, some of them started coming to our gigs trying to figure out what 'street rock' was all about."
The nuts and bolts of Junkyard's 'street rock' came together in Austin, Texas where Gates met singer David Roach. The pair moved to Los Angeles and literally bumped into former Minor Threat guitarist Brian Baker (who has since converted to Bad Religion). The classic lineup also included bassist Clay Anthony and drummer Pat Muzingo. As the name suggests, Junkyard was quick to find friends in low places.
"I met Duff McKagan at the Whisky shortly after I moved to L.A.," Gates recalls. "A friend of mine from a band called the Joneses introduced us and we started talking about punk rock. We talked about my old band the Big Boys and Duff's old band, The Fartz. I met Slash that same night when we nearly had to fight two sailors whose girlfriends disappeared backstage."
As record labels tired of the Sunset Strip's same old song and dance, a new pack of wolves brought the scent of fresh blood. The feeding frenzy was in full swing at a club called the Scream when Junkyard opened for a hot fuss called Jane's Addiction in 1987.
"Every label in town was trying to sign them," Gates says of Jane's. "Geffen and Elektra both approached us at that show, but we didn't have a press kit or a demo. A week later, Geffen got in touch and eventually offered a deal."
Signed to Geffen Records just months apart from each other, Junkyard and GN'R were suddenly label mates. On at least one occasion in 1987, the two bands paired for a blinding double-bill.

"I don't remember much about the gigs with Guns, because I was there," Gates jokes, admitting that a moment of clarity places Junkyard as GN'R support at a place called Perkin's Palace. "I don't know that we had much in common with Guns from a musical standpoint, but we had a lot in common as far as the intensity we brought to the music."
Initially short on tunes to complete a full-length album, Junkyard finally followed the release of GN'R's 1987 "Appetite" with a 1989 self-titled debut produced and engineered by Motley Crue/Poison studio gurus Tom Werman and Duane Baron. "Junkyard" was followed by the slightly more polished "Sixes, Sevens & Nines," helmed by Ramones and Motorhead producer Ed Stasium. Collectively, the albums contained the semi-hit radio singles "Simple Man," "All the Time in The World," "Misery Loves Company" and perhaps the band's best-known track, "Hollywood," which lyrically could pass for a distant cousin to GN'R's "Jungle."
While Junkyard's tour introduced the world to an unknown support act called the Black Crowes, GN'R was on the fast track to becoming the biggest band on Earth. Fortunately, a scrap of Junkyard was along for the ride.
"I did a T-shirt print job for someone and got paid with a surplus of black shirts," Gates recalls. "I made a silkscreen and we printed Junkyard shirts in the kitchen of our house. For a while, you couldn't go anywhere in Hollywood without seeing our shirt. Axl wore his a lot, but most importantly, he wore it at big shows in New York and L.A. Those photos circulated for a long time and definitely didn't hurt our credibility."
Competing with GN'R for Geffen's financial support was also fairly painless.
"Geffen treated us very well, all in all," Gates says. "They worked the hell out of the first record and we managed to sell a few copies. Having Nirvana join Geffen hurt us more than Guns!"
Indeed, a needle of another kind was back to burst the bubble.
++++++++++++++++++++++++++++++++++++++++++++++++++++++
BELOW: Learn how NOT to drive courtesy of Chris Gates in the video for Junkyard's "Hollywood."