Few rock singers can hold eyeballs hostage like glitter grenade Michael Monroe. Electric as a lightning bolt and flashier than a Christmas tree, the ex-Hanoi Rocks, glam-metal mantis is the personification of sensory overdrive.
Of course, the spiraling swagger and kangaroo bounce would fall flat on its black-leather ass if not for the infectiously punchy songs … and last I checked Monroe is three decades deep into his feisty, glitzkrieg bop. Recently awarded Classic Rock Magazine's prestigious and well-deserved Album of the Year for his aptly titled 2011 release "Sensory Overdrive" – a vote that was proudly preceded here by 2Fast2Die – Michael Monroe remains both sonically steadfast and stubbornly ageless.
So, who influenced the man who had his identity stolen by Guns N' Roses, Poison and infinite other gypsy rogues? I recently punted that question all the way to Finland and was more than a little giddy when Michael kindly replied while putting the finishing touches on his much-anticipated book.
2Fast2Die: First of all, thanks for being in touch. Tell me, what album changed your life and why?
MICHAEL MONROE: When I was about 8-years-old, my mind had already been blown by the "Led Zeppelin II" album, which my dad had gotten my older brother for his birthday. After seeing Black Sabbath "Live in Paris" on TV, I had decided to become a rock singer. But when the Alice Cooper "Love It To Death" album arrived in our home, I saw the coolest looking band ever with a killer attitude, who had some fantastic songs with great lyrics. They were like a street gang and the singer had such a cool and husky, wasted-sounding voice. He was THE guy who parents would love to hate and were disturbed and threatened by. He was skinny and "sick" looking, wearing eye make-up and even had a girl's name — the total opposite of the regular macho, kinda "manly" man that most guys would aspire to be.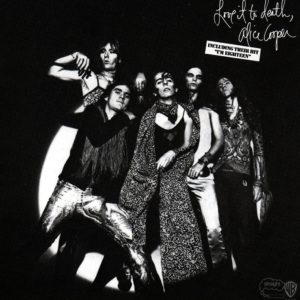 He immediately became my hero and a huge inspiration. To this day, I've never stopped loving the way that album sounds and how Alice and the band come across in the music. It really brought something special and essential to rock'n'roll, which I'm truly thankful for. God bless Alice Cooper — the rock world wouldn't be nearly as cool without him and his band, and "Love It To Death." Not to mention all the other fantastic records that followed in years to come.
Rock, Love & Respect,
*Michael Monroe*
2Fast2Die Says: "Love It To Death" is also my favorite Alice Cooper album. To this day, it's hard to find a band brazenly flaunting that much hair, razor-blade attitude and balls big enough to dress like cadaverous hookers. To the band's credit, all the ghoulish imagery is just black icing for the skin-crawling songs and wicked wordplay (a lesson often lost on the Cooper band's countless copycats). Besides the twisted self-discovery of breakthrough anthem, "I'm Eighteen," the album also features the head-spinning, hallucinogenic "Caught in a Dream;" the spitting, quasi-religious defiance of "Hallowed Be My Name;" the serpentine sleaze of "Is It My Body;" and my all-time favorite Alice Cooper song, "Ballad of Dwight Fry" (which is creepier than anything Marilyn Manson can claim). Keep in mind that all of the above was unleashed in 1971 — a time when the band was more likely to find truck-stop beatings and commercial suicide than anything close to stardom. For its guts and psychotic genius, "Love It To Death" is unquestionably a deviant and bold, must-have album.
For more on Michael Monroe, go here. Oh, and if you can find his one-off Demolition 23 album, wrestle it to the ground and never let go. It's a freakin' powder keg disguised as an album.