Pure Rubbish hooked my attention at SXSW 2001 when word from the gutter had the kids pegged as the next Guns N' Roses. I was further impressed to learn the Houston upstarts were winning favor with Ozzy and Sharon Osbourne, and supposedly securing producer Mike Clink who played a vital role in shaping a fairly memorable album called "Appetite for Destruction."
Intrigued by this Dumpster-load of street cred, I walked into the Atomic Café (now Elysium) on Austin's gritty Red River Street and … crossed my fingers! Soon enough, Pure Rubbish took the stage in all their youth-gone-wild glam-punk glory.
Holy Hanoi Rocks! How is it possible these young turks are so well-versed in throwback glitter-trash like Aerosmith, the New York Dolls, T.Rex and Alice Cooper? How is it possible they're more familiar with Stiv Bators than Kurt Cobain? Hey, don't they have homework and school tomorrow?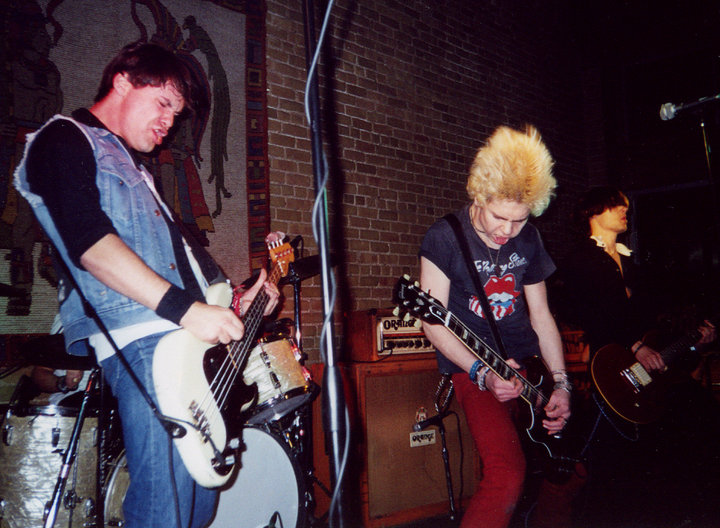 Floored by their snot-nosed talent (especially that of lefty lead guitarist and lead vocalist Derek Dunivan who remains one of the most talented musicians I've ever heard and seen), I introduced myself after their set and asked if they wanted to hang out around the corner at Flamingo Cantina. Sure, dude! As I approached the bar, I turned to ask the guys what they wanted to drink. The look on the face of drummer Evan Dunivan was priceless as he nervously stammered, "Dude, I'm only 14." Oh-key, doh-key. Howz'about I just meet you fellas upstairs, then?
As we became fast friends, I soon learned the Dunivan brothers grew up on the likes of the Glimmer/Toxic Twins thanks to their father/original Rubbish singer, Willie, (aka "Punk Daddy") who himself was a musician with impressive underground connections. Rubbish bassist Mike McWilliams was a grubby Dee Dee Ramone disciple and guitarist Jarrett Gardner was a cross between Joe Perry and Malcolm Young with an added dash of fashion sense. To top it all off, Pure Rubbish took their name from the words Mick Jagger once used to describe Herman's Hermits. Yeah, Pure Rubbish was my kinda band.
Bonded by our shared love of sleaze-rock, we agreed to stay in touch. Whenever I would drive to Houston to visit my then-girlfriend/now-wife, Kim (which was basically every other weekend), the Rubbish kids would call and invite us to rehearsals. Those were some scary good times! Another scary time found Pure Rubbish and me in a downtown Austin La Quinta hotel when someone set the ceiling on fire. Thankfully, no one was hurt — or arrested. Then there was the time in Houston when Pure Rubbish (minus Jarrett) was house-sitting some club owner's crib and … well, um, I've probably said enough.

When Kim shortened our long-distance commute by moving to north Austin, I arrived at her door one night to find her all excited about something she'd seen on TV. "You're not gonna believe it!" she said. "Watch, I recorded it!" She rewound the VHS tape and there on TV was Pure Rubbish backing Ozzy's daughter, Kelly Osbourne, as she made her singing debut covering Madonna's "Papa Don't Preach" … on the freakin' MTV Movie Awards!! Whoa!! Big-time!! How did I not know about this? Regardless, I was proud and certain the Ozzy connection would launch my friends to stardom, especially considering "The Osbournes" MTV reality show was about to go gangbusters.
Obviously, the Guns N'Roses-level fame never happened (blame the music biz, kids), but Pure Rubbish did manage to eek out some rare singles, an EP, a few compilations and the hard-to-find, but well-worth-owning, 2001 Clink-produced album, "Glamorous Youth." They also toured with Motorhead, Nashville Pussy, Supersuckers and Ozzfest 2001 (a trek that found the guys followed by a Rolling Stone reporter who published a multi-page spread on the band's under-aged shenanigans). There's also that time they were invited to open for AC/DC. In Paris! In other words, they did plenty of cool things that you and I didn't.
Today, Pure Rubbish is long gone (excepting a recent and rare one-off reunion gig). I still bump into glam-obsessed Jarrett from time to time and am told a now-bearded (!!!) Evan lives five minutes from me in South Austin (call me, dude). Mike is now living in New York and still playing scuzz punk in a band called the Bad Luck Charms featuring some guys from U.S. Bombs. As for Derek, I'm not sure. Last I heard, he was more of a studio geek who broadened his musical tastes and talents (along with Evan) into Radiohead territory. Whatever he's doing, you can bet it's brilliant.

In three-plus decades of befriending rock-n-roll, I've come across a ton of individual talent and a handful of magical bands that could've easily gone the distance. Pure Rubbish was one of those bands. I'm not saying they would've set the world on fire or rivaled Van Halen for sales and staying power, but they certainly were deserving of greater attention. Then again, I know a lot of bands that would happily die tomorrow if they could claim they opened for Angus. In Paris! At age 16!
Thanks for the music and memories, guys.
And if you're out there, let's go grab a drink. You're legal now, right?
#####################################################
To view some amazing Pure Rubbish videos including an MTV interview alongside Motorhead as well as live footage and candid, behind-the-scenes stuff, go here. At the risk of having the guys punch me for digging up a lost gem that still makes me proud, click below to see Pure Rubbish backing Ozzy's daughter, Kelly, as she makes her singing debut on the MTV Movie Awards (pay attention as Derek rips short, but stinging solos at 2:21 and 3:10). Finally, for an earful of original Rubbish, click the bottom video and then go try to find the album, "Glamorous Youth."
[youtube wdTQmRhYFIg]
[youtube v0Tqz8gjZsA]