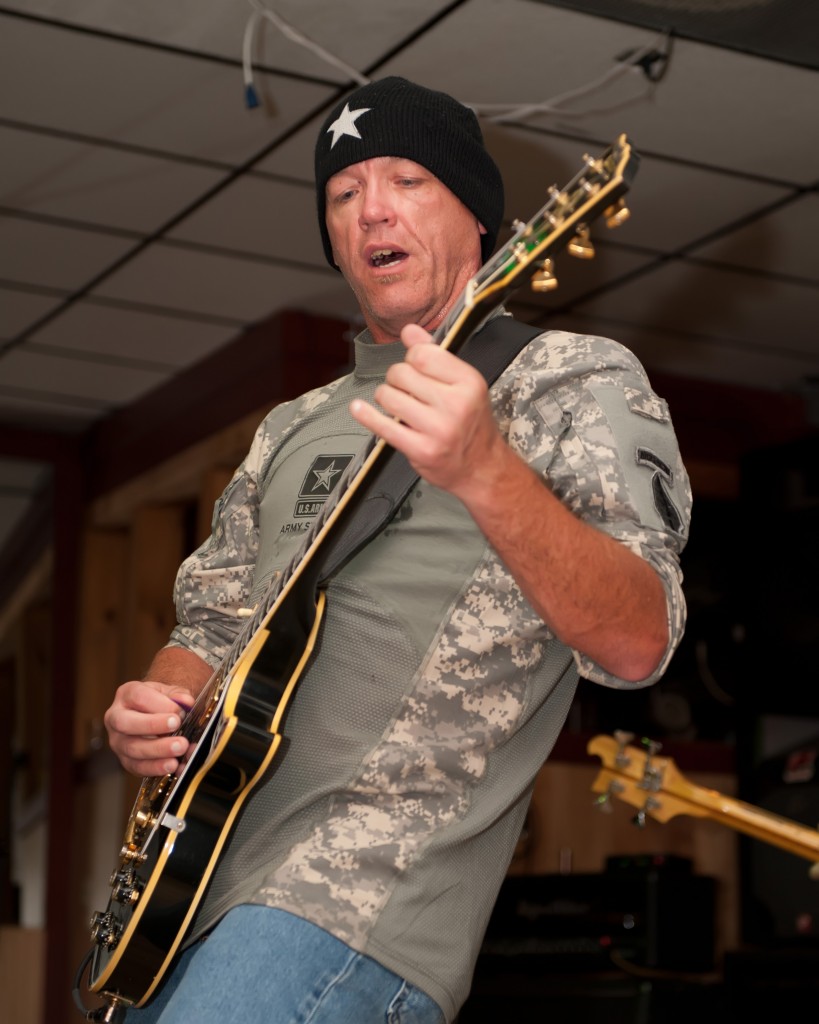 Scott Dalhover has come a long way since his days of terrorizing Denny's restaurants. In fact, even he can't count the miles between then and now.
Best known as the longtime lead guitarist for Austin-based hard rockers Dangerous Toys, Dalhover is now a ridiculously fit cycling enthusiast who probably has less body fat than a 10-foot stalk of celery.
As Dangerous Toys gears up for their annual reunion gig Saturday, Dec.3 at Red Eyed Fly in Austin with special guests Shotgun Rebels, I asked Dalhover to hit the brakes long enough to talk about playing with Toys, pumping the pedals and making his own guitars. Oh yeah, there's also that little Denny's confession.
Start Yakking, Scotty ….
First of all, how'd you get the nickname "Turbo"?
"Turbo" started out as kind of an inside, pre-Dangerous Toys band joke. We were just sitting around making up names and "Scotty Turbo" just seemed to stick from that point on. It's probably because I used to — and probably still do! — drive everyone crazy because I find it hard to just sit still for any period of time. [ABOVE: Turbo-charged shredder. Photo by Christopher Joles]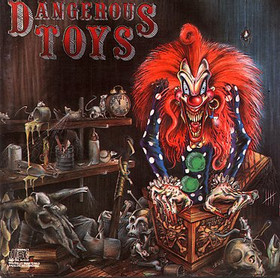 Plug your most recent project
I'm starting a new project with some of my buddies from the Iron Maiden tribute band, Drifter, and the Judas Priest tribute band, Sad Wings. You probably know Joseph Martinez, Stony Grantham and Marc Ruiz. It's heavy, groove-oriented metal/hard rock. We've got no band name yet since we're still writing the new material.
Name the album that changed your life and tell us why
Man! That's a tough one. It would be more of a combination of albums. I'd have to say the first two Van Halen albums, "Blizzard of Ozz," Alcatrazz "No Parole From Rock'n' Roll" and Loudness "Thunder from the East" were all big influences on me, as well as early Rush and Police.
Name your first concert and share your memories of it
Kiss, "Dynasty" tour. I was 15 and rode a bus with my friend from Killeen, Texas to Abilene, Texas. It was awesome and amazing! Especially since I had never been to a concert. I was just blown away by the spectacle.
Share a touring "horror story" or Spinal Tap moment
We had a steel gray tour bus and we used to put "Prison Bus" in the marquee that lit up in the front. You've never seen establishments run up and lock their doors so fast the minute we pulled up! Denny's … I'm looking at you! We did get lost in the bowels of a few venues ala Spinal Tap, too. The older theaters were especially good for that.
Your best and worst tattoo?
I don't have any tattoos, but I've seen some really good Dangerous Toys clown tats on our fans. That's always cool. [RIGHT: A fan's tattoo etched in the flesh]
What was the name of your very first band? Share some other band names that were ultimately rejected
(Toys bassist) Mike (Watson) and I had a band named Scratch before we came to Austin. I can't remember any rejected band names, so they must have really sucked!
List your three proudest Dangerous Toys moments
1) Opening for the Cult on the "Sonic Temple" tour 2) Being part of the Operation Rock 'N' Roll tour which featured my heroes Judas Priest, Alice Cooper and Motorhead, and 3) Not dying in a bizarre gardening accident.
How did you get started making your own guitars?
I've actually been making my own guitars since before Dangerous Toys was signed. Back then, I would slap different necks and bodies and pickups together to get what I wanted. Or I would re-fret my guitars myself because I could do it in one day versus waiting a week for someone else to do it. My buddies Ross Jennings and Jeff Thompson built me a few guitars in the '90s and I used to go to their shop every day. I asked Ross a bazillion questions and learned a lot. I got into building from scratch when I couldn't find a Flying V with the features I wanted. My initial attempts were pretty awful, but I learned from my mistakes. Making a set neck guitar versus just slapping a neck on a body is a more difficult. I got it right on my third attempt and from there I just built what I wanted. Some friends saw my guitars and asked if I could build them something, so it just went from there.
[ABOVE: Scott with one of his self-made, custom-crafted Flying V guitars. Photo by Jay West]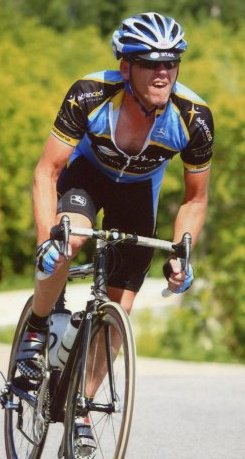 How did you get into cycling? Is it safe to say you ride at a competitive level?
I got into cycling to keep in shape and drop some unwanted weight around 2001-2002. Soon after, I started hanging out and riding with more hardcore enthusiasts and from there I got into racing. Now I'm a cycling/racing junkie! I ride 5-7 days a week and depending on the time of year, I put in 350–425 miles a week. I mainly race the Masters Open series. I plan to fly out and do some of the Tour de France and Giro de Italia routes in the next year or so. I've been racing for about four or five years now and I've always wanted to hit some of the more infamous climbs and some of the really long and insane descents.
Dangerous Toys ran with some pretty good company back in the day. Which rock stars left a favorable impression and which ones were jackasses?
I've been lucky enough to meet quite a few of my heroes — Rob Halford, Yngwie Malmsteen, Ronnie James Dio, Lemmy, Tony MacAlpine, Vinnie Moore, Dimebag, Vivian Campbell — all of them were very kind. I've also met a few guys whose playing I idolized that turned out to be complete A-holes. Maybe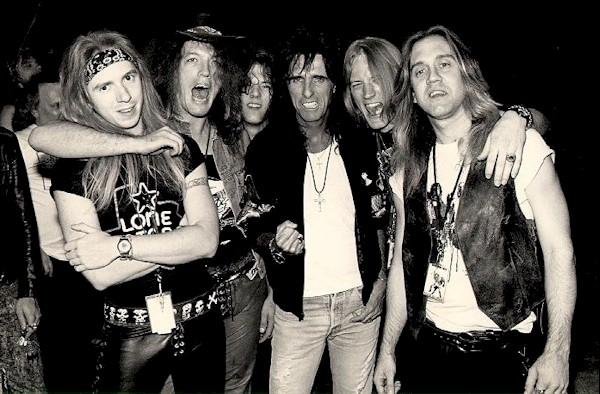 they were having a bad day or maybe they really are jerks. No biggie either way, but those experiences really shaped how I interact with people who just want to say hello, shake my hand or get an autograph.
************************
[ABOVE: 'Scared' silly with Alice Cooper. Scott is second from left]