As the singer for Watchtower, Dangerous Toys, Broken Teeth and a million others, Jason McMaster has made more connections than Tiger Woods during his decades in the heavy metal trenches. As his friend and part-time publicist for many of the past 16 years, I've often been along for the ride when Jason re-connects with his buddies in Motorhead, Slayer and Anthrax, among others. Hey, somebody has to ride shotgun!
Such was the case one day in 2001, when Jason and I drove to Austin's now-defunct Back Room to see his longtime pals, Armored Saint, open for the mighty Ronnie James Dio. As we pulled into the venue parking lot that afternoon, Armored Saint guitarist Phil Sandoval came running up to Jason's car, stuck a video camera in the window and started screaming the lyrics to the Dangerous Toys song, "Scared." Clearly, Phil was happy to see us (or at least Jason).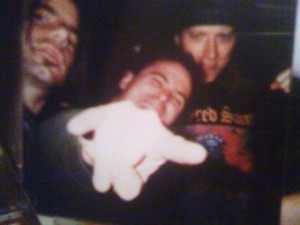 A few minutes later, we're onboard the Armored Saint tour bus. As everyone started sharing rock-n-roll "war stories," I found myself deep in conversation with Armored Saint bassist Joey Vera as we discussed the many virtues of Chuck Taylor tennis shoes. I also scored a few points by telling the guys I saw Armored Saint open for Metallica at San Antonio's Cameo Theatre in 1985 ("Ride the Lightning," baby!). At some point, Saint singer John Bush, who was on break from his Anthrax gig, asked Jason if he was up for singing that night. Does Slayer piss off the Pope?
A few hours later, the reunited Armored Saint had things heated to a boil in front of a capacity crowd when Bush introduced hometown hero, "Jason McMaster!" In front of a wave of rowdy applause Jason arrived on stage next to Bush and the duo let it rip on the agreed-upon encores, "March of the Saint" and "Can U Deliver." Somehow, I elbowed my way into position to snap the photo you see above.
Of course, it was always difficult to take a Back Room stage shot without capturing that infamous, center-stage blemish known far and wide as "The Pole." Ask anyone about the Back Room and "The Pole" gets as many mentions as the bands and countless crazy nights.
So there you have it. Another adventure with Jason McMaster complete with tour bus shenanigans, a special guest appearance, "The Pole" and Ronnie James Dio headlining a club as I watched alongside Armored Saint. I've had worse nights.
[youtube su18i-6nYs0]