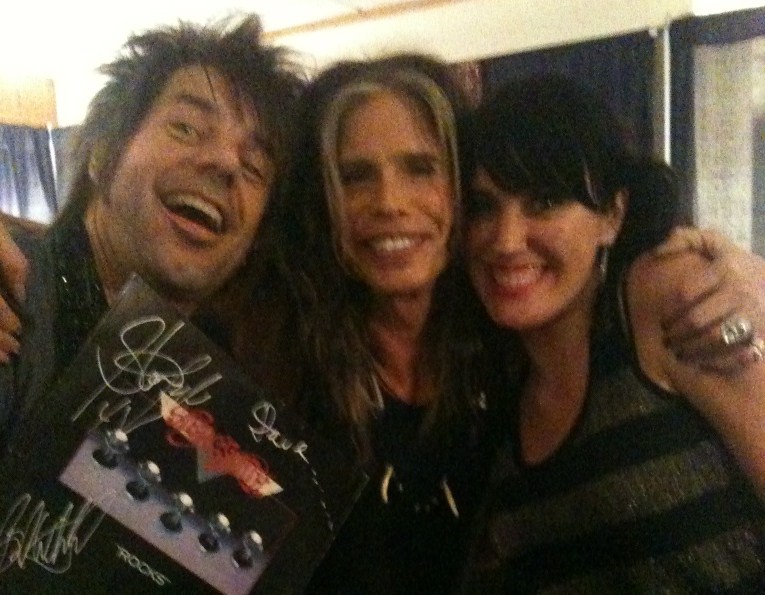 Let's just say meeting Aerosmith was hardly a night in the ruts.
The date was Nov. 16, 2012 in Austin, Texas, when Aerosmith hit town on the "Music From Another Dimension" tour. Depending on which day you ask, Aerosmith may be my all-time favorite band (they share a coin toss with the Ramones). Regardless, the Bad Boys from Boston are a band I can't live without. And singer Steven Tyler? My absolute favorite.
Knowing my pal Yayo Sanchez jams with the son of Aerosmith guitarist Brad Whitford, I mention that I'd be (ahem!) more than a wee bit willing to tag along if he had any backstage leverage the night of the gig. Yayo said he'd be happy to help if things fell into place, but I must admit to bracing for the deflating punch of defeat.
Nonetheless, this being Aerosmith and all, I decided a slim chance was better than none so I brought along the band's ultra-classic "Rocks" album from 1976. I figured if I managed to meet the band and didn't have an album ready for autographs, I'd be kicking myself to the grave. If, on the other hand, I didn't meet the band, then carrying the album would still leave a free hand for beer.
After texting back and forth during opening act, Cheap Trick, Yayo and teen Whitford arrived at my seat to escort me and my wife backstage. Sweet! At the very least, I knew I was going to meet Brad, which by itself would've rattled my rocks forever. Sure enough, we navigated the backstage corridors and found Brad in his dressing room where we exchanged a few words, snapped some photos and got my prized autograph. Brad was as mellow as they come, but also a super nice guy. It was an honor to share his space.
Just when life couldn't get any sweeter, Yayo started motioning frantically toward the hallway. Clearly this was a signal that another Aero-dude was nearby. I stepped through the door and into the hallway just in time to see Steven Tyler getting ready to disappear into his dressing room. What happened next is probably the most surreal moment of my life (excluding the birth of my son).
"Steven!" I shouted, not willing to let my hero escape without an attempted hello. To my utter amazement, he stopped dead in his tracks, turned and fixed his gaze on me and — instead of casually waving hello and ducking into his private room — he sent me into a giddy tailspin with a quote I'll never forget: "Wellll, look atchoooo!" he said. "Get over here, man!" I think I started floating.
As he waved me over, I reached back for my wife's hand and hoofed it toward Mr. Hey Diddle-Diddle himself. Standing face-to-face, we shook hands and exchanged hellos before he quickly steered us into his dressing room (tapestries, candles, incense, the whole gypsy vibe) so we could visit in private. Yes, I was flipping out. No, I don't think it showed (or at least that's what I  keep telling the adult version of me). I handed him "Rocks" and asked if he'd sign it. "Sure," he said. "That was a good album." Uh, yes sir, it sure as hell is!
In person, Tyler is every bit as electric as his persona. He yaps more than talks and his beady eyes, skinny frame and legendary lips are as animated as Wile E. Coyote. Hyper is his middle name and there seems to be no difference between the on-stage Tasmanian peacock and the off-duty Steven Tallarico.
After a few pictures and a 15-minute visit, I gave Tyler another handshake and a hug (he's like a bundle of sticks), and thanked him for being so over-the-top accommodating in offering us such an exclusive visit. In true Tyler fashion, he rasped off another zinger I'll not soon forget: "We make dreams come true, baby!" Indeed you do, brother! So much so that I barely noticed (or minded) when he gave my wife a peck on the lips as a parting shot goodbye.