My pal Stevie Rachelle is on the road and ready to rock. Go say hello and feed him some Sludge.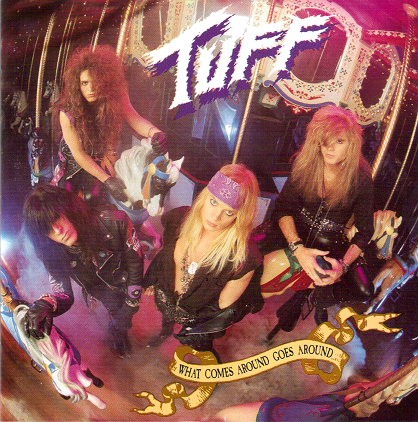 TUFF formed in the desert of Phoenix Arizona in 1985, but it took relocating to California and a half dozen years to reach that elusive record deal. After taking over the Sunset Strip in the late 80's with sold out shows at world famous clubs like "Gazzarri's", "The Roxy Theatre" & "Whisky-A-Go-Go" it finally happened. Now TUFF celebrates 20 years since "What Comes Around Goes Around" hit the streets with a string of summer tour dates.  It was May 1991 that the Los Angeles based rockers finally realized a dream that most young musicians don't. "I feel very honored to have had the opportunities we were afforded over the years." says vocalist and Wisconsin native Stevie Rachelle. Now a full 2 decades later, the band bassist & founder Todd "Chase" Chaisson along with Rachelle take it on the road with a string of Midwest tour dates along with appearances in Brazil & Mexico.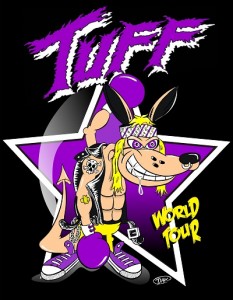 "It's been 20 years since I played many of these cities with TUFF and I am stoked to go back again." Says Chaisson – whose family has a bloodline of name rock bassist's (Greg Chaisson – BADLANDS & Kenny Chaisson – KEEL). TUFF played well into the 90s releasing 2 major label discs, and a handful of independent records before calling it quits. "The impact of grunge finally took its toll, but in the fall of 2001 – I decided to fire it up again." Adds Rachelle. "I can't believe another decade has passed and to think we can still go play for fans around the world. It's something I dreamed of as a kid."
The band will spend the summer playing select dates, and perform tunes from their Atlantic Records debut. Including their Dial MTV #3 hit "I Hate Kissing You Goodbye", "So Many Seasons" & "The All New Generation". The band will include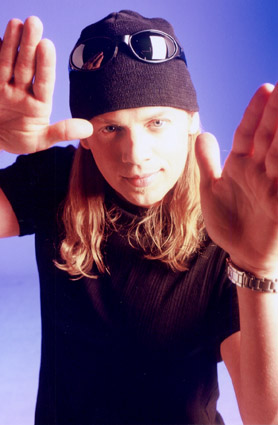 tracks from their 7 disc catalog, along with their #1 XM/Sirius Hair Nation smash hit "American Hair Band".
The band is rounded out by guest guitar player Jack Aurora (Sister Whiskey) and Trent Anderson on drums (Bang Tango).SUMMER TOUR DATES 2011
Tue. June 21st "Nite Caps" Chicago, IL
Wed. June 22nd "Swobey's" Green Bay, WI
Thur. June 23rd "Water-Fest" Oshkosh, WI
Fri. June 24th "Papa's Social Club" Milwaukee, WI
Sat. June 25th "Pickle Park" Minneapolis, MN
Sun. June 26th "Wheelhouse" Cedar Falls, IA
Sat. July 16th "Faith & Whisky" Mexico City, Mexico
Sat. Aug. 13th "Inferno Club" Sao Paulo, Brazil