CHERRY ON TOP: The Last Vegas singer Chad Cherry digs chicks, monsters, rock-n-roll fashion, partying and opening for the likes of Motley Crue and AC/DC. Who doesn't?
When it comes to shooting-star rock singers, they don't burn hotter than Chad Cherry. A leather-legged version of vintage Rod Stewart spiked with the sex-bomb shimmy of Prince, Cherry is the kind of singer you imagine Slash should be stalking on his quest to land a new Velvet Revolver frontman.
Fortunately for us, the charismatic singer with the screechy rasp is commanding his own spotlight thanks to an equally magnetic band of glimmer-sleaze killers called The Last Vegas.
Brought to my attention about five years ago courtesy of favorable street buzz and a copy of the "High Class Trash" EP (which was left behind on the Broken Teeth tour bus), Chicago's The Last Vegas took me by force with their dynamite stage presence and rowdy rock echoes of Buckcherry, Guns N' Roses, the Black Crowes and Toxic-era 'Smith.
Liking what I saw and heard at the band's next Austin gig, I introduced myself to drummer Nate "Yeah, Yeah" Arling and we began corresponding and hanging out a bit whenever The Last Vegas returned to Texas. A couple years later, I was thrilled to learn the guys were hand-picked by Motley Crue as the winner of a Guitar Center contest that awarded The Last Vegas studio time, a bunch of gear, the production skills of Nikki Sixx and the opening slot on a Motley arena tour (Big kudos to the Crue for not picking a predictably "safe," corporate, "rock" band).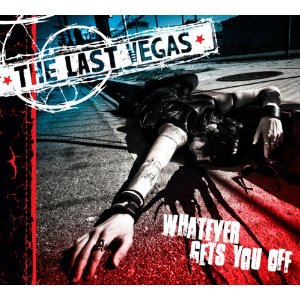 As The Last Vegas continues to build on the Motley momentum following the Sixx-produced album, "Whatever Gets You Off," (which is actually an updated and expanded version of the band's self-titled album … and a must-have Saturday night soundtrack); as well as opening for AC/DC and landing an early song on Guitar Hero, I e-mailed Chad Cherry to get the latest glitter and dirt.
Start yakking, Chad …
[BELOW: Sixx makes six in Vegas]
What surprised you most about working with Nikki Sixx?
I was surprised by his creativity level and how down to earth he is. Nikki is a true artist in the game of life. It's great to get a chance to see how he works, especially with song writing. He's larger than life and a total blast to be around. Just a really intelligent and inspirational human being.
How much debauchery ensued when you toured with Motley Crue?
Let's see … The Last Vegas on their first arena tour … Hmmm. Whatever your imagination can possibly come up with isn't even close to the insanity. Ha ha! So much fun to tell. So little time.
Plug your latest project
At this moment: The Last Vegas are finalizing a brand new record as we speak. It's fucking MASSIVE! I'm soooo excited about it! Get ready. I'm also writing for Lip-Service Clothing's: Devil Inside Web zine, as well as writing, filming and editing with partners in crime on "Ask Chad Cherry" episodes and all TLV media trash. I'm designing rock clothes and gear, demoing new ideas for songs, and coming up with my own cologne for men. Actually, the cologne for men thing is bullshit, although I might actually do that now! All the rest it true.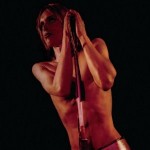 Album that changed your life and why
Iggy and the Stooges, "Raw Power." It made me realize the beauty in evil. The attitude in those songs seeped into my pores, absorbed into my bloodstream and went straight to my brain and bone. It's my theme music for being bad, and it probably created half the monster I am today. "Raw Power": Self explanatory.
Your first concert and memories of it
My first concert was Del Shannon. "I'm a walkin' in the rain, tears are fallin' and I feel the pain." My memories are a lil' blurry cuz I was probably 6 or 7 years old, but I remember Del wearing this amazing white suit and thinking to myself, "Wow, I bet he gets a lot of hot ladies dressing like that."
Any crazy rock-n-roll horror stories? Groupies gone wild? Ever been arrested in spandex?
The groupies are always beautiful. The party always go on waaaaaay too long and somebody either ends up in the hospital, in a different town or state, in Victoria's Secret panties and usually wanted by the police or a pissed-off jealous husband. Rednecks call you "faggot," but still ask for an autograph while wanting to "Deliverance" the shit out of you. And, I always have been arrested in leather pants … I've never worn spandex. The simplest things can turn into "horror stories."  Like I've said before, the music has taken us to some fucked up places with some fucked up scenarios. Being in a band can be an ugly way to live at times, but it's always interesting. Wouldn't have it any other way.
Your best and worst tattoo
My best tat is the sexy vamp girl that Kat von D did for me. It's on the inside of my left forearm. My worst tat is right above that one and it's the Black Flag bars. I did it myself with Indian ink and a hypodermic needle. What am I saying?!?! I love that tattoo!
What was the name of your first band and list some other rejected band names along the way
Wow! A question that no one has ever asked me. Right on, Dave! The first band I started was called System Analysis and it was "thinking man's punk rock" with a message of peace. From there I went to "METALPUNKPOWERVIOLENCENOISE." Band names such as Decay, Born Dead, Vein and an intense noise project called OOspecies. (sci-term for "egg species") I'm sure there's still cassettes, CDs and 7-inch records of this stuff floating around somewhere. All of these projects were extreme, loud, heavy as hell, brutal and pissed off. I played the underground circuit for quite a while until I felt the need to change musical styling. Then there was the Nastys. Rejected band names? Anal Foaming Cleanser. I still don't know why that one was tossed. Ha!
[BELOW: Motley Crew – Vegas drummer Nate Arling, Metal Dave, Cherry and Billy Velvet of Crank County Daredevils at SXSW 2010]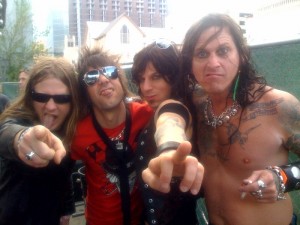 Musical accomplishment you're most proud of
Being in a band that won't let bullshit get in the way of our future. We fight like brothers at times but we don't let it affect the big picture of what we're about and what we need to do. With all the shit TLV has been through, we've managed to stick together when most bands would've thrown in the towel. On top of that, for the most part, all of us write music and we all have different takes on everything. This can be extremely difficult, but we meet in the middle and always make it huge. I'm proud of that. Having an iTunes "rock single" of the year is pretty swell, too.
Share a secret, guilty pleasure or hidden talent
Share a secret, huh? I have a lot of messed up stories that will remain secrets, and I don't think I'm ready tell ya one just yet, Davester. I gotta save something for the book! Heh, heh. Hidden talent? I do cartoon voices. Guilty pleasure? Thundar the Barbarian and checking out magazines at the grocery store to peep at Lady Gaga or Katy Perry. I don't care. I do it.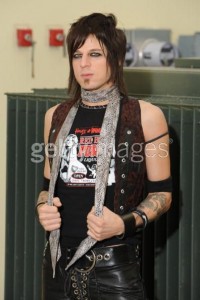 Do rock stars make better heroes or villains? Also, in your experience are rock stars pretty cool or self-centered jerks?
I have to go with the villain. They always have such better fashion sense than the good guys. Every "real" rock star I've met has been amazing, supportive and filled with inspiration. It's the "On their way up, acting like an active rock god shitter while Mom and Dad pay for them to be on the tour (and the bus) then show zero appreciation to what fans they actually do have dip-d-dip sticks" that leave an impression on me. I've seen fans waiting in the rain and cold for hours just to have their favorite shitty band (will not mention names) sign their stuff but it never happens — even when the band clearly has 2 minutes to at least recognize them or rear their ugly heads to at least say hi. Kind of an asshole quality to not acknowledge the fans. And everybody remembers an asshole.
I can't wait to get back to Austin. Such an amazing place and I love it there!
I just love Texas. ROCK ON and cheers to Texan TLV Warriors! Hell yes.
-Chad Cherry
www.thelastvegas.com
To see Motley Crue announce The Last Vegas as their opening act, Click here.
While no video will ever do The Last Vegas justice, these few here should get ya grinding