2Fast2Die Note: As Motley Crue threatens to uncork some raunch-n-roll debauchery at the AT&T Center in San Antonio June 9 (with special guests Poison and the legendary New York Dolls), I decided to dig up my previous interviews with rock's most notorious dirtbags. Ticket info is here.
Tommy Lee is calling long-distance, but I feel like I'm partying next to him. He sounds groggy, raspy and non-stop as ever while spewing nicotine into my ear. Hell, I can practically see his bloodshot eyes on the other end of the phone. He sounds like a man who watched the sun come up more times than might be advisable, but he's also hilarious and more than hospitable, which reminds me it's probably best that I'm a safe distance away. By the time I hang up the phone, I feel drunk by association. I also feel a nagging need to shower away the toxins.
Thank you, Tommy for transporting me into your crazy world. Next time let's do this on speaker phone so I can invite all my rowdy friends.
The following is my 2005 interview with Tommy Lee as it appeared in the San Antonio Express-News
By David Glessner
Special to the Express-News
The dirt on Mötley Crüe is losing the battle to bury the band. From drug marathons and car crashes to porn scandals and jail food, Hollywood's notorious glam-metal street survivors have weathered a mudslide of dastardly decadence.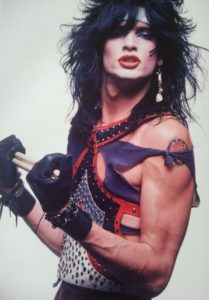 "When I look back, I can't even believe we're still walking around alive and (stuff)," says 42-year-old drummer Tommy Lee. Phoning from Los Angeles and audibly puffing a cigarette, Lee continues, "It was handfuls of this and bucket loads of that. I'm surprised people woke up after they passed out."
Revived and regrouped for the first time in six years, the powder-keg rockers are back to promote their "Red, White & Crüe" double-disc greatest–hits album and new single, "If I Die Tomorrow." The carnival Crüe ship — manned by lanky Lee, spiky-haired bassist Nikki Sixx, singer Vince Neil and self-proclaimed loud, rude and aggressive guitarist Mick Mars — docks at the SBC Center tonight for a rowdy romp through defining albums such as "Too Fast for Love" (1982), "Shout at the Devil" (1983), "Girls, Girls, Girls" (1987) and the mega-blockbuster, "Dr. Feelgood" (1989).
"When they say the circus is coming to town, we're definitely bringing it," Lee says. "That's what you'd expect from Mötley. It's just a given that we're not gonna show up with some (crappy) production."
Expect plenty of sideshow-style shock and awe along with flame-throwing stunts, including Lee's spin-from-the-rafters drum solo.
"Oh, I got some crazy (stuff) crackin'," Lee says. "It's actually really (freakin') dangerous. For the first time, I think I'm actually a little scared. If there's a preshow cocktail, it'll probably only be one!"
Moderation is not a word associated with Mötley Crüe. Besides 20-plus years of living fast and cheating death, the tattooed dudes have sold more than 40 million albums and more recently been juggling multiple projects, including Sixx's "Brides of Destruction" album and his upcoming junkie journal, "The Heroin Diaries" (he told Revolver magazine that readers may need a bucket nearby due to its stomach-churning content).
Meanwhile, the recently remarried (again) Neil has made the rounds on reality TV shows, including "The Surreal Life" and his own nip-and-tuck transformation program, "Remaking Vince Neil." Mars has been recovering from hip-replacement surgery necessitated by his lifelong battle with a degenerative bone disease that is crippling and slowly killing him. Sounds like a hectic time to get back in the fast lane.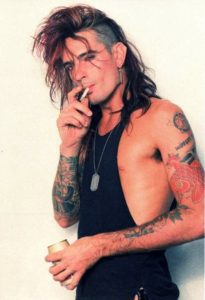 "Dude, the timing's crazy, huh?" Lee says. "Everyone should have their head checked. We got together, basically, because management and promoters around the world were calling. (The reunion tour) is basically fan-and promoter-driven. This was just a conversation several months ago and now it's on, bro!"
Also due is Lee's reality TV show, "Tommy Lee Goes to College.." Scheduled to air in June on NBC, the cameras follow the partying playboy around the University of Nebraska as he pursues beer, coeds, a stint in the marching band and, ahem, higher education.
"It was (freakin') nonstop from the second I got there," Lee says. "People were tripping out. Without giving away too many details, we did the entire spectrum of being in college, from me trying to be in a frat to me going `(Screw) this! I'm starting my own frat!' I've never had that experience. These guys would finish their tests at 1 p.m. or 2 p.m. and start having beers."
Lee may seem out of place in academia (except for the part about beer), but he's right at home in the studio, where he is finishing his latest solo album to coincide with his TV show. One of the new tracks, "Good Times," will serve as the theme song to his show.
"The record's killer, bro!" Lee says. "Dave Navarro's on it, I got Slash, Butch Walker, Andrew from Something Corporate, Good Charlotte. I had Pink on a track for a while, but she couldn't give it to me cause all the (freakin') business people got involved, ya know?"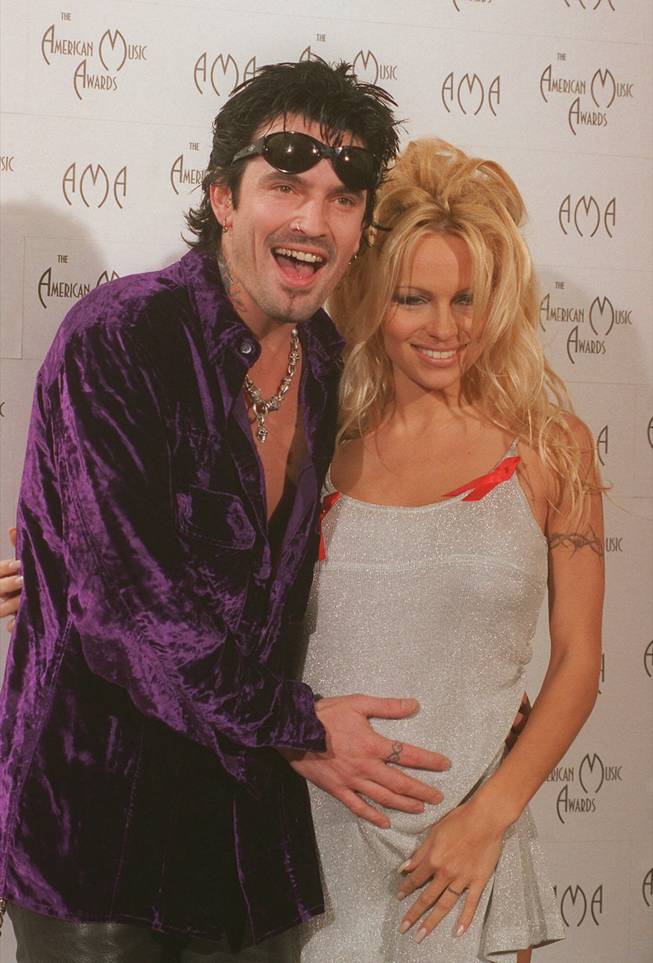 Dealing with authority is a pain in Lee's neck. Anyone who has bought groceries has seen the tabloid headlines exclaiming his latest brush with the law and ugly splits with his long list of gorgeous women, including Heather Locklear, Pamela Anderson, Bobbi Brown, Tawny Kitaen, Mayte Garcia and bad-girl rocker Pink.
His tumultuous marriage to Anderson was a checkout-line soap opera until their divorce and his subsequent 1998 incarceration for spousal abuse.
"For the most part everyone was pretty cool to me except some of the sheriffs," Lee says. "As far as the inmates, if anything, people wanted my autograph and (stuff). It was weird. Dude, everyone there is a (freakin') criminal, ya know? You just do your time and get the (hell) out."
While slumped in the slammer, Lee began writing his autobiography, "Tommyland." The roller-coaster read landed on the New York Times best-seller's list.
"It's been (freakin') killer, dude," Lee says. "I never, ever, in a million years thought I'd be staring at a newspaper seeing my name on a best-selling authors list. It's crazy!"
As for Anderson, Lee says things have settled into civility for the sake of their two sons, ages 7 and 8. Despite their high-flying careers, the bad boy and the bombshell make time for the kids.
"They're doing karate, soccer, football, baseball, you name it," Lee says. "Of course, they're doing music. For my youngest boy's birthday, I got him a P.A. system and they got a little band called the Termites. He had some friends over and they were taking turns jamming and making the craziest racket you ever heard in your life. I had a little tear in my eye. It's all good, man."
BELOW: Something  classic and something new featuring Tommy Lee.