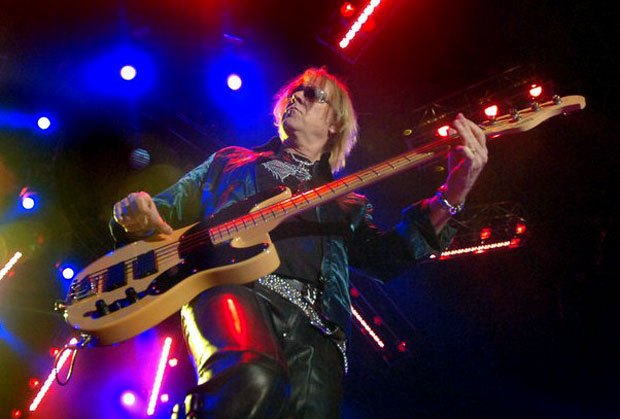 Aerosmith plays the Frank Erwin Center in Austin, TX on Friday Nov. 16 with Cheap Trick. Ticket info here.
Let's give credit where credit is due: Just because Steven Tyler and Joe Perry pulled rank as Aerosmith's "Toxic Twins," that doesn't mean the rest of the band was all cookies and chocolate milk. Bless their hearts (and pickled livers).
"Yeah, they get all the credit even though I worked so hard at fucking up my life," said bassist Tom Hamilton during my 1999 interview. "Everybody was into enjoying the times, but some of us weren't doing it so much in public."
After more than four decades of rock-bottom lows and all-time highs, Aerosmith's original lineup is still amazingly intact and celebrating today's release of their 15th studio album, "Music From Another Dimension."
Somewhere between the suicidal excess and miraculous sobriety, Aerosmith became America's greatest and longest-running, hard-rock institution. Ask Van Halen, Guns N' Roses, Motley Crue or Metallica where they got their wings and you can bet an Aerosmith album (or two) lands under their influences.
What follows are quotes from Tom Hamilton excerpted from interviews I conducted in 1999 and 2003. The quotes originally published in stories I wrote for the San Antonio Express-News. As Aerosmith's bass player, Tom is used to being in the background, but as an interview subject, his quotes are center-stage entertainment.
1999
On the early days circa 1970
"We all lived in an apartment on the second floor on Commonwealth Avenue in Boston. We'd all wake up in the morning because we'd hear Joe crashing around in our little roach-infested kitchen. Steven and Joe would make this dish out of brown rice and vegetables. When I was really hungry, I'd go to Burger King or down to the Stop-n-Shop and 'liberate' some hamburger meat. That's what we called shoplifting back then."
On finding sobriety
"I don't like the word 'sobriety,' because to the public it sounds very Amish and I'm definitely not Amish. We really are teetotallers at this point, because mentally, we're too close to the consequences of (screwing) up again. If you have a leaky roof and you let it leak a drop at a time, eventually you'll have a waterfall coming down on you."
On writing the famous bass intro to "Sweet Emotion"
"It was one of those songs where I was, shall we say, mentally prepared (laughs). I just started exploring the neck of my bass. We were recording 'Toys in the Attic' and we had an extra day in the studio, so Jack Douglas, our producer, asked if anyone had anything. It finally dawned on me that 'Sweet Emotion' will be around for a long time, which is weird because we were such an underground band when we started."
On the early '80s departure of guitarists Joe Perry and Brad Whitford
"Speaking for myself, it was a renewal. Joe is one of my oldest friends, but it had gotten to the point where the corruption of booze and coke had alienated us. The musical potential was like an abused child that had to play second fiddle to everyone's problems."
On reuniting and making a comeback
"In the beginning of 1984, we looked at our (situation) and decided we had to get clean, coherent and − God forbid – humble. We looked at what we threw in the trash and it forced us to come out of our denial."
On making music videos
"When we first started doing videos, I thought they were a major pain in the ass. But we learned that it's another way to be creative. Some members of the band are more comfortable in front of the cameras than I am, but we all love movies and it's satisfying when a song and a video complement each other."
2003
On early gigs with KISS
"We did a few dates together (in the '70s). They opened a couple of shows for us and we didn't know what to expect. Nobody mentioned to us that this band had such a bizarre stage show. We kinda got caught with our pants down."
On hanging out with KISS guitarist Ace Frehley
"The first night I ever met Ace was in 1972 when we got our recording contract in New York City. He happened to be a friend of a friend. I was hanging out with him and he told me he was a guitar player. I asked him if he was in a band and he said, 'Yeah, I'm in this weird band and I don't know what's gonna happen with it.' That was the last I saw of him until we did those gigs together later on."
BELOW: One of Aerosmith's most famous songs is firmly rooted in a Tom Hamilton bass line.