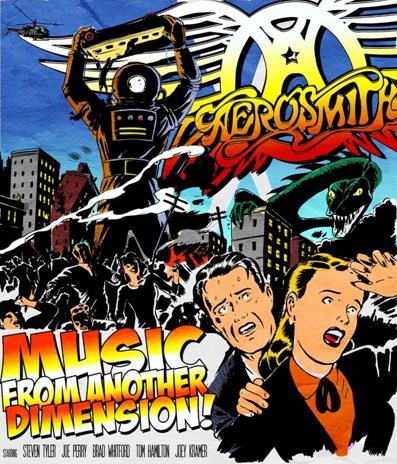 The following originally published in the Austin American-Statesman on Nov. 15, 2012 to advance Aerosmith's Nov. 16 concert in Austin with special guest Cheap Trick. Where noted, it has been expanded to include additional content.
AEROSMITH DRUMMER JOEY KRAMER STILL HITS HARD, LIVES IN TEXAS

By David Glessner
Special to the American-Statesman
Joey Kramer wasn't born in Texas, but he got here sooner than never. A native New Yorker and longtime Bostonian, the 62-year-old drummer for legendary rockers Aerosmith today resides in Georgetown (who knew?). "I've been here for two years," he said. "I love the peace and quiet. I love the area. It's great."
Prior to last week's release of Aerosmith's 15th album, "Music From Another Dimension," Kramer phoned to discuss four decades of classic hard rock, toxic excess, hard-won sobriety and that prickly issue of singer Steven Tyler's two-year stint on "America Idol." Oh, we also tossed in some Skynyrd trivia to give you an edge at happy hour. You're welcome!
What brought you to Georgetown?
My wife, Linda, is from Houston. She came to live with me (in Boston) and didn't really care for it. I'd always heard Austin was really nice, and I fell in love with the Hill Country. Next thing I knew, we were buying a house.
Jack Douglas returned to produce "Music From Another Dimension" after famously helming your classic '70s albums. Any anxiety about the new album being measured against your past?
I don't know that there's anxiety, because this time we were measuring (the songs) against (fan feedback). Everybody really likes the older records, so basically this album is all new material, but with the old Aerosmith spirit applied to it. I don't even think we anticipated being as pleased with it as we are − at the moment, anyway.
Is "American Idol" still a sore subject?
The thing everybody (in Aerosmith) was annoyed about most was how we found out. I found out during the course of an interview, because the interviewer asked me, 'What do you think of Steven's new gig on 'American Idol?' I was totally at a loss. At the same time, it brought us new fans and it all worked out for the best. It was something I think Steven needed to get out of his system as far as doing extracurricular activities.
You've been sober for 25 years following decades of notorious partying. What epiphany steered you straight?
One night, I'd come from a friend's house after doing a bunch of drugs and I was in my parents' basement drinking vodka. I was on the floor crashing from the cocaine and booze, and I called my wife downstairs and said, 'Listen, I can't do this anymore. I need help.' And off I went (to treatment). To my chagrin, in '95, I had a nervous breakdown and didn't understand where that was coming from, because I was clean and sober for eight or nine years. I went through treatment to get over it, through it, around it. I learned a lot about myself. I'm grateful to be alive, grateful for the band, grateful for the woman I'm married to. I have no complaints.
It's a little-known fact that, three months prior, Aerosmith was advised against buying the plane that crashed and killed members of Lynyrd Skynyrd. Did you consider dismissing that advice?
No! The guy we had (inspecting the plane) was a man by the name of Harold Buker who we trusted explicitly. He had been a pilot for many, many years and was the father of a good friend of ours. Whatever Harold told us, that's what we did. Obviously, (the crash) could have been us.
In your book, "Hit Hard," you write candidly about your father. Was there good with the bad?
I think that although I dealt with an abusive childhood, my father also instilled in me the intestinal fortitude that I have to get through something like a nervous breakdown or drugs and alcohol. The one thing he told me all the time was that if I ever needed to slow down, then do so − but whatever you do, never stop.
Can you look back now and laugh at the insanity of the '70s?
(Laughs) Yeah. I was single, 25-years-old, making a lot of money. We were having a good time. I look back now and don't know how I lived through it because there were many times, Lord knows, I should've been dead. I wouldn't go back and do it again, but if I didn't do it the way I did, I wouldn't be where I am now.
————-
2Fast2Die Says: The following comprises the expanded interview. Why? Because me-n-Joey ain't done talkin' yet! OK?

What does Jack Douglas bring to the table that, historically, has helped Aerosmith create magic?
The biggest thing Jack brings to the table, besides his expertise of course, is the fun factor. I've always believed if you're doing something and having a fun time doing it, it's going to come out well. That speaks for the likes of "Toys in the Attic" and "Rocks" and all the records that Jack did. I think we've done six records with him. We always have fun doing the tracks and working with Jack. In that kind of an atmosphere, you produce. He knows how to pull it out of us.
Did Steven Tyler have the "it" factor from the moment you met him?
Oh, yeah. Steven and I go back to high school together and he had "it" back then. It was pretty clear to everyone what he was going to do and who he was going to be and what he was going to become. It wasn't really a mystery.
Despite the absence of Joe Perry and Brad Whitford, a lot of Aerosmith fans like the "Rock in a Hard Place" album
It is a good record and there's a lot of great playing on it and some good songs on it. Jack ended up finishing that record. It was just a weird time in the band. Joe left and eventually Brad left, and me, Tom and Steven were left holding the fort down. We were all using heavily and it took a long time to do the record and it wasn't the band in its truest form. It wasn't the record that it could have been. We were just doing the best we could with what we had at the time
Your collaboration with Run DMC was a freak accident of the highest order. There's no way – especially at that point – you could've seen that as being a recipe for success
No, we didn't. It was basically a launching pad for the second part of our career. It went down in history because it was the melding of two different generations as well as two different types of music. It did what it did and it helped both of us out.
You've talked candidly about your bout with depression. Does it still require daily maintenance?
No, it's not a daily struggle for me anymore. I deal with it now and again, once in a while, but there was a period in my life where I dealt with it a lot. I kind of worked my way through it and worked my way through some issues I had with my father and relationships I had with different people that were close to me in my life. But it's about dealing with yourself and seeing yourself for what you are. If you want to be a better person, I can attest to the fact that it takes a certain amount of work. A lot of us want to do the work and a lot of us don't. It's really difficult to stand back and look in the mirror and take a candid look at yourself, and it's really hard to take a step back and listen to what someone else is telling you if you're lucky enough to have somebody like that in your life to do that for you.
How's your coffee business doing?
I'm actually on my way to Boston tomorrow to do some coffee business. We're in the midst of negotiating some deals to get it into retail stores. Right now it's available on rockinandroastin.com. I've loved coffee ever since I can remember. It helps me when I'm up, it helps me when I'm down, it helps me practice, it helps when I'm lagging in the middle of the day. There's no bad time for a cup of coffee.
For more Joey Kramer, visit www.joeykramer.com
BELOW: Aerosmith performing "Lover Alot" from new album, "Music From Another Dimension."