COOL FROM THE WIRE: Gene, Jack, Henrik and Paul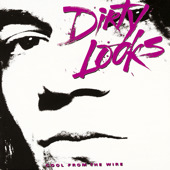 I got a text from my friend Brett McCormick yesterday (Jan. 27) saying Dirty Looks frontman Henrik Ostergaard had died. As someone who is close to the Dirty Looks inner circle, I knew Brett was a reliable source, but I still didn't want to believe him. Brett told me to touch base with our mutual friend and former Dirty Looks guitarist Paul Lidel who obviously was shocked and saddened by the news (although likely not entirely surprised). That phone conversation with Paul left no room for denial. Henrik was gone at the age of 47.

As half of Dirty Looks, Paul and Henrik (along with bassist Jack Pyers and flash-drummer Gene Barnett) first caught my attention with their 1988 AC/DC sound-alike song, "Oh Ruby," which was getting heavy airplay on 99.5 KISS in my hometown of San Antonio (God bless, Joe Anthony!). The song led me to the band's first major-label album, "Cool from the Wire." Within a week of purchase, "Cool from the Wire" was as necessary in my car as gasoline. It still stands as one of my favorite records. Not one lame song. And that voice! As raw as Bon Scott in need of a cough drop.
When Dirty Looks arrived at the Showcase Events Center for a gig in San Antonio circa 1989, my attendance was mandatory. Wow! My favorite album played live in front of my face by a bunch of hair-slinging biker dudes from San Francisco and Pennsylvania. Abra-cadabra, baby!
Fast forward to Austin, Texas, circa 1996 and I'm at a backyard keg party when I'm told Dirty Looks guitarist Paul Lidel is in attendance after previously moving to Austin to join Dangerous Toys. Really? He's HERE? I'm introduced to Paul and am admittedly star struck (which seems silly today since we've been friends for years). Here's the guy behind the riffs that drove such killer songs as "Put a Spell on You," "No Brains Child," "Can't Take My Eyes Off You" and the rest of "Cool from the Wire." That album was/is so important to me that even after Paul and I became friends, I still had the sheepish nerve to ask him to autograph it for me (which, of course, he did).
At the time of Henrik's death yesterday, he had reportedly had a heavy history with alcohol and was receiving hospice care (for specific reasons that remain unclear to me, but obviously would point to a dire illness of some sort). For the record, it's thus far been reported Henrik died of natural causes. Regardless, a loss is a loss. Sad is sad.
I never met or knew Henrik personally, but his voice on "Cool from the Wire" is still a damn good friend of mine whenever I wanna slam down some good-time, rowdy rock. If Henrik's voice is unfamiliar to you, I encourage you to introduce yourself. I promise you'll be friends forever.
RIP, Henrik and thanks for the memories and music.