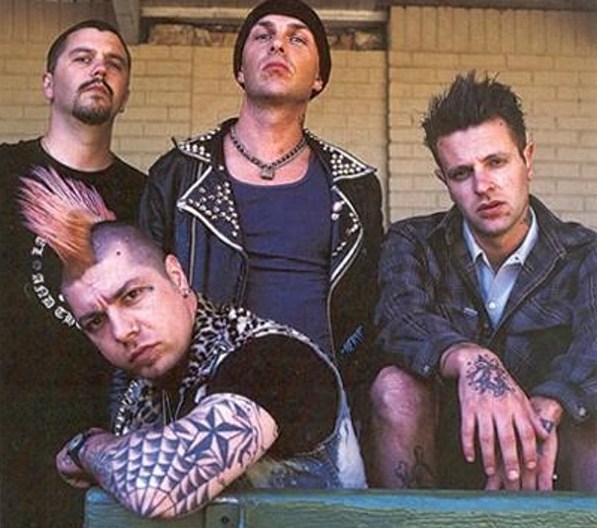 Remember when the Warped Tour was good? Yeah, it's been a while. For me, it's been 15 years.
Under a blazing August Texas sun in 1998, not only did the day end on the riotous, back-to-back succession of Rancid, NOFX and Bad Religion, but I also was the envy of my Warped Tour pals. Was it because I had a backstage pass to interview Rancid? Sure, that's possible. But truth be told, the real prize was that said interview would be conducted in an air-conditioned trailer. Sweet Jesus! It was hot out there!!
The following interview with Rancid bassist extraordinaire, Matt Freeman, originally appeared in the San Antonio Express-News in Sept. 1998. Enjoy in the shade.

By David Glessner
Special to the Express-News

AUSTIN – Tattoos outnumbered teeth backstage at last month's Warped Tour date at Southpark Meadows — and a large percentage of the eye-popping gems belonged to punk-rock lifers Rancid.
"Check this out, " said 32-year-old bassist Matt Freeman as he rolled up a T-shirt sleeve to pinpoint a tattoo tribute to legendary punkabilly band X. "This was my first tattoo. X is my band. I like them to the point of almost being a stalker. I was in a band with (X singer) Exene Cervenka called Auntie Christ. She's rad."
"Rad" could just as easily describe Rancid. From the do-it-yourself haircuts and crazy quilt of tattoos (guitarist Lars Frederiksen has the word "Beer" carved inside his lower lip) to the shout-along working-class anthems and high-energy stage presence, Rancid is punk rock's genuine article.
Rancid opens for friends and mutual fans, the Beastie Boys, at the Alamodome Saturday in support of the critically acclaimed "Life Won't Wait."
Recorded in various locales, including Jamaica, "Life Won't Wait" offers a slight departure as it features more pronounced elements of reggae, ska and dancehall alongside slamming punk rock.
"The bottom line is, you never want to make the same record twice," Freeman said, ending yet another response with "ya know what I mean?" "This is the first time where we didn't walk in the studio and walk out a week later with a record. If you can't have fun doing this, then what's the point?"
Freeman co-founded Rancid in 1991 when he and guitarist Tim Armstrong disbanded the now-legendary California ska/punk band, Operation Ivy. Friends since the age of 5, Freeman literally saved Armstrong from substance abuse and squalor by pulling him off the streets and insisting he re-focus on Rancid.
"These guys are my only friends," Freeman said. "We couldn't survive all the crazy (crap) you go through being in a band if we didn't have each other. We've sort of made this commitment that if all this ever interfered with us being friends, we'd break it up tomorrow."
Joined by drummer Brett Reed in 1991, the three-piece Rancid signed to Epitaph Records and released a self-titled debut. By 1993, one-time U.K. Subs and former Slip guitarist Lars Frederiksen joined in time to record "Let's Go," an album that gained minor MTV attention with the low-budget "Salvation" video. Freeman was soon being hailed as one of the best bassists in recent years due to his all-over-the-fretboard technique.
"I used to be in the high school jazz band," he said. "I also listened to a lot of Who albums. I'm a big John Entwistle fan. I also listen to a lot of X and the Specials. Horace Panter from the Specials is amazing."
During the 1994 Green Day and Offspring punk explosion, Rancid suddenly became the subject of a record-label bidding war that had Madonna mailing nude portraits in the hope of luring Rancid to her own Maverick Records. In a show of loyalty, Rancid turned down millions of dollars from multiple labels and stuck with Epitaph, prompting label owner Brett Gurewitz to get a Rancid logo tattoo.
"All of us being working kids and never having any money made it all real intense," Freeman said. "We didn't want to sign some crazy-ass seven-record deal that would tie us up for God knows how long. We want to run our own ship. It's really as simple as that."
The subsequent release, "… And Out Come the Wolves," featured Minor Threat-inspired cover art and the singles "Roots Radicals," "Ruby Soho" and "Time Bomb." The grueling support tour culminated with a Lollapalooza '96 appearance, which Rancid agreed to "only because the Ramones were playing," Freeman said.
By the time the "Wolves" campaign ended, Rancid established itself as the undisputed successor to the punk crown once worn by the Ramones, the Sex Pistols and the Clash.
"Today's punk rock is genuine for its time," Freeman said, comparing the '90s to the '70s. "Today you have all this crazy media and the Internet so it's just a different time. As long as you're honest about what you're doing, I think it's genuine."
BELOW: This is what a great bass player sounds like …