I AM NOT WORTHY!: Ronnie James Dio signs my albums backstage in San Antonio on the 2007 Heaven and Hell Tour. My look of disbelief pretty much says it all.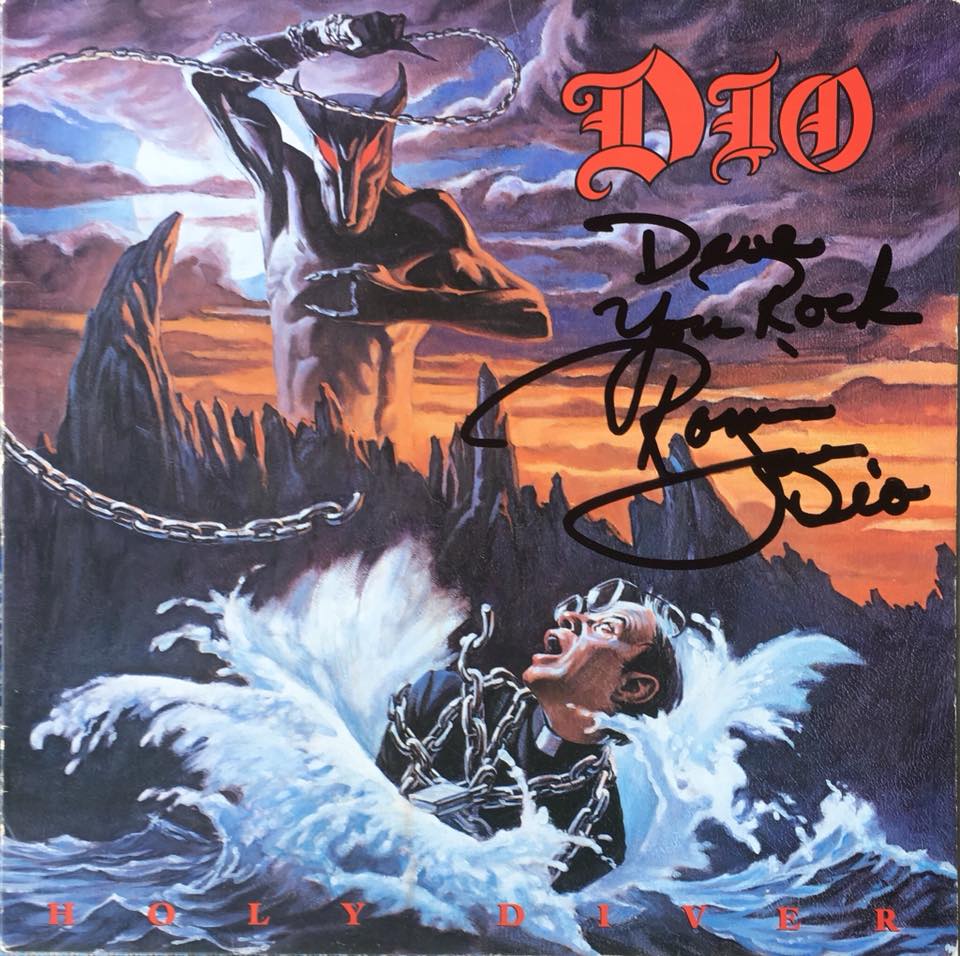 As promised, this is Part 2 of my tribute series marking the one-year anniversary of Ronnie James Dio's passing. I give you my 2007 interview with Ronnie himself as it appeared in the San Antonio Express-News. As Ronnie would say, it was "Magic!"
DIO AGAIN TAKES SABBATH HELM
Reunited band is now called Heaven and Hell
by David Glessner
Special to the Express-News
Ronnie James Dio is on the horn, but the conversation is going to hell. As my tape recorder malfunctions and sends a piercing squall through the phone line, the legendary singer offers some gracious comedic relief.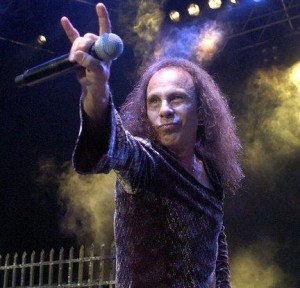 "No problem at all," he says. "Believe me, Dave, I've heard feedback before."
Indeed he has. For more than three decades, the 60-something Dio has pushed his muscular, battle-cry vocals to the forefront of the loudest and heaviest bands to ever hammer the metal anvil. From Elf and Rainbow to Black Sabbath and his namesake solo band, Dio is rightly crowned as heavy metal personified.
Tuesday at the Verizon Wireless Amphitheater, Dio gets his due when he resurrects his Sabbath days billed as Heaven and Hell. Joined by Sabbath's doom-riff guitar hero Tony Iommi and bassist Geezer Butler, Heaven and Hell finds Vinny Appice reclaiming the kit from original drummer Bill Ward, who has struggled with his health for years.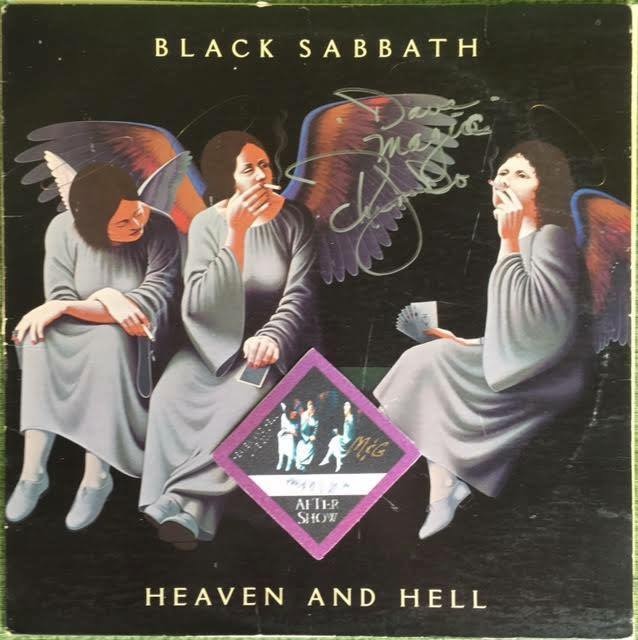 Promoting the new compilation album, "Black Sabbath: The Dio Years," Heaven and Hell is performing vintage Dio-era tracks alongside one or more of three new songs titled "The Devil Cried," "Ear in the Wall" and "Shadow of the Wind." Thrash-metal titans Megadeth and Machine Head will open.
"I was surprised at the fans' enthusiasm when this tour came out of the box and was officially announced," Dio says from his Los Angeles home.
Famous for his lyrical imagery of demons, dragons and storm-the-tower clashes, Dio has influenced everyone from Metallica and Slayer to Foo Fighters. Perhaps an even greater claim to fame is Dio's universally recognized forked-fingers devil-horn salute.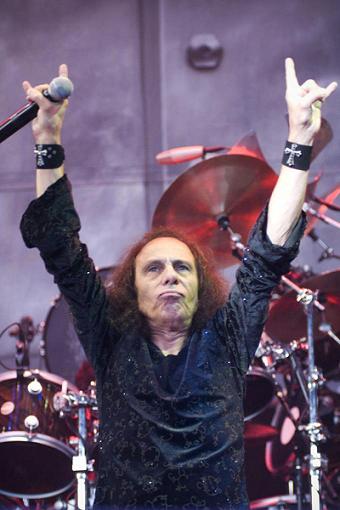 "You see it at Britney Spears concerts now and that's when you know you've lost it," Dio says with a laugh. "I certainly didn't invent it, but I've become synonymous with it. It's cool to do a show and not (flash the horns) for a while, because everyone in the audience is just waiting and waiting for it."
Hailing from the gear-grinding gloom of industrial Birmingham, England, circa 1969, Black Sabbath wrote the first sentence of Heavy Metal 101 when off-the-rails singer Ozzy Osbourne poisoned the flower-power parade with coffin-nail tales of doom and decay.
When American-born Dio was summoned in 1980 to fill the shaky shoes of the drug-addled Oz, a new chapter of Black Sabbath was bookmarked with the classic albums "Heaven and Hell" and "Mob Rules."
With Butler relinquishing lyric-writing duties to Dio, the singer penned songs about neon knights, falling off the edge of the world and wicked kings and queens who blind your eyes and steal your dreams. As if it was possible, Dio managed to push Sabbath's tombstone-heavy riffs further into the mythical realm of heavy-metal milestones.
"As you said, I think (both versions of Black Sabbath) are two distinct entities," Dio says. "In listening to 'Heaven and Hell,' I find very few flaws in it. If you've got a great band playing great songs that defined an era, you've got something really special. Some of the people who discovered Sabbath at that point didn't even know there had been a Sabbath with Ozzy."
"This is not a me-versus-Ozzy thing," he continues. "Sabbath with Ozzy invented heavy metal. They deserve the credit they've been given. I just brought something different, because I came from a more musical place. We kept the integrity of the heaviness, but musically, there were a lot more places for Tony and Geezer to go."
Alas, it was Dio who had to go after the 1982 live album, "Live Evil," parts of which were recorded in San Antonio. Power struggles and accusations of Dio and Appice tampering with the album mix sent the pair packing.
"There were too many people whispering behind too many other peoples' backs," Dio says of the split. "Truth be told, Vinny and I were waiting for Tony and Geezer to come to the studio and they never did. Things got blown out of proportion."
Free to pursue a solo career, Dio scaled even greater heights with a chain of early 1980s albums, including "Holy Diver," "The Last in Line" and "Sacred Heart."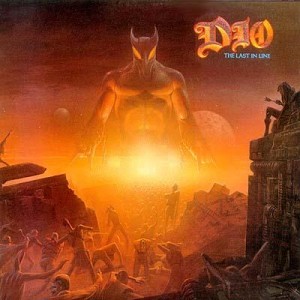 By 1992, Dio and Appice were back in Sabbath for the making of the "Dehumanizer" album, which Dio describes as "one of the great, underrated albums of the metal genre." The comeback was soon cut short.
"About a week into the American tour, I was told we were going to be the opening act for Ozzy for two shows," Dio says. "I said, 'No, I won't do that.' At that point, so much dirty water had gone under the bridge and I knew Sabbath was going to reunite with Ozzy anyway, so I just refused. They got Rob Halford as a late replacement for me to do those two shows. I did what I believed in and I still think it was right."
Fortunately, things are going well in Heaven and Hell. Unlike reunions by Kiss or Van Halen, Dio says the gates of Heaven and Hell will be locked before the legacy is pillaged.
"Had I been bright enough, I would have used your exact last words," Dio says. "If you get into the cycle of an album and a tour, and then another and another, at some point you're forced to do something you don't want to do. We all have other commitments and the guys are going to have their 40th anniversary with Sabbath next year, so I'm sure they'll do something with Ozzy."
Until then, Heaven and Hell awaits.