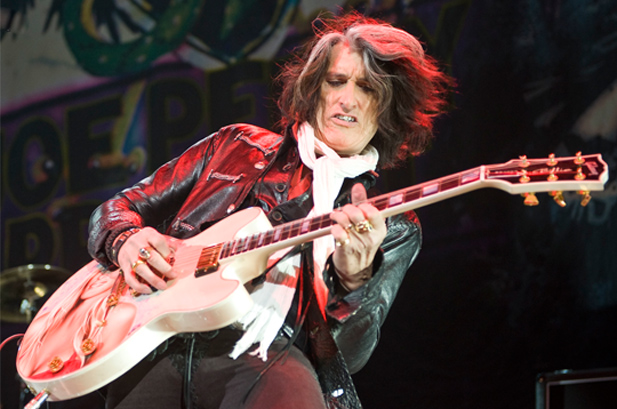 Aerosmith plays the Frank Erwin Center in Austin on Friday, Nov. 16 with Cheap Trick. Ticket info here.
Despite his best efforts to live fast, die young and leave a fabulous head of hair, Aerosmith guitarist Joe Perry has buried his expiration date.
Now 62 and free of the copious toxins that once kept him alternately wide awake or blacked out for days, the man with the immortal boogie-rock riffs and impossibly good genes is still living a charmed life. Along with his equally rehabbed, all-original(!) Aerosmith mates, Perry will soon release the band's 15th album, "Music From Another Dimension," and spend the next few months playing to arena-size crowds. Not bad for a bunch of dudes Grateful Dead singer Jerry Garcia (aka "Captain Trips") once called "the druggiest bunch of guys I've ever seen."
What follows is a compilation of quotes taken from my 2001 and 2006 interviews with one of my rock heroes, Mr. Joe Perry. These quotes are excerpted from my articles originally published in San Antonio Express-News. Take it away, Joe …
2001
On Aerosmith's collective struggle for sobriety during the 1980s
"It took time. It took a couple of years, really, to learn new behaviors. Five guys on the total road to burnout can get it back together again? I don't know why it's us, but it is. It's just a miracle."
On the backlash from using outside songwriters and the mega-ballad "Don't Want to Miss a Thing"
"Well, most of it is bullshit. We've sold out every show on this tour, or at least 98 percent, so ultimately the fans are voting. It kills me when people go, 'How could you do a Diane Warren song?' I say, 'Why not?' When someone puts a song like that in your lap, it's just great.
On his 1979 departure from Aerosmith and ultimate return in 1984
"I guess we had to go through those things to get to where we are. I think at that period of time we had to deconstruct what we were doing and break it down whether we knew it or not. We certainly didn't plan it that way, but I think that's one of the things that laid the foundation for the band to get ready for the '80s. A lot of other people had to go through the same thing, but for them the light at the end of the tunnel was an oncoming train."
On the alienation that led to 'Aerosmith's Greatest Hits' being released without his knowledge
"I was in a 24-hour supermarket, it was 3 in the morning and somebody came up to me with the 'Greatest Hits' record and said, 'Can you autograph it for me?' I was, like, 'Wow, what is this?' It turned out to be one of our biggest-selling records, but at that point I was, like, 'Nobody asked me about this.'"
On teaming with Run DMC for the mega-comeback rap-rock version of 'Walk This Way'
"It sounded like a good experiment. Certainly, we didn't think of the commercial potential or even that it was going to come out. It's one of those things, like you said, that turned out to be a turning point for us."
2006
On surviving a lifetime of decadence and health scares
"We realize that every gig could be the last. We are definitely closer to the end than the beginning, so we just count our blessings and keep going. We've put ourselves through so much over the years between the car wrecks and all the drugs. We've survived everything. It really makes you appreciate every day in a way you can't imagine."
On the notorious 'Toxic Twins' nickname he shared with Steven Tyler
"I'd say it was pretty appropriate. I have a little less trouble explaining it to my kids now than I did five years ago. My kids have been around so much of this business that they're not blinded by any kind of false glamour. It's no different than any other family that has to deal with bringing up kids in this world. We still have to deal with Internet trash and we still have to deal with them hanging around the good kids and the bad kids. You share your knowledge and leave it up to the kids to take it or not."
On killing spare time while touring
"I can always find a shooting range somewhere. We started touring by bus about five years ago and it gave my family a lot more freedom to do things. One day we might go to a museum, another day we might go paragliding in the desert. Sometimes we just lay in bed all day."
On meeting his hero Chuck Berry who was 80 at the time
"It's amazing because he looks like he's 60. He sits bolt upright, he's strong, he's clear in his eyes and he has a really firm handshake. It's really striking. It's that old cliché about rock-n-roll keeping you young. It starts to sink in that you're sitting there with the king of rock-n-roll. We had barbecue beef sandwiches and he loves orange juice, which is probably one of the reasons he looks so good. We got to see him play. It was pretty amazing. He's still got it. He did the duck walk! It was great."