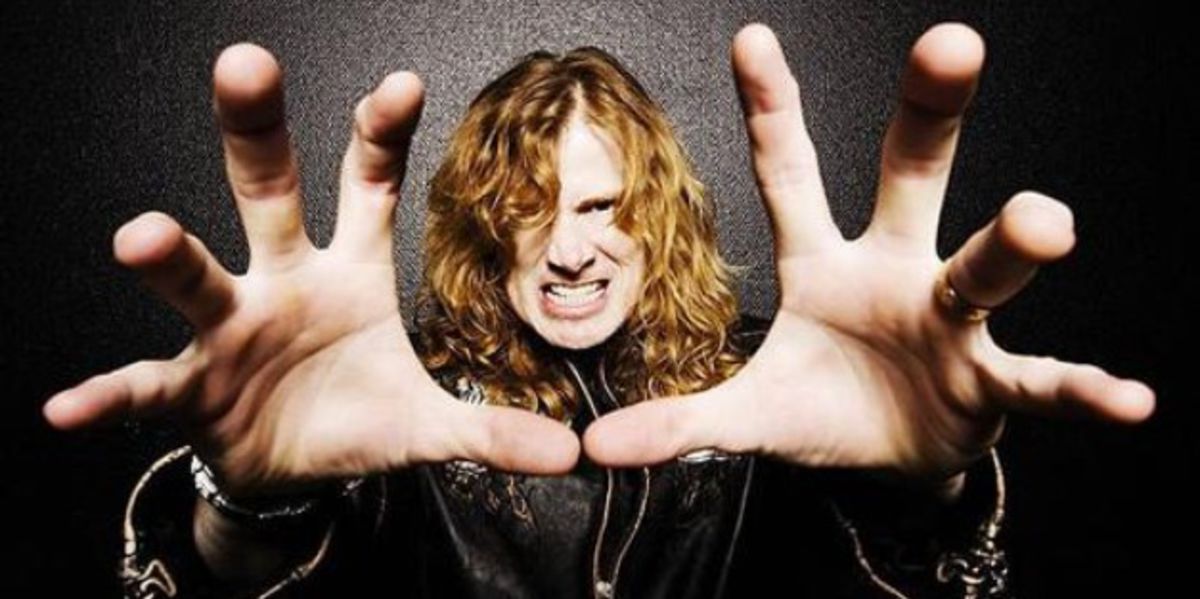 I've interviewed Dave Mustaine a handful of times, but never has he hijacked our conversation so quickly (or incoherently) as the one that follows. Published in the San Antonio Express-News in 2009, I never got past "Hello." Brace yourself for the loopty-loop …

By David Glessner
Special to the Express-News
Dave Mustaine doesn't do interviews so much as he takes them hostage. Calling from California to discuss his latest album, "Endgame," one has to wonder if even a root canal could interrupt the Megadeth mouthpiece.
"I'm pretty well ready to do my job," says the iconic heavy metal vocalist and guitarist regarding last-minute tour preparations. "I just make sure I have my workout gear and my personal stuff together, and make sure I have what I need on stage. It's a matter of, 'How dedicated am I?' Is this a joke? Is this a hobby? When it's time to go, I'm ready."
Ready and apparently then some, Mustaine brings Megadeth to Sunken Gardens Theater on Tuesday for a snarling display of speed-metal supremacy. Machine Head, Suicide Silence and Arcanium open the show.
Touring in support of "Endgame," Megadeth is back with an excellent twelfth album full of head-rattling riffs, shred-tastic guitar noodling and the venomous vocals that have made Mustaine one of the most polarizing and politically outspoken personalities in heavy metal.
"When you have a record like ('Endgame') and you look at the sales and they just aren't there, you start to take that personally," Mustaine says, hinting at a lack of promotional push from his record label, Roadrunner Records. "I gotta tell you, it's been so frustrating for us the last few years with the way things are going in the music industry. I remember back when people would say something and then keep their word. I remember back when people that worked at radio actually knew what working at radio meant. The reviews are great, but the other side of it is really frustrating and you start to second guess yourself."
As one of heavy metal's most accomplished architects, there is no second guessing Mustaine and his contributions. An original member of Metallica and the mastermind behind such classic Megadeth albums as "Killing is my Business …and Business is Good," "Peace Sells … But Who's Buying?" "Rust in Peace," "Countdown to Extinction" and "Youthanasia," the always outspoken and opinionated Mustaine is credited alongside Slayer, Anthrax and Metallica with creating and perfecting thrash metal.
"Am I satisfied? No," Mustaine asks and answers. "Am I content? Yeah. Is there a difference? Sure there is. Content, for me, is being placated and active versus being satisfied, which means you're in a place where you don't want anything else. Would I rather have a belly full of beans or would I rather have a very nice dinner of sushi?
"I look at my career and I know what I've accomplished," Mustaine continues. "Between my career with Megadeth and the songs I've written and sold with Metallica, I've sold more than 60 million records around the world. I'm currently rated as a top guitar player, I'm really inspired and this is one of the greatest periods of my life."
"Endgame" got a shot of fresh blood from new guitarist Chris Broderick, formerly of Jag Panzer, who joins journeyman bassist James Lomenzo and drummer Shaun Drover.
"The relationship with Chris is really unique because he's such an incredible talent and, fortunately for me, he's either really humble or he's either really unaware of how great he really is," Mustaine says.
Besides leading his band, Mustaine recently began programming music and telling stories on the Internet radio station Megadeth Radio, available at www.iheartradio.com.
"I'm currently going through the playlist which is about 2,000 to 3,000 songs, and I'm adding stuff as we go along," he says. "I want the world to know that it's bull(crap) what everybody keeps saying about me having a problem with Metallica. There is no problem, and to prove this, I put them on my radio show. So, we'll see how much longer this nonsense keeps going. It'll go on forever, I imagine, but hopefully there will be a new wave of young metal fans that go, 'You know what? You guys that believe that (crap), you go ahead and believe it, but we're smarter than that."
As a parting shot, Mustaine lightens up and takes it all in stride.
"You've got to take it when you can get it, because the music industry is so fickle," he says with a laugh. "I remember in '92, I had the No. 2 record in the nation and the reason I didn't have No. 1? Billy Ray Cyrus and his 'Achy Breaky Heart' song! If we didn't have a nation of obese housewives that sit around ironing all day listening to Billy Ray Cyrus, we would have had a No. 1. But, you know, that chick's gotta rock, too."