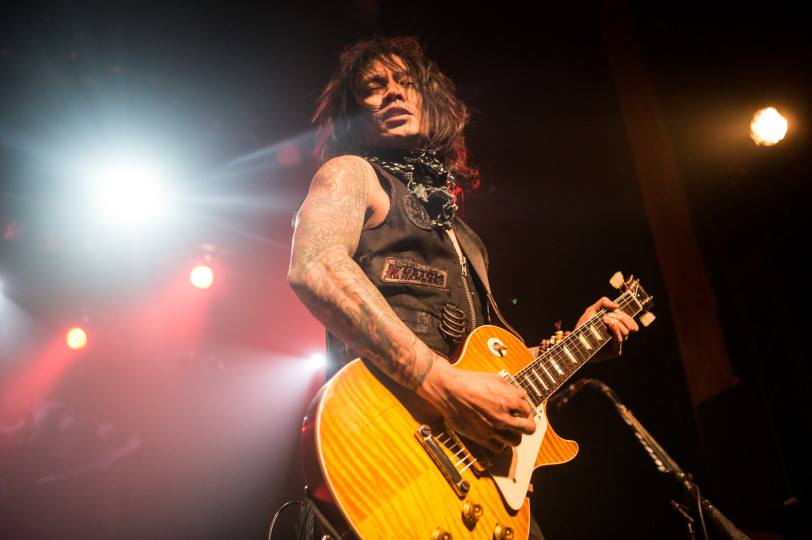 I first met "Stevie D" in an alley off the Sunset Strip (and no, it wasn't for the purpose of some illicit exchange).
The year was 2004 (or was it '05?) and I'd flown to Los Angeles to meet the Crank County Daredevils as they pillaged their way to the West Coast following a "debaucherfest" at my home in Austin, TX.
Having made friends years prior with Buckcherry singer Josh Todd and guitarist Keith Nelson, I talked them into meeting us on their home turf. They agreed and somewhere during the hugs and handshakes, I was told Buckcherry was quietly reforming after a brief hiatus and Stevie would be "the new guy." A year or so later, Buckcherry was re-lit and exploding bigger than ever with the album "15" and the monster hits, "Crazy Bitch" and "Sorry."

Today, Buckcherry is touring in support of "Confessions," a sixth album that swings like a wrecking ball at a time when the band could be coasting. The tour stops in Texas later this week, including San Antonio on Friday, April 18 (ticket info below), so I asked Stevie what album made him want to rock.

2FAST2DIE: Hey, Stevie, thanks for the great work on "Confessions." It's a knockout album and it's been in heavy rotation at 2Fast2Die since its release. I love it. Speaking of great albums, which one stole your soul as a kid and got you hooked on rock-n-roll?
STEVIE DACANAY: That's a tough one! I could easily say "Back In Black," "Axis: Bold as Love," "Strangers In The Night…" All influential in my early years, and all still in rotation today. Probably the most influential for me was Led Zeppelin's "The Song Remains The Same." It was the soundtrack for my life with or without a guitar in high school. It's funny, even now when I'm in the bus and the movie is re-running in the front lounge, I'll hear Jimmy Page play something and I'll laugh to myself and think … "Ya, I totally ripped that off ;)"
2FAST2DIE SAYS: In Led Zeppelin's holiest of houses, "The Song Remains the Same" is basically wallpaper. Not necessarily because it's a bad album, of course, but because it's surrounded by the Stonehenge of hard-rock records. That said, an all-time favorite album is ALL about personal memories and everlasting resonance — not historical hindsight and mainstream significance — which is why it's so cool that Stevie chose something a whole lotta less than obvious. Thanks for playing, brother!

For more on Buckcherry, including tour dates and ticket info, go here.