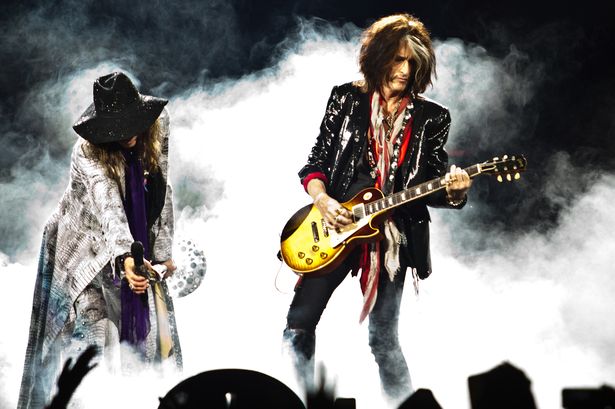 By David Glessner
Special to the
American-Statesman
Of all the well-oiled machines in town for Formula One weekend, none have survived more mileage and wreckage than legendary rockers, Aerosmith.
Long sober and back on track following singer Steven Tyler's detour to "American Idol," the bad boys from Boston screeched into the Erwin Center on Friday to deliver four decades of classic rock hits along with choice fresh meat from new album, "Music From Another Dimension." Add a killer opening set from Cheap Trick and somewhere the cast from "Dazed and Confused" is still sleeping off the hangover.
At an age when they should be rocking bingo parlors instead of arena stages, the impossibly skinny Aero-seniors swaggered through a balance of '70s gems and MTV mainstays beginning with "Mama Kin" from 1973's self-titled debut album.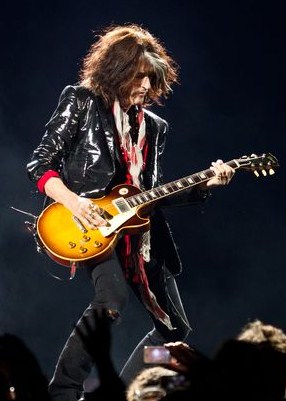 Hyper as ever, Tyler wasted no time teetering to the last half-inch of the catwalk to offer high-fives and flirty pouts amidst his cyclone swirl of trademark scarves. With eternally cool guitarist Joe Perry locked to the singer's hip, the rehabbed Toxic Twins struck their classic share-the-mic pose in an image that was torn from garage-sale copies of Creem magazine.
Fast-forwarding through 1989's "Love in an Elevator" to nail 2001's "Jaded," Tyler peeled the sunglasses off his monkey-mouth mug and pitched them to some lucky catcher who today is likely shopping for shadowboxes or at least getting goofy on E-bay.
The mix of new and old ranged from Tyler and Perry's very first song together, "Movin' Out," to brand new, knock-your-block-off rockers like "Oh Yeah" and "Lover Alot." Proving as always that he is criminally underrated, guitarist Brad Whitford stole the show on "Last Child."
While most drum solos are antsy excuses for filling cups and emptying bladders, recent Texas transplant Joey Kramer froze feet with his bare-handed pounding and synchronized head butts. Another don't-blink moment came when video images of Perry in front of Austin landmarks drew Texas-proud roars. "I like Austin because it rhymes with Boston," he said.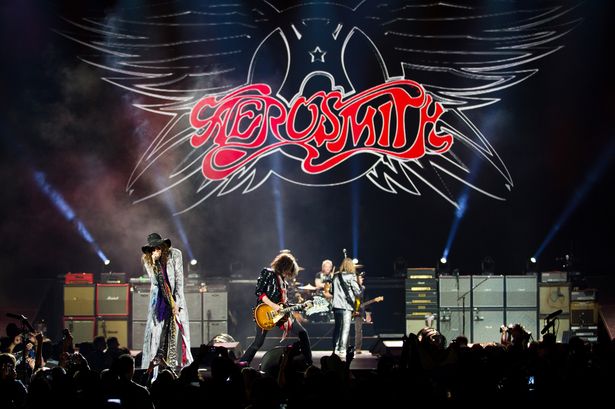 With a voice as elastic as a slingshot, Tyler stretched things to the hilt on "What it Takes" and added the signature chimp chatter that could only come from one of rock's greatest singers. "No More, No More" cold-cocked the old-schoolers as Perry changed guitars mid-song while keeping the original slung over his back. Another classic pose.
A little song called "Walk This Way" had Tyler pulling a woman onstage to shake a leg before "Dream On" brought the singer up from the cellar on a hydraulic-lifted piano. The billowing white smoke was volcanic nirvana, especially when Perry climbed on top to scuff said piano's pristine white surface.
By the time bassist Tom Hamilton was properly introduced as the architect of "Sweet Emotion," Aerosmith was on a three-song bender that could rival the Stones or Zeppelin. Even Perry had to finally admit that "I love Austin because it's Austin."
Overall, hardcore Aero fans would've leveraged more Toxic tunes from the '70s. That said, it's impossible to deny the bulletproof charisma and stellar showmanship of America's greatest rock-n-roll band.
This review originally appeared in the Austin American-Statesman on Nov. 17, 2012