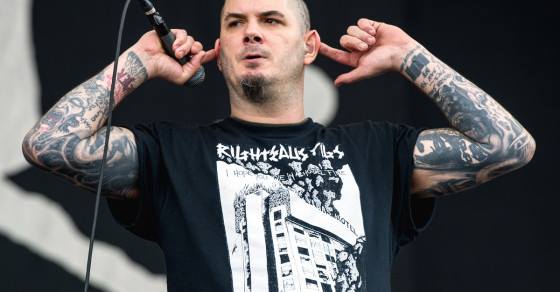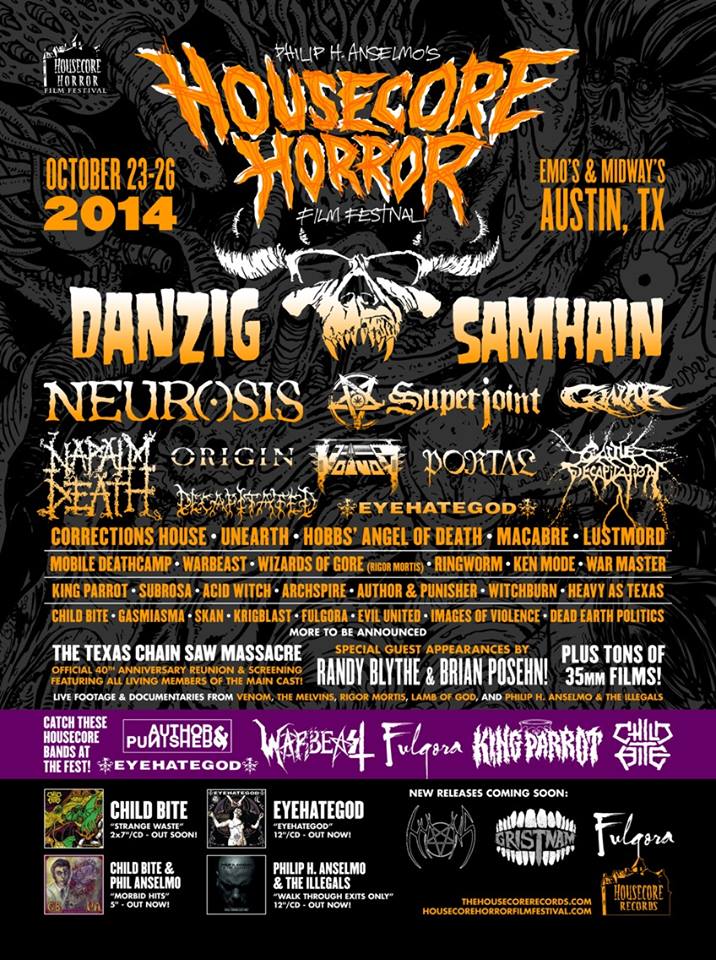 By David Glessner
Special to the American-Statesman
For a guy who rose to fame barking heavy metal threats, Philip Anselmo is a stone-mellow dude. Drawling in a groggy croak on the phone from his New Orleans home, the former Pantera and current Down singer is discussing the inspiration behind his second annual Housecore Horror Film Festival running Oct. 24-26 at Emo's.
"I was lucky enough to grow up in an era where the whole weekend was jam-packed full of horror flicks and monster movies," he said. "I also loved all the television stuff like 'The Twilight Zone' and 'The Outer Limits.' I'm sitting here right now staring at this wall of VHS tapes. My box copy of the original 'Evil Dead' is fantastic, but is it any better than my box copy of 'The Sinful Dwarf'? I'm not sure."
Named for Anselmo's Housecore Records label and created in partnership with true–crime author Corey Mitchell, the horror fest combines screaming heavy metal bands with horror film actors, exhibits, zombie makeovers and other bloody treats. Along with the grinding howl of bands like Danzig, Voivod, GWAR and Evil United, a main attraction this year is appearances by cast members of the "Texas Chainsaw Massacre" movies.
"It's very surreal for me (to have them on the bill)," Anselmo said. "'Texas Chainsaw Massacre' is a disturbing flick, man. It's got that sick element of lunacy and it still holds up even today. To me, it's just a classic."
Naturally, the demonic imagery of horror films pairs wickedly well with heavy metal.
"I'll tell anyone with ears that if it wasn't for 'The Exorcist' or the 'Living Dead' movies, there wouldn't be a genre of music called death metal where the singers are singing with the guttural vocals and whatnot," Anselmo said.
Another exclusive at this year's fest is the return of Anselmo's Superjoint Ritual.
"From what I heard, there was a poll of some sort asking people what band of mine from the past would people like to see me reorganize and Superjoint won. (Freakin') peer pressure, right there! We said, '(Screw) it. Why not?' It's one day, one show, no harm, no foul. Plus, it's pretty easy to do. I mean, there's no image or stage show involved (laughs). Hopefully some of the people will remember the words to the songs, because I most certainly won't."
So what horror flick first scared the bejesus out of young Anselmo?
"I won't say it scared me, because it actually made me cry my eyes out, but 'King Kong' was the first movie that really touched me as a kid," he said. "As far as scaring me and giving me the fear when I was a youngster, there was a movie called 'How Awful About Allan' starring Anthony Perkins of 'Psycho' fame. That movie scared me. And of course, there's no denying the power of 'The Exorcist.'"
"In grade school I saw 'Don't Go in the House' at the theater," he continued. "I saw 'The Changeling' at the theater — which scared the living, flying (crap) out of me! I saw 'Silent Scream' with Barbara Steele and that was insane."
A few years later, a friend invited Anselmo over to watch "The Evil Dead." He's been scarred ever since.
"Man, I will just say it was a long walk home on these empty, desolate streets," Anselmo said. "Oh my God, I was pretty much awake all night. It outdid 'The Exorcist,' because at that age you go through this gore phase where the gorier the better. That one hit a nerve, man."
Like many of the horror fest musicians, Anselmo's friend Glenn Danzig was heavily influenced by horror movies. From his iconic horror-punk Misfits to Samhain and Danzig, the so-called "Evil Elvis" is a horror-rock pioneer. A rare appearance by cult-favorite Samhain followed by Danzig will have him pulling double duty.
"The first time I ever met Glenn Danzig was in Los Angeles when Pantera was playing with S.O.D.," Anselmo said. "That was a helluva show. I didn't think he knew me from anybody 'cause Pantera was still up and coming, but he walked right up to me, shook my hand and said hello, and it made my entire night. Ever since then, we've stayed in touch via email and he sends me his Verotik comics. He's just a dynamite guy so I took a wild stab and said, 'Big brother, would you play the Horror Fest?' He named his price and I said let's do it."
Asked if he might one day organize a festival that combines his other love of boxing with heavy metal, Anselmo ponders the question and says, "Well, damn, man! I might have to give you some side-cash credit for that. I hadn't even thought of that one. That's pretty good, man."
For more Housecore Horror Film Festival info, including schedules and appearances, visit housecorehorrorfilmfestival.com