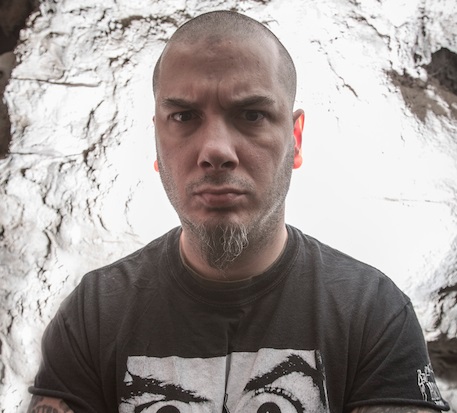 By Metal Dave
Philip Anselmo is on the phone exhaling another thick drag of smoke. We've just finished discussing his upcoming, second annual Housecore Horror Film Festival (ticket info below) when he graciously offers to extend the interview into whatever else I'd like to ask. "Take your time, man," he croaks with a rasp. "You're my only job today."
Hmmm. OK. Damn! While such an offer presents limitless temptations, I'm unfortunately on a tight lunch break from my day job (and I refuse to overbake the Pantera drama), so I toss out my always-reliable, general-interest, go-to question. Considering we've spent the past 30 minutes dissecting monsters and blood, Phil's answer seems perfectly fitting.
2FAST2DIE: OK, brother … so what album made the biggest impression on you as a kid? I know for me it was KISS "Destroyer." Is there a single album you'd call a game-changer for young, impressionable Philip Anselmo?
PHILIP ANSELMO: Well, man, you just opened up this Pandora's Box of jumping, insane monkeys. My brain is going bananas right now. I grew up in a house full of music because I had a young mother who was in her young 20s or whatnot so she had all the hip records from the '50s and '60s. So I love '50s music, I love '60s music, I love '70s music and I'm talking everything from prog rock to radio rock, so I'm familiar with all that stuff. Then my mother's sister, my Aunt Pam, was a theater performer and she was a great singer and a great stage personality in the local scene in New Orleans so I grew up around all this type of shit.
But I gotta agree with you … I'd say it was the imagery of KISS that first grabbed my eyeballs and intrigued my young mind. The drug store down the street used to sell albums and I remember buying KISS "Alive!" and Ted Nugent's "Cat Scratch Fever" on the same day and, man, it was KISS! Those first three KISS albums had such shitty production, but "Alive!" was pure energy and had such awesome versions of "100,000 Years," "Watchin' You" and "Parasite" and all that shit. So, definitely … KISS was a huge, huge influence on me chasing this music dream.
But I will say this: Once I hit my teens, Judas Priest and Iron Maiden really, really, really fucking stuck out for me and grabbed me by the neck and said, "This is where you're heading young man." You also had those in-betweeners like Van Halen. There's no denying the power of Van Halen. And then those first couple of Ozzy Osbourne albums with Randy Rhoads. Overall, if I had to pick just one that got me started, though, I'd have to vote KISS.
2FAST2DIE Says: Turns out I'm a year older than Phil so we grew up on the same rock influences. Obviously, there's no way I can argue the impact and energy of KISS "Alive!" (and I'm not just saying that because I'm worried about getting punched). If KISS "Alive!" is partially to blame for giving us Pantera, Down, Superjoint Ritual and Phil's myriad other bands, then I salute you Ace, Peter, Gene and Paul.
For more on Philip Anselmo, go here.
For more on Housecore Horror Film Festival Oct. 24-26 in Austin, go here.
To get beaten up by Down, click below …