Heavy metal hearts sank to the deepest depths a year ago today (May 16) when news of Ronnie James Dio's passing sent shockwaves through the Internet. Who didn't love this man?
In a career that spanned decades, the tiny singer with the gigantic voice displayed a personality and persona that were seemingly contradictory, yet wholly iconic. He was an angelic demon, a gentle warrior and a painfully polite heavy metal god who truly loved his fans. By all accounts (including mine), he was as much a humble gentleman as he was a roaring beast. Devil horns and all!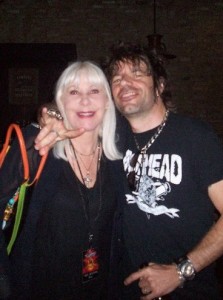 At SXSW 2011 last March, I had a chance meeting with Ronnie's widow, Wendy (right). I happened to stumble into a gig by veteran underground metal band The Rods when I noticed her out of the corner of my eye. Knowing The Rods' frontman David Feinstein was Ronnie's cousin, I put 2 and 2 together and decided to roll the dice and introduce myself. I was right. It was her. Much like her husband of many, many years, she couldn't have been sweeter or any more gracious, especially considering I was a total stranger. I shared my tale of meeting Ronnie backstage and told her how much his hospitality stood out among a lifetime of backstage memories. I'm sure she's heard that story a million times over, because that's who her Ronnie was.
On the anniversary of Ronnie's passing, I wanted to share a couple of my writings in a two-part series. The first is my response to a request for personal recollections. I was asked for a few such tributes, but on the day cancer took Ronnie from us at age 67, I could only muster the one below (which went to pop culture writer and former Metal Edge magazine colleague, Bryan Reesman who published it on his website). I don't think I could say it any better today.
Part 2 of my Dio tribute appears next week and will feature my 2007 interview with the man himself as we remember his memory and music.
"We made the mountains shake/with laughter as we played"
— Ronnie James Dio (July 10, 1942 — May 16, 2010)
DAVID GLESSNER, music journalist: "A true legend and perhaps the most gracious man I've ever met in a business that's driven by ego. His music is a staple of my library and all of heavy metal. I'm saddened even more knowing he was a true gent and an absolute pleasure. Kim and I were lucky enough to enjoy his one-on-one hospitality backstage a couple years ago. He signed all my albums and couldn't possibly have been any kinder. He spent 30 minutes alone with us wanting to know all about us and thanking me for the interview I did for San Antonio Express-News — still one of my all-time faves in an endless portfolio. His legacy will live forever. One of the greatest metal singers of all time! A sad day. RIP RJD."
Revisit Ronnie James Dio here.