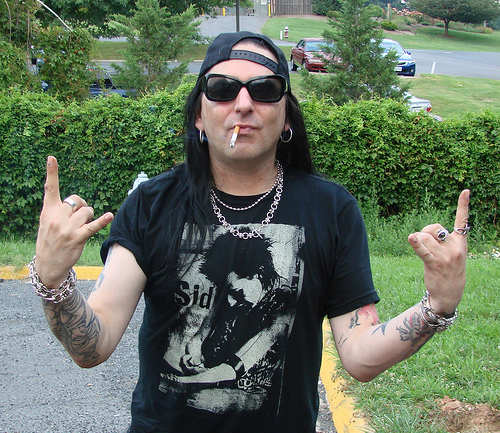 When it comes to lipstick-junkie, sleaze-rock singers, Taime Downe is my absolute favorite. As the voice of Faster Pussycat, his cigarette-choked vocals are so wretchedly debauched that a visit to the clinic sounds like do-or-die advice when you crawl back to life the next morning.
Considering I once had a semi-legendary apartment called "Smash Alley" in San Antonio, it was a pleasure to finally babble with Taime after his hometown Seattle Seahawks beat the New York Giants earlier this week.
2FAST2DIE: So tell me Taime, what album changed your life and corrupted you forever?
TAIME DOWNE: I'd have to go with the Rolling Stones' "Between the Buttons." I first heard it when I was 4-years-old because my parents were way into music. I had a record player and I wore that thing out. I used to go to my Dad's band rehearsals so I was surrounded by music from a young age. I remember hearing "Led Zeppelin II" a couple years later and thinking it was my Dad's band because they would cover that in rehearsal. I was really young when music took hold. I got started on drums, but didn't want to be trapped at the back of the stage so then I switched to guitar because my Dad was a guitar player. And then I got into KISS' "Love Gun" and "Rock and Roll Over" and AC/DC. That's the stuff that put the debauchery into my shit. But I'd have to say the Stones started it all, because I was force-fed so much good shit at an early age because of my parents.
2FAST2DIE Says: My first guess would have been Aerosmith's "Rocks," but you can't go wrong with the Stones. Thanks for being in touch Taime, and thanks also to our mutual friend Billy Rowe for getting us connected. For Faster Pussycat ticket info in San Antonio on Friday, Dec. 20, go here. For ticket info in Austin on Sunday Dec. 22, go here.