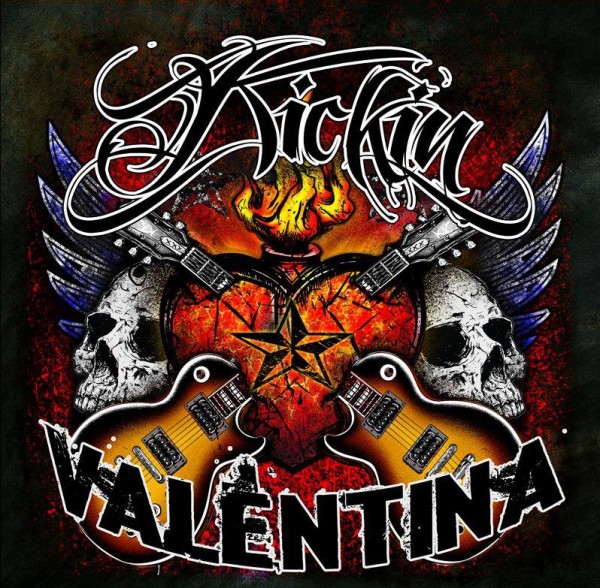 More Trash Alley than Sunset Strip, the self-titled, five-song EP from Kickin Valentina sounds like the grittier bands from the late '80s and early '90s making a pilgrimage to Nazareth. Think Circus of Power, The Four Horsemen and Sea Hags. In other words, bands that smell more like gasoline than hairspray.
Hailing from Atlanta and featuring former Rockets to Ruin bassist Chris Taylor, "Kickin Valentina" kicks things off (appropriately enough) with "Get Ready," a song so whoa-whoa contagious you may not wanna bring it home (check the double-kick fills by drummer Jimmy Berdine).
Speaking of contagious, "Dirty Girl" grinds along on a riff that could've been borrowed from Johnny Crash or Dirty Looks. Hard to go wrong with that.
Vocalist Joe Edwards is the band's diamond in the dirt. Boasting a gruff command of power and rasp, his voice falls somewhere between a heavy metal Bob Seger and a perfectly liquored Dan McCafferty. He shines all over "Kickin Valentina," but nowhere more so than on the growler ballad, "Alone." The guy's got the gift of grit.
"Anita" finds Valentina's swagger and sway giving way to some boom-boom stomp. Peppered with bits of megaphone vocals, the song has a bit of a modern-rock slant not unlike Rob Zombie. Compared to the rest of the tracks, "Anita" is the EP's speedbump.
Finishing strong, "Eat and Run" starts with out-of-synch vocals that slowly pick up steam to merge nicely with the hard-charging music. The vocals again steal the spotlight, but the chunked-up power chords and a tasty solo from guitarist Heber Pampillon help make the song an EP highlight.
"Kickin Valentina" suffers a bit from spotty, no-budget production that often renders the guitars a bit buzzy and thin. That's hardly a surprise (or fault) coming from a rabid, new band that's still clawing through the dive-bar circuit. Better to get it out raw than not at all, eh?
Overall, "Kickin Valentina" is a rowdy hello from a band that shows great promise as upcoming, heavyweight motor-sleaze rockers.
* Overall Grade: B
* Favorite Tracks: "Alone," "Eat and Run"
* For Fans of: Unshowered rock-n-roll, battered denim jackets, cheap beer
For more on Kickin Valentina, go here