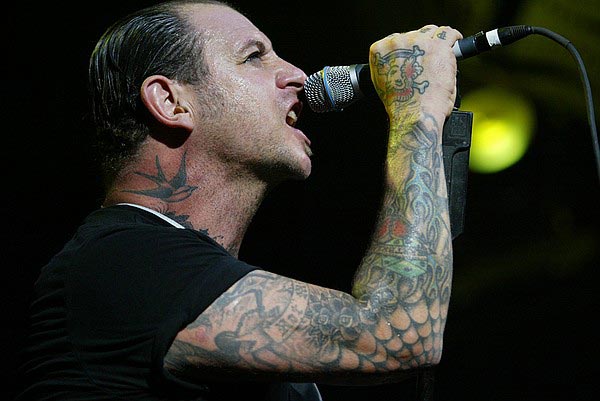 By David Glessner
Special to the Austin American-Statesman
This article originally published 10-26-06

Jail, addiction and loss are the stories of Mike Ness' life, but the 44-year-old punk rocker also is well-versed on sobriety, redemption and survival.
Reached at his New York hotel room, the California native is battling a cold while touring with his ever-enduring band, Social Distortion.
"I'm kind of prone to this respiratory thing," says the singer and guitarist. "I always get this heavy-chested head and throat thing. I have to go get an antibiotic because I don't have a week to sit around and let it go by."
Indeed, Ness' travels bring him to Stubb's on Wednesday when he and guitarist Jonny Wickersham, drummer Charlie Quintana and bassist Brent Harding remind the youngsters that before punk rock was profitable and conveniently packaged (and then stamped with the kinds of tattoos Ness now laments having himself), it was the voice of wayward misfits such as Social Distortion and long-gone early '80s peers such as Youth Brigade, Dead Kennedys, Black Flag and Minor Threat.
"We had this big revolution and it was like a runaway train," Ness recalls. "We set out to change things, but no one really had a finished product in mind. Today, alternative music is a major format. Just like anything, things get lost in the translation and misinterpreted. The true culprits are the people who sign bands that sound like bands that have been successful."
No longer the flophouse vagabond featured in the low-budget 1984 documentary "Another State of Mind," Ness has learned to count his blessings following marriage, fatherhood and the sudden death of longtime friend and co-guitarist Dennis Danell, who six years ago died from a brain aneurysm at age 38. The voice of defiance heard on early Social Distortion albums such as "Mommy's Little Monster" and "Prison Bound" has grown more mature and contemplative through Ness' solo records and the years leading up to the 2004 Social Distortion album, "Sex, Love and Rock 'n' Roll."
"I think an element (of songwriting) that wasn't there before is being able to get inspiration from positive stuff and not just writing about everything that's wrong in the world," Ness says. "Being a family man has obviously changed me. Most people think their purpose in life is their career and this and that, but once I had kids it was, like, 'Wow, this is my purpose in life.' I've got to prepare these two little guys to be men one day."
Try as he might, father does not always know best. Last year, Ness' better judgment went downhill in a hurry resulting in injury and a last-minute phone call to a fill-in guitarist to save the Social Distortion tour from being detoured.
"I was helping my son do an eighth-grade school project," Ness says. "We went downhill skateboarding and I was filming him, and I just ate it going about 25 miles per hour. I broke my wrist in about four places."
Skateboarding under the influence of good intentions is better than wiping out on drugs, which is what Ness was doing early in his career. With petty crime and jail time adding insult to injury, Ness was left to ponder his self-shackled ball and chain.
"I think drugs and alcohol are a luxury that some people can (literally and figuratively) afford," he half-laughs. "I tried it and it was fun for a long time, but then it got not fun. It's very important to remember what would happen if I had a glass of Chianti with dinner. It would be a crime wave soon to start. That's still very clear in my mind."
Sober for 21 years and credited with such A-plus Social Distortion albums as "Social Distortion," "Somewhere Between Heaven and Hell" and "White Light, White Heat, White Trash," Ness now dabbles in the rush of horsepower while writing new songs for the next Social Distortion album.
"I have about nine cars," he says. "I have everything from old customs to low riders and a couple hot rods. Right now I'm building a '32 Roadster. When I first got into it, we started a little car club, but finding 10 guys who all felt the same way about it was really hard. Now it's really popular."
Sounds like punk rock and tattoos.