By Metal Dave

Somewhere around age 12, I purchased Alice Cooper's "Welcome to My Nightmare" on cassette tape and diligently scrawled the album art on my homemade school textboook cover (remember those?). Being drawn to Alice made perfect sense considering I was drifting into the rebellious realm of rock-n-roll and, hey, who scared more parents than The Coop?
A few decades later, I had the great pleasure of interviewing Alice over the phone as his concert tour made its way toward Texas. Besides talking music, I mentioned that my son's name is Dash, which coincidentally, is the same name Alice gave his son. Now we had something personal to talk about and, obviously, I loved it to death! Enjoy …
By David Glessner
Special to the American-Statesman
Sept. 15, 2016
While many classic rockers would rather pull their own teeth than hear their music co-opted as political theme songs, Alice Cooper is gladly offering his 1972 single, "Elected," to the pooh-pooh pileup of Trump-versus-Clinton. Besides, he asked, how could the satirical song be viewed as an endorsement given the equally doomed presidential outcome?
"I'm surprised nobody's used it," he said. "It doesn't really matter who the next president is. Whoever becomes president is going to inherit the same poker hand the last president had and it's gonna get log jammed in Congress, and nothing's gonna get done. As far as I'm concerned, I can do nothing as well as they can."
At 68, Alice still trumps the competition as the undisputed godfather of horror-show, shock-rock. Theatrical as ever, he brings his live boa constrictor, guillotine, electric chair and a barrage of classic-rock anthems to the ACL Moody Theater on Sunday. Expect to hear "School's Out," "I'm Eighteen," and "No More Mr. Nice Guy" played in front of a dizzying spectacle of darkened eye candy.
"Any time you're working with that many (props), you're kind of inviting 'Spinal Tap' moments," Alice said. "I tell the band, 'If something goes wrong, do it twice and then it looks like part of the show. If you slip on a banana peel in the middle of a song and fall on your butt, get up, play the song and about 10 minutes later, do it again!'"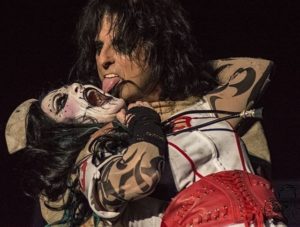 Working alongside the Rock and Roll Hall of Famer is a ghoulishly glamorous gig, but sometimes the blood is real.
"I always tell my band there are three things I can guarantee you: You'll see the world, you're gonna get paid and you're gonna get stitches," Alice said. "If you're in the wrong place at the wrong time, you're gonna get stitches. It's a physical show."
Born Vincent Furnier in Detroit, young Alice moved from Phoenix to Los Angeles trying to break into the music business. His androgynous stage name, trashy makeup and long-haired, corpse-like persona were a raunchy fright for parted-on-the-side America.
In 1971, he wormed out of the underground with the now-timeless, coming-of-age hit single, "I'm Eighteen," and quickly became the ultimate rock-n-roll anti-hero whose image and angst would be copied to great effect by the likes of KISS, the Sex Pistols (just ask Johnny Rotten), Marilyn Manson and Rob Zombie. Perhaps more importantly, Alice became the raspy voice of rebellion who spoke directly to each new generation of alienated misfits who connected with songs like "School's Out" and "Teenage Lament."
"You try to find the common denominator," he said. "What does every single kid from my generation to this generation complain about? When it comes to feeling like an outcast or nobody understands me … that's a general thing. It's the same thing when I hear (The Who's) 'My Generation.' A 15-year-old kid will hear 'My Generation' and go, 'that's me!' We tried to write 'School's Back In,' but nobody was buying that (laughs)."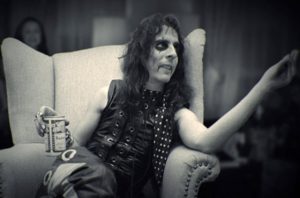 In fairly typical rock-n-roll fashion, Alice's success had its deal-with-the-devil pitfalls. By the mid-1970s, he had a near-lethal, beer-for-breakfast drinking habit. Out of the public eye, things were even worse.
"It was that period of time in L.A. when it was basically a (cocaine) blizzard," he said. "It wasn't just the rock stars, it was the lawyers, the doctors, the dentists, everybody. I fell into it and took it too far just like everybody else. I got to a point where I had to decide if I wanted to join Jim Morrison and Jimi Hendrix or make 20 more albums. For me it was just a matter of going cold turkey. I haven't touched anything in 35 years."
More recently, Alice stirred a buzz among longtime fans when reports hinted he was writing new songs with his surviving original band members who produced such classic 1970s albums as "Love It to Death," "Killer," "School's Out," "Billion Dollar Babies" and "Muscle of Love."
"I said, 'If we could actually rebirth the sound of 'Killer' or 'Love It to Death,' I would be very interested (in writing and recording)," Alice said. "We've always been on a very good, professional relationship. I said, 'Let's send some of this to (legendary producer) Bob Ezrin and see what we've got.' It's really an experiment at this point and we're not sure if anything will come of it, but we're gonna spend some time in September going through these songs and see if we can get some hooks."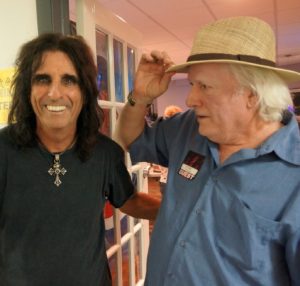 Alice and Austin
Austin-based singer Robert Wagner is best-known for fronting local bands Suede and Jukebox Heroes, but he's also part of the extended Alice Cooper family. His father, the late Dick Wagner, played guitar for Alice from the mid-1970s through the late-1980s, including his well-known work on the albums "Welcome to My Nightmare" and "From the Inside."
"When I first heard Dick Wagner, he was just a killer rock guitar player," Alice said. "I put him in the band, and him and Steve Hunter together were probably the two best American rock guitar players as a tandem. When we first started writing songs, we wrote four or five hit ballads in a row. He was the easiest guy to write ballads with. He just had this sense. If I said, 'Only Women Bleed,' he knew what chords to play. I will never be able to write songs as good without Dick."
Alice and Hollywood Vampires
When Alice isn't leading his namesake band, he fronts the Hollywood Vampires featuring Aerosmith guitarist Joe Perry and actor/guitarist Johnny Depp. Perry, 65, recently collapsed on stage during a Vampires gig sending a scare through the hard-rock community.
"Aerosmith does two shows a week," Alice said. "The Vampires were on our eighth show in nine days. He was just dehydrated and exhausted. It wasn't a heart attack or anything really bad. Five days later, he was back on stage and I never saw him look so good."
Alice and Golf
For a guy who once scared the bejesus out of polite society, Alice today is equally well-known for being a devout Christian and accomplished golfer. Which rock stars are his biggest tee-off competitors? "There's two guys," Alice said. "Adrian (Young), the drummer from No Doubt, is a very good golfer — he's a scratch player — and Dweezil Zappa's pretty good, which is kind of funny because I used to babysit him. Dweezil is a killer guitar player, too. I'd put that guy in my band any day."