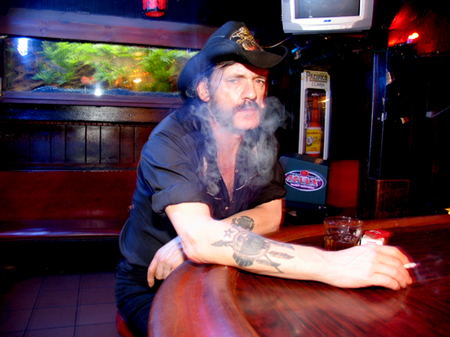 By Metal Dave

Anyone who's ever had the pleasure of interviewing Motorhead frontman Ian "Lemmy" Kilmister will tell you he is hands-down one of the best interviews on the planet. Why? Because he basically doesn't give two flips what anyone thinks of him! He's irreverent, intelligent, humorous, well-spoken, full of fight and amazingly coherent (and alive) despite a decades-long daily intake of Jack and cigs that could punish Keith Richards.
He worked for Jimi Hendrix. He got kicked out of Hawkwind for being the biggest stoner in a band full of stoners. He brought punks and metalheads together. And, at the age of 60-something, he continues to live in a tiny Los Angeles apartment because of its stumbling-distance proximity to his favorite watering hole, the world-famous Rainbow Bar & Grill on Hollywood's Sunset Strip. How's that for Employee of the Month?
Following are excerpts from my 1997 interview with God as he and Motorhead toured to promote the "Sacrifice" album. My ears are STILL bleeding!
On his adamant refusal to quit the music industry despite Motorhead's perennial underdog status
We can't make (the music industry) like us, so we'll just keep going until they give in. What else ya gonna do? If you quit, you ain't got shit. What motivates me is that I like what I'm doing. I know it's valid. It's as good as anything out there and nobody's gonna tell me different.
On doing without the spoils of fame often awarded to lesser bands
I'd like to be slightly more successful, but I wouldn't want to get too much money at once. I've seen what too much money does to people. You get six houses in the country and a yacht, and spend the rest of your life worrying about it all.
On his early inspiration
We wanted to be like the MC5 or the Yardbirds, but more powerful. The Beatles were probably my biggest influence. They were the best band in the whole world.
On losing a Grammy award to his indebted friends and fans, Metallica
It wasn't' much of a competition (laughs). The thing I couldn't believe was everyone showed up dressed like record company people. Queensryche was wearing rented tuxedoes for Christ's sake! Talk about becoming what you're supposed to be fighting against!
On working as a roadie for Jimi Hendrix
I used to score acid for him. He'd take seven and give me three. I got to know him very well. He was a great human being. He was very polite and always treated the ladies right. He restored my faith in humanity.
On the prospect of out-lasting the Rolling Stones
I'd like to see Jagger play (the Motorhead classic) 'Bomber.' He'd probably tie himself in a fucking knot!