By Metal Dave
Jimmy Duff is my new hero. Not only does the guy own a self-named, award-winning Brooklyn, NY dive bar plastered with heavy metal memorabilia, he also gets to party with the fiercest names in thrash. When's the last time you pounded beers with Kerry King and got invited to tag along on a Slayer tour?
I rest my case!
As if holding the keys to such a celebrated dungeon of drink and decibels wasn't enough, Jimmy also occasionally opens Duff's doors to VH-1 Classic's "That Metal Show" hosted by Eddie Trunk, Jim Florentine and Don Jamieson. If I sound more than a little envious, then call me guilty.
You see, the home office of 2Fast2Die is also a treasure trove of heavy metal memorabilia (how about a handwritten letter from Cliff Burton's mom?) and more than a couple beers. I'm also certain I'd be a formidable opponent in a round of Stump the Trunk. Plus, Jamieson, Florentine and 2Fast2Die share a mutual friend in Broken Teeth singer Jason McMaster who lives nearby in South Austin, Texas. Hey Eddie, how about filming a TMS episode from the headquarters of 2Fast2Die?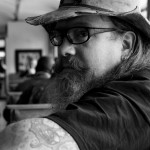 But I digress. Duff's was brought to my attention a few years back by a Brit named Steven Blackmore (aka Stevie Manchester) who made the joint part of his stateside itinerary when he would visit Austin each year for the South By Southwest Music Conference. To say he raved about Duff's would be like saying Glenn Danzig has muscles. Naturally, I was more than a little interested, especially after I saw all the great Duff's T-shirts that mimicked classic album covers. So, Stevie B. put me in touch with Jimmy D. and here we are today. Got it?
To paraphrase Hendrix, I'll let Jimmy (and his wicked sense of humor) take over. So, crack a cold one, crank some Saxon and let's get to yakking with my new hero (and soon to be yours), Jimmy Duff.
Oh, and Eddie, I'm not kidding about filming TMS at 2Fast2Die HQ. Call me!
OK, Jimmy, start yakking!
What inspired you to open a metal bar?
Well, the idea was to open a bar that I liked to hang out in, and being a metalhead, that's just how it ended up goin' down. It was pretty organic.
Name your three most prized bits of memorabilia at Duff's
Considering 2010 up to this point, sadly, I'd probably have to say anything that Peter Steele or Ronnie James Dio signed for the bar, those would have to be up there. Also, our first "Best Dive Bar in NYC" plaque. We've been awarded that title 6 times (in three different locations), but the first one, that was pretty sweet.
Which bands are the most fun to party with and which ones can't hold their liquor?
Type O Negative will always be the kings. Zero attitude, 100% good times. No problems with anyone else. Metal bands = Booze Hounds. If they can't hang, they don't come around.
What band is never invited back to Duff's and which ones have a lifetime membership?
Kajagoogoo showed up once and started a pretty nasty pocketbook fight, but other than that, everyone else has been pretty cool.
If the bathroom walls at Duff's could talk, what would they say?
"George Michael was here." If they COULD talk, you really wouldn't wanna know.
Album that changed your life and why?
KISS "Destroyer." It's the first album I ever bought, and a great starter record for any budding rocker. Naturally, I graduated to heavier stuff, but that's where it all began for me. Finding out that Gene (I was a Gene fan) had the same birthday as me was pretty cool at the time too.
First concert and your memories of it?
The Anti-Nowhere League's first USA tour, late 1982, Paramount Theater, New Jersey. Stage diving, slam dancing (or "moshing" as it later became know as), poundin' brews with my older brother… I didn't know it was possible to have that much fun in life before that.
What is the funniest bit of That Metal Show footage that never made it to air?
The show is pretty tightly scripted, so it's mostly the ball breakin' in between takes or the flubbed takes that are the funniest. Usually it's Jim and Don gangin' up on Eddie. Eddie is a good sport though. If they ever do a blooper show of the ad lib stuff that gets cut, it'd be pretty entertaining.
Who is the most unlikely patron to ever visit Duff's
Ed Koch (former NYC Mayor) walked in one night. Surreal. Talk about a character…
Touring "horror story" or Spinal Tap moment
I was on a 5 day drinking binge and got diarrhea when I was tailgating at an Ozzy show back in 2001, and I ended up shitting my pants. I took cover in between Ozzy and Rob Zombie's tour buses and I ripped off my underwear and threw em up on Ozzy's roof. Sorry Ozz. Remember the Alamo!!!
Your best and worst tattoo?
I like em' all. My best AND worst one is actually a portrait – a giant Michael Bolton "tramp stamp"
Musical accomplishment you're most proud of?
Opening acoustically for CARNIVORE  YouTube – Carnivore @ NorthSix Brooklyn
Share a secret. What is your hidden talent? Guilty pleasure? Unexpected hobby?
I was a back-up dancer for M.C. Hammer on the "Please Hammer Don't Hurt 'Em" tour. Guilty pleasure? What the fuck is that?
Hero or villain? Best (or worst) "rock star" run-in
Lemmy is, was, and always shall be the coolest. I had the pleasure of drinking with him a couple times, he's the real deal. I'm sure everyone's got at least one "Lemmy" story. The only person that ever rubbed me the wrong way in the biz was an individual's (at the time) tour manager — a Sharon Osbourne wannabe. Dead wrong on the issue at hand, she mouthed off to me and some friends. And almost got her Pomeranian stuffed up her fuckin' snatch before she apologized to us. Luckily for her, I happen to be a dog lover.
Want more Duff's? Of course, you do!!! Check him out online at www.duffsbrooklyn.com Better yet, get your ass to Brooklyn and visit in person. As Jimmy is quick to remind, however, you better pack an extra liver. When you enter Duff's, you're drinking in the big leagues!