ALL THE YOUNG DUDES: Pete Willis, Steve Clark (RIP), Joe Elliot, Rick Allen and Rick Savage as teens circa 1980. In less than five years after this photo was taken, the band (minus Willis) would land behind only Michael Jackson's "Thriller" for the top spot on the album charts thanks to the blockbuster, "Pyromania."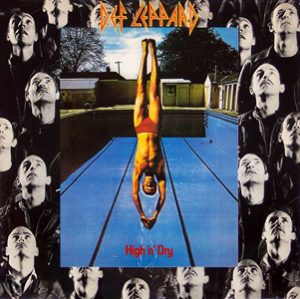 By Metal Dave
It's been a long time since Def Leppard really rock'n'rolled, but as the band that gave us the flawlessly kick-ass "High 'N' Dry" album in 1981, the lads from Sheffield, England will always be VIP with 2Fast2Die.
A crackling, garage-metal shouter, "High 'N' Dry" is one of my all-time favorite albums made even more impressive by the fact it was recorded by kids who were still ripe with acne and barely shaving (and this was their SECOND album … following the equally rockin' and highly respectable debut, "On Through the Night")
Despite being produced by perfectionist Robert John "Mutt" Lange (whose Midas Touch was already in demand and well on its way to going ballistic), "High 'N'Dry" captures the ragged, raw spirit of teen-aged metal kids givin' it a go!
The Leps have their share of bright spots beyond "High 'N' Dry," of course, (I can stomach most of the slicker "Pyromania" and some of "Hysteria,"), but the band lost me LONG ago as the guitar solos got shelved alongside the Union Jack T-shirts and the production ultimately demanded more polish than her majesty's crown jewels. 
Yes, singer Joe "Dirt" Elliot is guilty of the most heinous mullet in all of hair history (thankfully it's been trimmed to a misdemeanor). And yes, his request to have some sugar poured on him is a gag-reflex workout. However, "High 'N' Dry" will ALWAYS be one of my stranded-on-a-desert-island albums and an instant air-guitar party starter.
Obviously, it was a thrill to interview Mr. Saturday Night (High 'N' Dry) when he phoned from a Starbucks drive-thru in 2005. Let it go, Joe…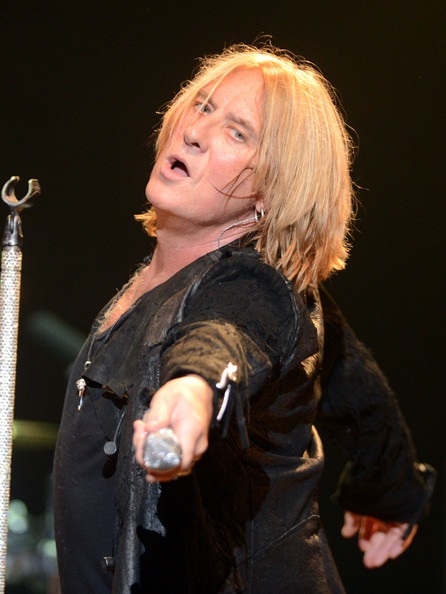 On breaking big in America courtesy of MTV
We looked different than Journey and REO Speedwagon and Foreigner. We didn't have beards and moustaches. We looked like little kids and more like the first generation of British bands that invaded America like the Who or the Stones or the Beatles. We embraced MTV and video.
On touring with AC/DC before releasing debut album, "On Through the Night"
We played with them before we made the album. We signed the record deal in August 1979 on the back of a self-financed, three-track EP that we made. We had it pressed on vinyl instead of cassettes so people couldn't use it as a doorstop. One thing led to another and we managed to get the AC/DC "Highway to Hell" tour in Great Britain. Rick Allen had his 18th birthday on stage with AC/DC at the Hammersmith Odeon.
On being young bucks turned loose in America as openers for Ted Nugent, Judas Priest, Billy Squier and Pat Travers
What you had when we first came to America was five kids who never had a passport until six weeks previous. All of a sudden, I'm at the Rainbow on Sunset Boulevard in Los Angeles with women just flocking around us because we have strange accents. It was astounding! The beer was cheap, the ladies were plentiful and touring was a lot better than in Europe because you didn't have to stop at the border every 200 yards to have your stuff searched by some guy with a machine gun. Plus, you had McDonald's and Burger King. We had a good laugh, but in fairness, all that stuff came after we'd done our jobs. We still had our focus on the music.
On persevering through a band member death and other well-publicized tragedies
We're family and we still have all these great visions of what we're going to do next year and the year after that. It's a job that's extremely satisfying at the end of the day. People ask why we still do it and it's for the same reason a mechanic or a plumber still does it. It's my job!