By Metal Dave
New blood is pulsing through Vains of Jenna as the Swedish sleaze-rockers return to America this weekend for the official unveiling of new music, a new lineup and a string of tour dates.
With a five-song EP as a teaser, the Vains (yes, intentionally misspelled) are introducing new American singer Jesse Forte along with young-gun new guitarist Anton Sevholt who now makes the band a five-piece. The EP serves to introduce the new guys via new song, "We Can Never Die," while also showcasing their talents on reworkings of past Vains tunes, including "Everybody Loves You When You're Dead," which was recently redone as a new video (below).
All this recent buzz is bittersweet for 2Fast2Die as I loved the original VoJ lineup featuring singer Lizzy Devine. A great singer, frontman and super-cool guy by my account, Lizzy will be missed and I wish him well. That said, 2Fast2Die remains loyal to the Vains and looks forward to their next chapters, which will include an album of cover tunes in 2011 followed by a fully legit new album of original material.
I caught up with 24-year-old (yeesh, I'm old!) guitarist Nicki Kin for a brief update and some random yakking. As you will learn in later posts, 2Fast2Die has a bit of history with VoJ (you may notice three of them among the maniacs pictured in the 2Fast2Die banner) so it's always a pleasure to hang with the Vains.
All right Nicki, let's get to yakking!
Obviously we want to know how the new lineup came about
Lizzy wasn't interested in doing it anymore. I wish him luck in whatever he's doing. It feels great to have both Jesse and Anton on board. When we rehearse, we jam and play Beatles, Stones and Pink Floyd songs and also write new stuff. It's about music, jamming out and having a great time! Anton is an old friend. We're from the same town and we've known each other for years. It just feels real natural to play with him. He knows the blues like one should! We met Jesse in L.A. We've known him for a while and he's just great. He's a great singer and also an awesome frontman. We all work great together. My opinion is that the band has never been better than now! We're writing new stuff for a new album and it's going really good.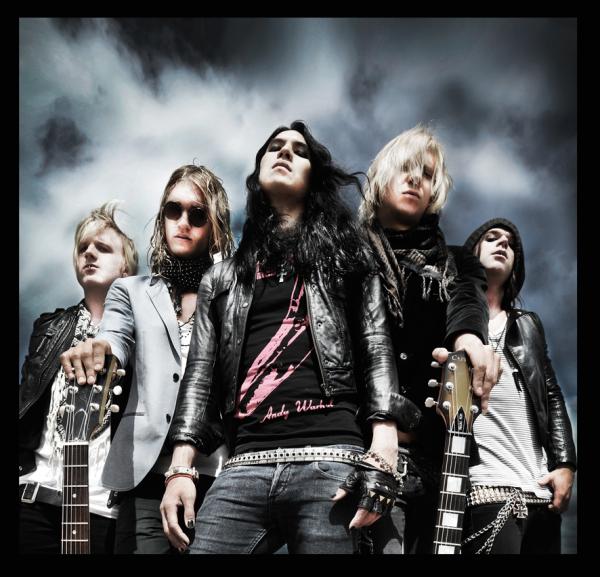 Album that changed your life and why?
Nirvana "In Utero" was one of the first albums I owned, and it's still one of my favorites. It's just so raw and dirty and honest. That's real rock'n'roll for me. It was probably the album that made me wanna be in a band and write songs and all that.
First concert and your memories of it?
I saw Muse before they got really big, in a small club in Copenhagen, I think. That was one of my first concerts. They're great!!
Touring horror story or Spinal Tap moment
Ah, there's been a lot of parties gone wrong. There was this girl once that followed our van for like an hour in the middle of the night on our way from Phoenix to L.A. All of a sudden, she rammed into the side of our van and pushed us off the road. We were going 65 mph! It was fucking crazy. I was pissed!
Your best and worst tattoo?
Only got one. It's some roses and some shit and the band name.
Name of your very first band
My first ever band was called Whiplash. It was me and Jacki (Vains drummer). We played around our hometown and probably weren't that good.
Musical accomplishment you're most proud of?
Our newest song "We Can Never Die," which was just recently released.
Share a secret. What is your hidden talent?
I'm really fucking good at cooking. I cook all the time. I'm also really into history.
Hero or villain? Best (or worst) "rock star" run-in
Most of my heroes are dead, so I didn't get a chance to meet them. I met Iggy once, talked to him for a bit, and that was really cool. I'd love to jam with (former Red Hot Chili Peppers guitarist) John Frusciante.
For tour dates and more info on Vains of Jenna, go here. Meanwhile, please allow me to introduce new singer Jesse Forte and guitarist Anton Shevolt as they join Nicki, bassist JP White and drummer Jacki Stone for the new model Vains of Jenna!