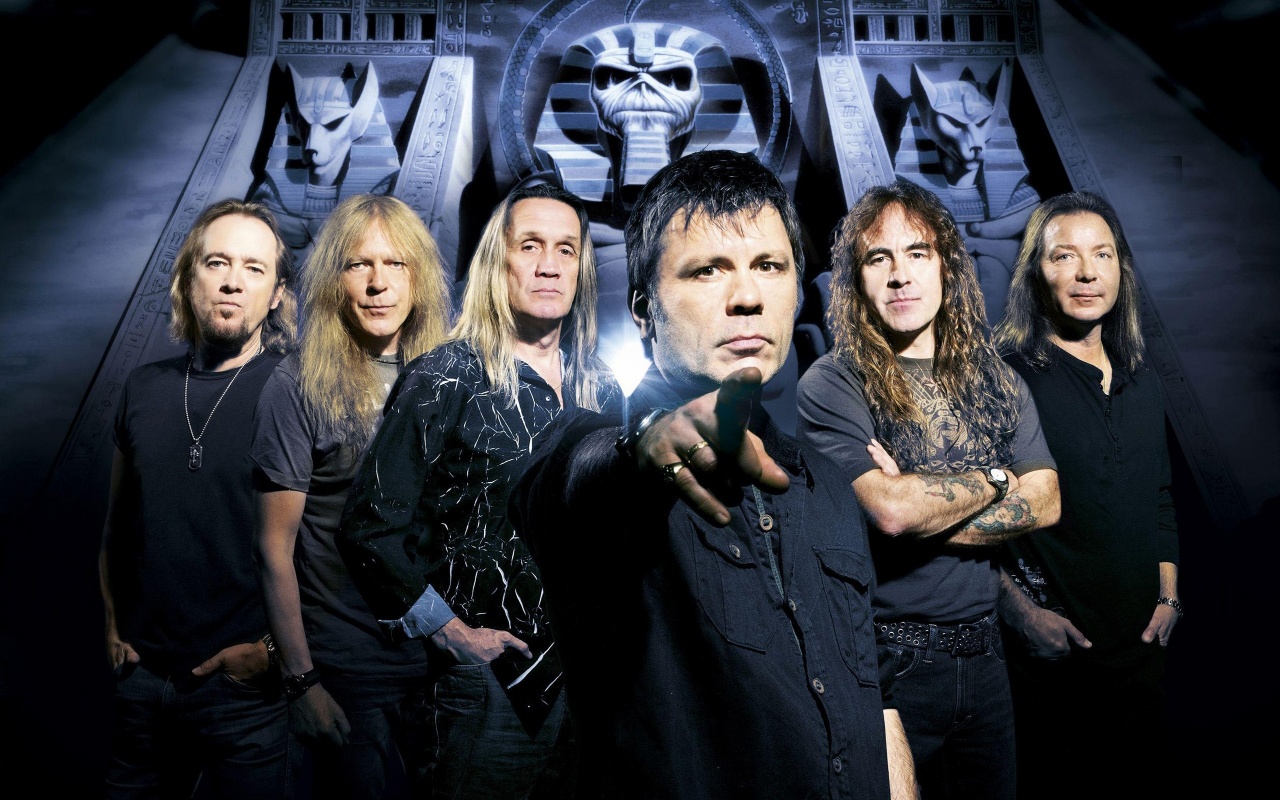 The following interview with Iron Maiden bassist and founding member Steve Harris originally published Aug. 6, 1999 in the San Antonio Express-News
under my professional byline, David Glessner
The bugle sounds and the charge begins Saturday when reloaded British heavy metal troopers Iron Maiden gallop into Sunken Garden Theater.
The concert marks the much-anticipated return of vocalist Bruce "Air Raid Siren" Dickinson following a six-year solo career that saw the much-loved screamer replaced by Blaze Bayley.
"It was a mutual decision," bassist Steve Harris said of Bayley's departure and Dickinson's reinstatement. "(Bayley) wanted to do a solo thing and he'll have an album out at the end of the year. He's happy and so are we."
As a bonus, former Maiden guitarist Adrian Smith is also back, although not at the expense of longtime replacement Janick Gers. The duo is complemented by founding guitarist Dave Murray, bringing the total of guitar shredders to three. Veteran drummer Nicko McBrain rounds out Maiden's galloping sound.
"When Bruce came back, a lot of people weren't surprised," Harris said, phoning from France. "Adrian coming back and keeping Janick surprised people. Having three of them actually makes things a little heavier. They spread (the guitar solos) out pretty evenly."
Dickinson, who recorded the solo album "Tattooed Millionaire" in 1990 while still fronting Maiden, eventually left the band in 1993 for a full-time solo career that steadily gained momentum – especially when Smith turned up to play guitar in recent years. As fate would have it, both were destined to return to the band they helped turn into a globe-trotting, multimillion-selling act that is rightly praised as one of metal's most influential.
"We had a meeting with Bruce at the end of January and we weren't sure which way things were going to go," Harris continued. "There've been big rumors about Bruce's return for some time, but we adamantly denied them, because at the time, they weren't true. Unbeknownst to us, the fans were right. They must've had a crystal ball or something."
Supernatural powers aside, Maiden's latest release is a glimpse into the future as well as the past. "Ed Hunter" is a double-CD greatest-hits package with an added interactive PC game that allows players to interact with Eddie, Iron Maiden's eternal, rotting corpse mascot.
"It's basically a shoot 'em up game," Harris explained. "It has superb graphics from all the album covers. You basically travel through all these worlds that have something in common with the album covers."
Those covers began frightening the world in 1980 when Iron Maiden's same-titled debut was released. The cover art featured a screaming, glowing-eyed Eddie, who mutated and reappeared on subsequent albums such as "Killers," "The Number of the Beast," "Piece of Mind" and the double-live opus, "Live After Death."
By the time Dickinson replaced original vocalist Paul Di'Aanno in time for 1982's "The Number of the Beast" album, Maiden's grotesque cover art, headbanger image and literate lyrics of war, mythology and history had religious zealots in a clatter. The ludicrous charges of devil worship are long gone in the age of Marilyn Manson and Rob Zombie.
"We put a backward message on 'Piece of Mind' and people went over the top," Harris said. "I don't miss it at all. Someone else can take the heat."
Maiden took some heat of its own in recent years, especially from American fans who had a difficult time accepting Bayley in place of Dickinson. The band's last San Antonio appearance was peppered with boos as Bayley and the boys played more recent, expansive material rather than the wealth of fire and brimstone classics Maiden has at its disposal.
"It was bloody hot, I remember that," Harris said of last July's concert. "I thought we were brave doing a lot of stuff off the new albums. We were doing those songs all over the world and it was going great. In America, the albums didn't (sell) as well and when people don't know the material, they're a bit bewildered. We thought it was the right decision. We didn't' want to do a best-of (set). We're doing that now."
SIDEBARS:
Dave's digit: Iron Maiden guitarist Dave Murray fractured the little finger of his left (fretting) hand in an on-stage fall during the encore July 30 in Los Angeles. Shows were cancelled in San Jose last Saturday and Las Vegas Monday, but the tour reportedly was back on track as of last night in El Paso.
Bruce's birthday: Bruce Dickinson's return to San Antonio will be doubly triumphant s the singer celebrates his 41st birthday Saturday. Born Paul Bruce Dickinson in 1958, the British fencer, pilot and Deep Purple fan first gained fame in the new wave of British heavy metal band Samson before he won the job as Paul Di'Anno's replacement in Iron Maiden in 1981.
Opening Acts: Pushmonkey and Puya