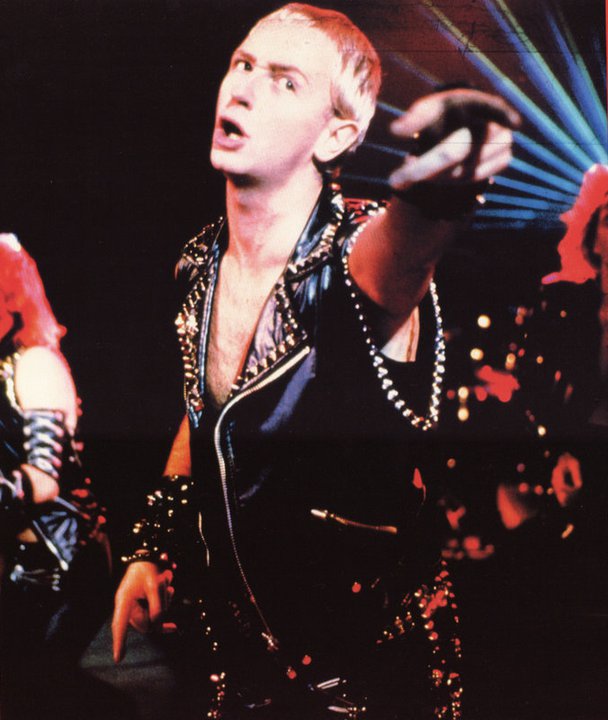 By Metal Dave Glessner
(originally published 7/24/2009 in
the San Antonio Express-News)
Reached at a Cleveland hotel room, Judas Priest singer Rob Halford is juggling interviews and having a laugh at the trappings of heavy metal celebrity.
"People have no idea, do they?" he asks in mock amazement. "I had two phones going at the same time. People think it's all Priest, all the time, in all our onstage glory (laughs)."
With his humor as sharp as his multi-octave vocals, Halford – along with bassist Ian Hill, drummer Scott Travis and guitarists Glenn Tipton and KK Downing – will deliver the goods Saturday when the legendary British metal maniacs hammer the AT&T Center.

Celebrating the (almost) 30th anniversary of 1980's "British Steel," Priest will perform the pivotal album in its entirety along with other hellbent-for-leather classics. Reinventing "British Steel" prompted Priest to sharpen the blade on the album's deep cuts.
"For me, the two belters are 'Rapid Fire' and 'Steeler,'" Halford said. "I like the attitude of those two songs. (The 'Rapid Fire' lyrics) 'Pounding the world like a battering ram' is pure Judas Priest. Both of those songs have an intense, ferocious feeling about them."

"British Steel" was famously recorded at England's Tittenhurst Park in the former home of Beatles John Lennon and, later, Ringo Starr. The making of the album was rife with kid-in-a-candy-store moments. Was Halford tempted to sneak a souvenir?
"I think Ringo nailed everything down," he said with a laugh. "To walk into that house and be in the room where Lennon did the world-famous 'Imagine' was a bit like being a hard-core Elvis fan and recording a record at Graceland. That's a fairly spontaneous thought, and I don't believe I've ever said that before, but that's what it felt like. You can't escape the fact that the Beatles were, and still are, a revolution that changed popular music."
Done on the fly but here forever are the timeless "British Steel" tracks "Breaking the Law" and "Living After Midnight."
"I just remember coming home from the pub, drunk, and needing some special effects," he said. "We set up some mics against the wall in Ringo's kitchen and went about smashing some beer bottles. They were empty, of course! In those days, you didn't have sampled effects, so you had to do it yourself. The marching sound in 'Metal Gods' is Ringo's knives and forks being shaken up and down and multitracked. Fun things like that are how we made all those special effects."
Halford is asked which album he would like to hear in its entirety if he were in the audience.

"Um, that's a very good question," he said. "There are so many great ones. We're out with David (Coverdale) from Whitesnake and 'Slide it In' is a great record. Scorpions' 'Blackout' is a great record. I would love for Sabbath to do all of their first album. Tool's '10,000 Days' is a great record. There's something special about seeing your (favorite) band playing one of your favorite records in its entirety."
BELOW: Fortunately the story behind the song is much better than the video. Listen for the drunken bottle-smash at 1:44 and thank Ringo Starr for letting it slide.