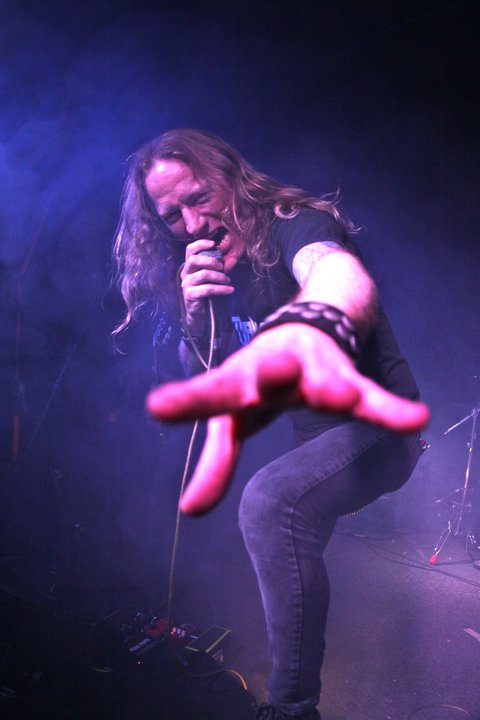 It's no surprise Jason McMaster can't pick a favorite album. After all, the guy plays in 3.5 million bands just to satisfy his multiple musical joneses.
From Watchtower, Dangerous Toys and Broken Teeth to Ignitor, Evil United and his upcoming barbershop quartet (kidding), Jason has more music pulsing through his pinky than Sirius has on satellite radio.
And at a time when most of his peers sound like wheezing, asthmatic rats, Jason's voice is better than ever. Amazing how vocal cords hold up when they're exercised like an Olympic sprinter and kept clear of all the gunk that comes with beer and cigs.
Knowing it was hopeless to have him pick just one album, I nonetheless shot Jason an email and asked him to play along.

2FAST2DIE: What's your all-time favorite album and why did it make such an impact?
JASON: It's an impossible feat to name one record that changed your life, when in fact, your early years as a music fan are mostly confused until something gets under your skin. It's like an entire forest of records that chime in like spirits in a cemetery when you're walking across graves.
KISS "Alive!" and "Hotter Than Hell" blew my mind, because of how much fun they were having. And Queen's "News of the World," as well as Elton John's "Captain Fantastic" were just as effective [NOTE: The tattoo Jason has curling around his navel and up his stomach is a detail from the artwork on said Elton album]. They're all windows in time. Those songs are my family and stories that I remember.
Elton and Queen could do what KISS was doing, but they also had a more progressive writing skill. There was just something about the way they could be completely rocking one minute and then do something endearing, yet still very dark, like an old blues song about voodoo love or something. I kinda figured that out later on. When I was a young sponge, it was just all about the songs and how they made me feel — not really the actual message of the lyrics. Obviously, people that know me as a metal enthusiast should be quick to realize, the stories above are from a time when the term "heavy metal" was not really even a coined, household phrase … or a complete genre.
2FAST2DIE Says: Who can argue with early KISS and the piano slayer who gave us "Saturday Night's Alright (for Fighting)"? And Queen? Sheer rock royalty. I admit that Elton and Queen were nowhere near as important to me as KISS when I was popping zits and stealing Dad's car, but over time I've come to appreciate the genius of both. Hell, musically speaking, they're both BETTER than KISS, but of course, I usually prefer my rock-n-roll dumbed-down, punch-drunk and more than a little horny. Thanks for playing, Jase!

For all things Jason McMaster, visit his website here.