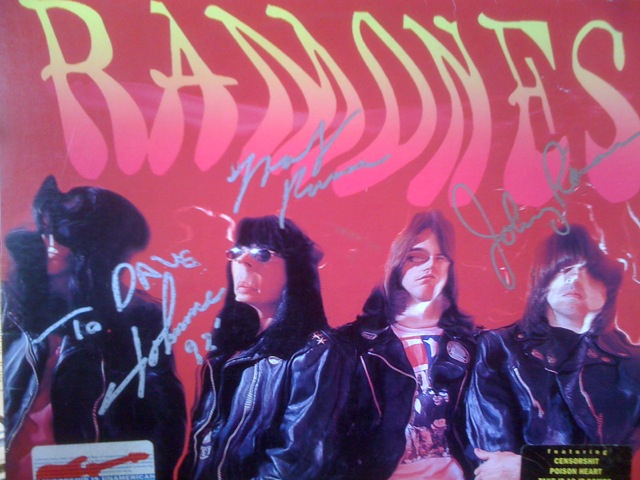 Until I got married and later became a father, the most memorable day of my life was Oct. 22, 1992. On that date, 18 years ago this week, I finally met the Ramones.
Thanks to publicist Ida Langsam (a friend forever), my all-time favorite band would be expecting me and ready to grant an interview prior to soundcheck at Palmer Auditorium in Austin, TX. All I had to do was show up, case the joint and keep a sharp eye out for four leather jackets. Determined, but still a novice stalker, I circled the mid-sized arena pinpointing every entrance, exit, loading ramp, etc. until the sight of 18-wheelers and bustling roadies helped me determine which door might be THE DOOR.
In time, a white van pulled up and out they slumped. One-by-one, dressed mostly in black (of course), my heroes, the Ramones! Today, I'm more relaxed with such encounters, but in 1992, I was 25-years-old and about to throw myself in front of Joey Ramone, the gangly punk-rock superhero who was notorious for being painfully shy. Watching him lurch to life right in front of me was as surreal as it was slow motion. Wow! There. He. Is!
Right behind Joey was Marky, who was my assigned interview for the day. As I extended an introductory handshake in the direction of Marky, I managed to momentarily stall Joey. Wow! Here. I. Am!
Soon I was in the band's dressing room with a microphone in Marky's face as he chomped peanuts and answered my questions. Being an idiot, I pulled a huge bottle of Jack Daniels from my duffle bag and presented it to Marky as a gift. At the time, I had no idea he was a recovering alcoholic who once had been kicked out of the band for being a drunk. Whoops! He politely accepted the Jack, explaining he no longer imbibed, but would happily give it to the appreciative road crew. Whatever you say, boss!
As my interview was wrapping, Joey reappeared along with Johnny. Pressing my luck a little, I asked Joey if he would "field a question." His bewildered reply? "Feel a question?" Um, anyway. Thanks for the hospitality, guys (years later, Joey called me at my day job and threatened to kick my ass if I published a tell-all interview about his childhood that he willfully granted and later wanted to retract. He called back the next day to apologize and give his blessing. That's another story, but remind me to tell it).
Next was dinner with the road crew so I made my way downstairs and passed the newest Ramone, CJ, who I didn't even recognize due to his un-Ramones-like sleeve tattoos and brown, heavy metal hair. He said hello and I did the same, but I kept moving thinking he was a roadie. After dinner, I stood side stage during soundcheck and quickly realized the "roadie" in the stairwell was CJ as I watched him flail away on bass while tackling Joey's lead vocals. Too late. Next time. (The wait was worth it when years later, CJ returned to Austin and enlisted me as his tour guide and navigator during an all-night SXSW marathon that didn't end until he dropped me off at my apartment at sunrise).
This story is already longer than every single Ramones song, so I'll end it right here. Thanks again to Ida Langsam, Monte Melnick, the Ramones (for the music and memories), SWTSU, KTSW (The Other Side of Radio) and, of course, Marc and Al for enjoying the ride! God bless Joey and Johnny Ramone. Gabba Gabba and RIP.