You're So Vain: Jesse Forte, Jacki Stone, Nicki Kin and JP White. Vains of Jenna returns to Texas this week.
The guys in Vains of Jenna made me feel like a crusty relic when they told me they grew up on Nirvana's "Nevermind." That album came out in 1991 while I was exiting college and the Vains were probably still sneaking out of their parents' houses to cruise for chicks in their native Sweden.
As with all good rock-n-rollers, however, the Vains – guitarist Nicki Kin, bassist JP White, drummer Jacki Stone, singer Jesse Forte and newcomer guitarist Joel Eliasson – have an appreciation for music that runs deeper than their collective youth. They love Nirvana, but also rave about the Stones. They're huge fans of Muse, but admit to early inspiration from Motley Crue. In concert, Vains of Jenna has been known to cover the Beatles, Tom Petty and Rancid(!). How's that for generation-jumping variety?
Perhaps not surprisingly, Vains of Jenna's latest album of cover tunes runs the gamut from Cee Lo Green's "Fuck You" to Pink Floyd's "Wish You Were Here." Titled "Reverse Tripped," the new album tips heavily toward re-Jenna-rated, cherry-picked '60s and '70s classics by Neil Young ("Hey Hey, My My"), the Zombies ("She's Not There"), Bob Dylan ("Blowin' in the Wind"), Mountain ("Mississippi Queen"), the Mamas & The Papas ("California Dreaming")along with a well-pitched curveball to the '80s with Eddy Grant ("Electric Avenue") and others.
With the "Reverse Tripped" tour bringing Vains of Jenna back through Texas and landing in Austin May 9 at Red 7 (along with New Disaster, Chronolung and Burning Avalance), I caught up with guitarist Nicki Kin (left) for a flashback trip through the music of yesteryear.

I know this is unrelated to the new album, but in order to bring your fans up to date, what happened to your second guitarist, Anton?
Anton realized he wasn't ready to give everything in to this band. He had other priorities back in Sweden so he decided to go. It was a good time having Anton in the band, though. He's a good guitar player. Now we've got a guy named Joel Eliasson who's a good friend from Sweden. He used to play in a band called Innocent Rosie who had some stuff going on in Europe. He's a good, solid rhythm player, for the most part. We've done a few shows with him so far and it feels great.
Why a covers album at this point? Wouldn't it be more ideal to introduce/showcase new singer Jesse Forte on a full-length album of original new material?
When we were ready to go back to the states after the European tour, Cleopatra/Deadline Records asked if we wanted to do a covers album. We said yes, because we weren't ready for an original album anyway and we thought it could be fun to mess around with some old classics.
BELOW: Band on the Run – Vains of Jenna with 2Fast2Die, third from right, in Austin, TX Feb. 2011.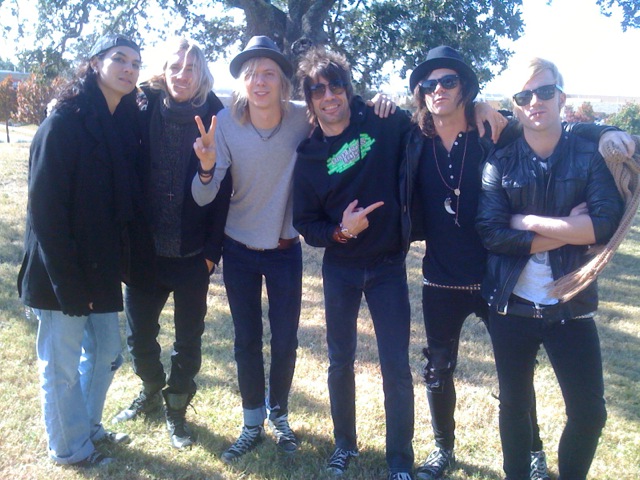 With the exception of "Forget You," all the songs on the album are from the '60s and '70s, which seems like an unlikely collection of influences for a band of your young age. Where does this appreciation for the '60s and '70s come from?
I just think the best music was made back then. The Beatles, the Stones, the Who, Zeppelin. I know people have to hear about those bands all the time, but it's for a reason: It's because they were the best and they still are. Seems like bands and artists back then could write 100 good songs, not 1 or 2. I grew up with it, because my parents listened to it, so there was no way for me to not hear it all the time, which I'm happy about now.

You sing lead vocals on the Pink Floyd cover "Wish You Were Here" and I've also seen you sing lead on Rancid's "Olympia." When original singer Lizzy Devine left the band, did you ever consider taking over lead vocals?
We had 20 dates booked in Europe at the time when Lizzy left, so I thought I would have to sing, but we found Jesse real quick. I can sing here and there, but I'm not really a singer and I'm definitely not a frontman.
Which song(s) on the album gave you a new respect for the original players?
"Goodbye Yellow Brick Road" is one of my favorites for sure, and while recording it I  really realized how good it is. Elton John is another one who's got so many good songs.
You cover Deep Purple's "Smoke on the Water," which of course is one of the most memorable rock guitar riffs of all time, yet you delete the riff completely and offer a radical rearrangement of one of rock's most immortal songs. That's pretty ballsy. Any concern or worries about taking such a radical approach to a timeless classic?
No, not really. When you write songs or in this case, re-arrange an old classic song, you do it for yourself first of all. We all love how it came out, and if anyone's got a problem with it, then don't fucking listen to it.
What covers were on the "to-do" list, but ultimately did not make the final cut?
Oh, there were a lot. I think we'd written down about 100 songs and in the end 14 of those made it. There was actually some Nirvana and Smashing Pumpkins that didn't make it.
Have any of your covered artists heard the VoJ version of their song? Any feedback?
Actually, I got a call from Elton last night. He loved it! Ha ha. No, I haven't heard anything.
When can we expect a full-length of original new material, and considering the influences discussed above, what can we expect in terms of your "sound?"
We've got about 15 new songs that me and Jesse have written. I have no idea how to explain the sound, really. It's rock-n-roll and it's good. We'll have to let the music speak for itself when it comes out. Hopefully, we'll start recording this fall after the tour is done. We're really excited about going into the studio again.
For more Vains of Jenna on 2Fast2Die, go here and here. 
For more Vains of Jenna tour dates and other info, go here.
For new Vains of Jenna music and videos, scroll below.
[youtube a-cjwC8jTe0]
[youtube QkYuW-CYXY4]
[youtube N9offruiVHg]