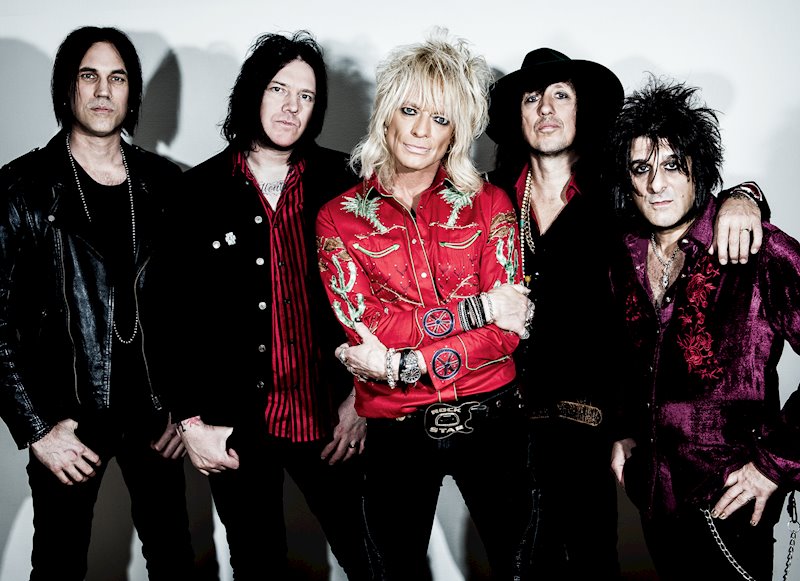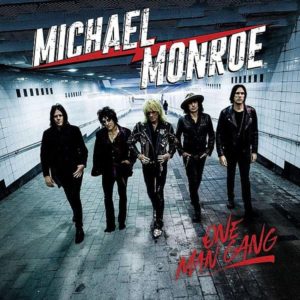 By Metal Dave
Michael Monroe knows the pitfalls of being an outsider. For all his influence, street cred and legendary swagger, the glam-rock firecracker with a punk-rock fuse remains a perennial underdog — a cult hero, a distant comet, the world's forgotten, left-for-dead boy.
Undaunted, indeed defiant, Monroe seems to relish the fight. From his immeasurable influence as the leader of seminal glam-rockers Hanoi Rocks (a band that, for better or worse, practically/accidentally ignited the 1980s hair metal scene) to a recent, three-album streak that's left critics drooling superlatives, Monroe thrives equally well in the best-kept secretive shadows (America) or rising to rule as rock royalty for those who roll out the red carpet (Japan and Europe). His career hasn't garnered worldwide superstardom, but hell, it ain't a bad place to be.
With the release of "One Man Gang" on Friday (via Silver Lining Music), Monroe and his always cracking band (take a bow Sami Yaffa, Steve Conte, Rich Jones and Karl Rockfist) aim to keep the hot streak blazing. I recently caught up with the 57-year-old Finnish native to discuss the album and so much more.
Hey, Michael, thanks for taking the time today. Are you calling from Finland?
Yes. I'm at home in the city of Turku where I live.
I've gotta tell ya, I think your last three albums are the best consecutive streak in rock-n-roll. "Sensory Overdrive," "Horns and Halos" and "Blackout States" are fantastic.
Thank you. That's great to hear. I'm not sure they've gotten the exposure they could have (in the U.S.), but I've done my best. We've got new management, new booking and a new label so we'll see how it goes.
One of my favorite songs on the new album so far is "In the Tall Grass." It's got a breezy, yet sinister vibe — especially because of your hushed vocals.
That's a (guitarist) Rich Jones song. It's got a heavy story behind it. It's basically about being a kid and suddenly the carefree summertime becomes a scary and sinister place. I don't know how much detail I can give, but basically there was a stalker in his neighborhood when he was a kid who went around terrorizing the neighborhood. Suddenly, the kids couldn't go out after dark anymore, there was a curfew and they couldn't take shortcuts. It has a sinister kind of vibe. I wanted to sing it as if I was a child and I kind of surprised myself, because I've never sung like that before. It's kind of soft. It's a new dimension for my singing. It's one my favorite songs on the album, actually. It's got a haunting kind of vibe.
Another track, "The Pitfalls of Being an Outsider," sounds like the story of your life.
(Laughs). Yeah! That's one of my favorite lyrics on the album. It's kind of a piss take on all the hip-hop songs about money and cars and champagne. The line "It ain't a long way to the bottom" is a bit of a nod to AC/DC and Bon Scott's "It's a Long Way to the Top." The theme of the song is that you better be doing this (performing) for all the right reasons, because it can all fall apart at any time. It's a bit of advice for the younger bands, too. Plus, what kid doesn't get a kick out of saying, "I don't give a 'F' if you don't like me?"
The latest single, "Last Train to Tokyo," is pure ear candy. It kind of reminds me of "Goin' Down With the Ship" off the last album in the sense that it's ridiculously catchy.
It's about Japan and how the whole country is so hectic. It's like being on a spaceship. You're so jetlagged every time you go there for such a short amount of time. Even though you're jetlagged and overwhelmed by the whole experience, it's always great going there. It's such a great, positive vibe. They're really passionate about rock-n-roll and they're really considerate and sweet and nice. We always have such a great time there no matter how tired we are. By the time you get over the jetlag, you have to fly back (laughs). That song is basically an homage to Japan.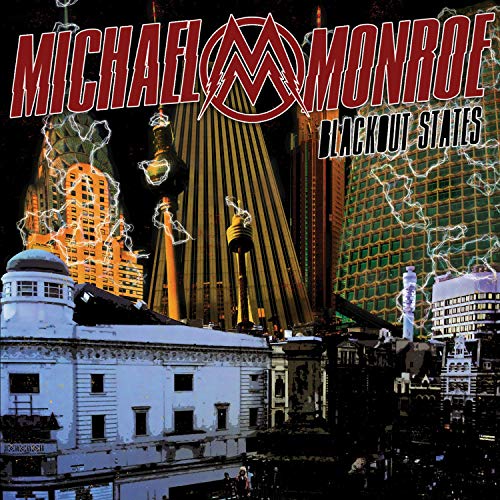 This is the second album, following "Blackout States," to feature Rich Jones alongside Steve Conte on guitars after a bit of turnover in that second guitar slot that was previously held by Ginger Wildheart and then Dregen. I know you've been with Sami for decades, but I'm getting the sense that Steve may be your secret weapon in recent years.
Well, he's a good weapon, but I'm not sure it's a secret. But, yeah, between Steve Conte and Rich Jones, I have the best guitarists going. They're both great songwriters, too. And so is Sami. Rich really stepped up on this one. I was pulling songs off the album, because he was coming up with better ones. I give everyone the freedom to write as much as possible, because I wanna get all the best ingredients out of these guys. We choose the best songs for the album regardless of who wrote them.
You've mentioned that touring the U.S. isn't financially feasible unless you were offered a tour with a major arena headliner, which got me thinking: Have your old friends in Guns N' Roses offered you anything? They're obviously fans of yours and it seems like a great pairing.
That would be a great fit, but no, they haven't offered (laughs). Of course, all the musicians in both bands say, "Yeah, we need to tour together," but once it gets to the management and booking level, they wanna know how much we draw and how much we sell and … my visibility doesn't translate to record sales. Same with Hanoi Rocks. Our fame never translated to record sales and, therefore, we became one of the best-kept secrets in rock-n-roll. It would be great to tour the world with somebody like Guns N' Roses or Foo Fighters or someone like that. Someone who's one of the biggest and also one of the coolest.
So, until something like that happens, we probably won't see you in the States?
I mean, New York, L.A., East Coast, West Coast, Boston, Philadelphia, we do
great. I love New York. I used to live there and there's an audience there for
guitar-heavy rock, but (America) is such a big country that touring clubs in
the Midwest night after night doesn't really get you anywhere. You're paying
for the tour bus and playing to a couple hundred people. You lose money. We've
done it before and it's kinda like beating your head against the wall. We love
America and we'd love to do it. Hopefully one day we'll get a break.
Your 1994 "Demolition 23" album is one of rock's greatest buried treasures. Is there any chance of it being reissued?
That's up to Little Steven (Van Zandt). Me and Steven own the record and I've been telling him we need to put it out, because it's been out of print for so long. We've been talking about it for years. Steven hasn't had the time for it. I've got the artwork and everything. I'm, like, "Let's go!" We've been talking about it for years and it just hasn't happened yet. Steven agrees it's one of the greatest records so hopefully, someday, we'll get it out.
What's the significance of the "23" in the name Demolition 23?
(Bassist) Sami Yaffa came up with the name. It comes from a William Burroughs
book. I think it's called "Exterminator!" or something like that? There was a
chapter about an insane asylum where these people could burn you with their
eyes. Demolition 23 was the name of some sort of plan. I'm not sure of all the
details. Sami came up with it.
You're often cited as a major Influence on the hair metal scene of the 1980s, but in my opinion, you have more in common with punk rockers like Iggy Pop and your old friend Stiv Bators. Does the hair band connection bother you or do you welcome the recognition?
Well, it's always nice to be recognized (laughs). I guess it bothers me that most of those bands missed the point. They were more into their hair and partying than they were the music. The music and the attitude were always more important to me. Anybody can party and pose and act like an idiot. A lot of those bands sold millions of records, but they acted like morons and gave real rockers a bad name. It's almost embarrassing that people might think I would be like that. I've never been with a groupie my whole life. I've just never been into that whole scene. I guess growing up in Finland gave me a different mentality. I've just never been into that pretentious, phony rock-n-roll. I think it's a crime that phony rock-n-roll sells millions of records and people think it's real rock-n-roll.
You're forever linked to Motley Crue because of the car crash that killed Hanoi Rocks drummer, Razzle. Were you close to the Motley Crue guys at that time or was it more of a tragic coincidence?
I never really knew them that well. I never even met the whole band. I met the drummer and the bass player in London once and we hung out at (Hanoi Rocks guitarist) Andy's place one night. They seemed like cool guys. Razzle was hanging out with the singer, but they didn't really know each other that well either. My world and everyone's lives were shattered (following the crash). Everything just went to bits. We didn't know each other that well, and musically, I wasn't really into their style of music. It's not a pleasant subject.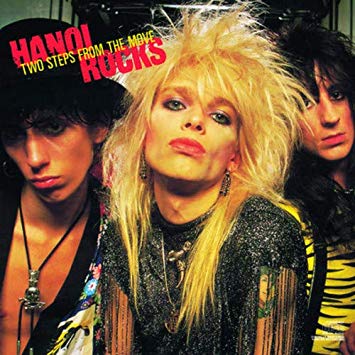 What is your fondest memory or proudest moment with Hanoi Rocks?
"Two Steps from the Move" was the best record. It's the first album I could listen to without skipping a song. Bob Ezrin produced it and we planned to continue (working) with him on the next album, but that never happened. That was one of the best times. Things were only getting better. Another memorable time was the Reading Festival in 1983 in England. People were throwing stuff on stage – stones, mud, toilet paper rolls, piss bottles. They'd fill these one-and-a-half liter bottles with piss and throw them onstage (laughs). We played the whole show all the way to the end. We had our own fans to a point, but the rest of the audience hated us (laughs). I think you can find it online. There's a scene in "Don't You Ever Leave Me" where Andy's playing a guitar solo and this big bottle hits him on the side of his neck. He loses his balance a little bit, but his facial expression doesn't change a bit. It's so cool. It's, like, "Wow! Look at that! He really doesn't give a shit!"
What's your current relationship with Andy? Any chance of a tour or album somewhere in the future?
No. We had the rebirth of Hanoi in the early 2000s and we made three records between 2002 and 2009. We would've continued if it would've been fun, but it got to a point where it wasn't and I just kinda said, "Let's face it. This isn't fun anymore. Let's just put the band to rest with its integrity intact and call it a day." We did a few farewell tours and that was it. The main thing to me is that the band's integrity is still intact. Me and Sami and (guitarist) Nasty (Suicide) always had a bond, but with Andy it was always more of a working relationship. It's not like we hang out as friends.
What do you miss or remember most about your late friend, Stiv Bators?
Ah, Stiv Bators. He was one of the dearest and most important friends I've ever had. I was always a big fan of his and when I got to know him, we became the best of friends. I miss him dearly and was privileged to have known him. He's one of the most important people in rock, in my opinion. He's totally underrated and should have been way more famous than he was. He had a heart of gold and was one of the smartest guys. He was almost too smart for his own good sometimes (laughs). He had all these theories about government secrets and conspiracies. We'd sit up all night talking. He was also very spiritual and aware. He was one of the greatest people ever and I was lucky to have the pleasure and privilege to have known him.
Thanks for sharing so much today, Michael. Congrats on another great album and, with any luck, we'll see you on tour in the States at some point.
Bless you. Great talking to you. Take care.
For tour dates, news and merch, visit michaelmonroe.com
Andy McCoy taking the piss at '83 Reading Festival: