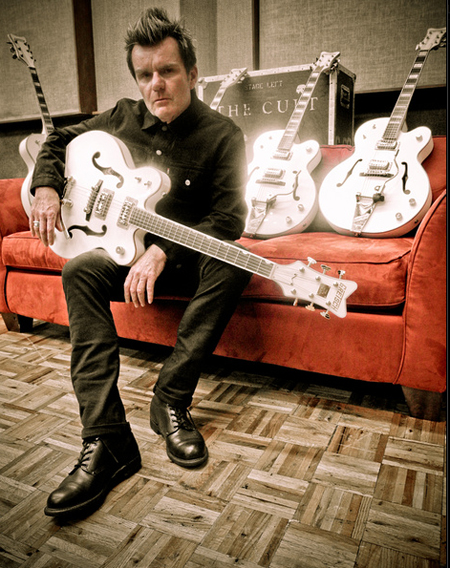 NOTE: The Cult makes its 2012 concert debut at SXSW in Austin next week. Two of the three shows are free to the public. Info below. The band is promoting its upcoming new album, "Choice of Weapon," due May 22.
By Metal Dave
For a band that rose to prominence in the heyday of poodle-boy glam, the Cult escaped the '80s with only a hint of hairspray. More importantly (by a longshot), the Cult left behind decade-defying songs that still sound vital and fresh despite their bubblegum birthdates.
While the Cult seemed better poised than, say, Poison to survive the dressed-down drizzle of the 1990s, the band couldn't muster another string of albums to match the success of the previous decade's "Love," "Electric" and million-selling "Sonic Temple." Creative tension and personality clashes didn't offer much help.
By 2001, the Cult was reconciled, re-energized and ready to release what should have been a massive comeback album called "Beyond Good and Evil." The band's label failed to promote it, allowing what is arguably one of the Cult's better albums to slip through the cracks.
Before the fumble, I interviewed guitarist Billy Duffy on behalf of KNAC.com. Following are excerpts from our 2001 chat.
On the Cult's unique sound
Yeah, a lot of the new bands are talking a different language. I think their frame of reference is different than what we grew up listening to. I think that's reflected in their music and I think that's natural. Our album ("Beyond Good and Evil") delivers what I think we do best, but I do want to say that it doesn't sound dated. It doesn't sound like the '80s. If the best we could do was make an album that sounds like (the '80s), then we're wasting our time. ("Beyond Good and Evil") is real rock music played by people who are aware of what's going on around them, musically. I think that's one of the things that makes the Cult unique. We have the ability on the one hand to play gigs with Lenny Kravitz or Aerosmith or on the other hand Blink-182, Staind or Green Day. We're a punk band that learned how to play.
Diversity has always been a key component to the Cult's sound
Yeah. To use the simplest analogy, we play rock music with a punk sensibility. My punk credibility goes back to the '70s and it's as good as anybody else's. I know what I'm talking about. I was there. I saw the Sex Pistols before Sid Vicious joined. I saw them in '76 when I was 15, so … I'm dating myself (laughs).
In many ways, the Cult introduced the world to an unknown Guns N' Roses when you picked them as your opening act for the 1987 "Electric" tour. How much hell-raising ensued?
Great question! I remember (a gig in) San Antonio because Ian nearly got arrested for swearing on stage. He had to climb out of the dressing room window with a baseball cap on. He climbed down a drainpipe, got on the GN'R bus and pretended to be one of their road crew. The tour was great. Ian spots bands early. He said to me, "There's this band, they're really great and we should take them out as an opening act 'cause they're amazing. They're a real rock'n'roll band from America called Guns N'Roses. They were playing the Marquee club in London and it was sold out. I couldn't get in. I thought, "Oh, there must be a little bit of a buzz on this band, ya know?" So we took them out on the road in America and it was great. We partied a lot. We had somewhat of a reputation at that time for, uh, shenanigans. We had a good couple of months on the road and, basically, the friendships are still there.

The image of you on the cover of "Sonic Temple" just screams rock'n'roll. How did that come about and how did you get top billing over Ian on the album cover?
Ahh…OK, that's a really good question. The whole intention once we'd done the album was to find an icon. We were looking at images of Pete Townshend on some of the Who artwork. We just wanted a shape or a silhouette that said, "Rock!" And what's more symbolic of rock music than the guitar? You look at the Who and Zeppelin and Purple and all those bands from the '70s and it's all about the guitar riff. To me, that's the essence of rock. It really wasn't an ego thing for me. On the contrary, if you knew me, it was the last thing I wanted to do, but it just ended up looking really good. I guess it's defiant. I guess it's proud. We actually tried taking some shots of Ian and there was always the typical record company compromise, like, "Well, why don't we put both of you on the front?" We ended up with Ian in the background.
Well it's a great album cover. It screams, "Rock'N'Roll!"
Yeah, well, we're still screaming! (laughs)
To read my recent March 2012 interview with Cult singer Ian Astbury, go here

SXSW: The Cult plays three gigs during SXSW: March 16 at Waterloo Records (6 p.m./free to the public); March 16 at Klub Krucial (midnight/badges only); and March 17 at Auditorium Shores (8 p.m./free to the public.).
To hear one of the best Cult songs you may have never heard, click below for "Rise" from the "Beyond Good and Evil" album