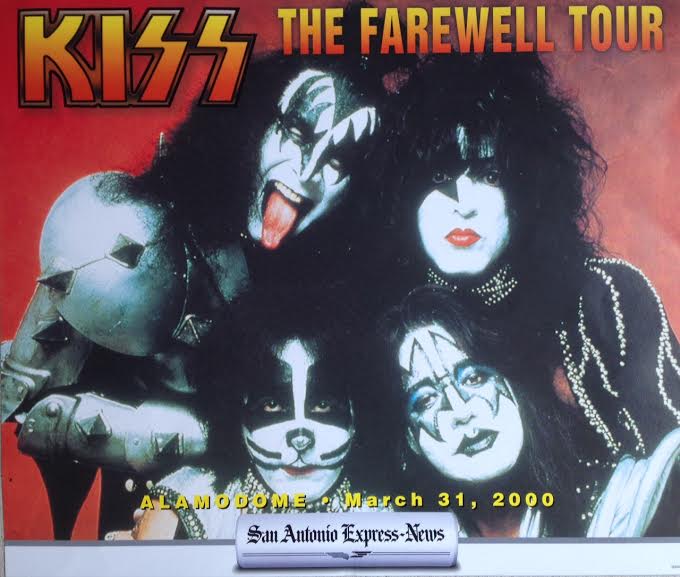 By Metal Dave
(The following is dedicated with love to my Nana and Aunt Linda who bought me more KISS merch than my parents could stand)
In March of 2000, I had one foot out the door when the phone rang.
As part of the ongoing KISS farewell tour, I requested an interview with Gene Simmons on behalf of the San Antonio Express-News, but was told my childhood hero wasn't scheduling press. Instead, I was told, he would carry my phone number with him and (maybe) call if and when the mood struck. Naturally, I jumped every time the damn phone rang.
As my landline reached its third or fourth ring, I slammed the door behind me and ran back inside to answer. Hello? "Hi, it's Gene Simmons calling for Dave." Gene! "Is this a good time?" Never better. Thanks for calling.
And so goes my first of five interviews with KISS, the band that turned my world upside down.
KISS 'EM GOODBYE
By David Glessner
Special to the Express-News
March 31, 2000
Since joining forces in the early '70s, the four painted faces of Kiss have become more widely recognized than the faces of Mount Rushmore.
Boasting album sales of more than 80 million and a succession of gold and platinum awards second only to the Beatles, Kiss is as globally recognized as McDonald's, Nike and Budweiser. So why pucker up and bid farewell at the Alamodome tonight?
"We've accomplished everything a band could hope to do," said bassist Gene Simmons during a surprise phone call. "It's time to hang up the platform heels and go out with some dignity. And if we're going to stop, we've got to say thank you to the bosses – the fans. Kiss will continue in other ways. Everybody's got a lot of projects, but we're trying not to talk about them now, because we don't want to dilute what we're doing at the moment."
A childhood hero to millions, Simmons is the eternal king of the rock-star hierarchy. About the time Marilyn Manson quit spitting up on his mommy, Simmons became universally notorious as a leering, oversexed Antichrist who spit blood and fire between lashes of his world-famous tongue.
"The stage is a holy place," Simmons said. "The stage is for the stars and the stars better be bright. Rock 'n' roll is in a sad place right now because Seattle killed it. Why get on stage looking like the pizza delivery guy when you can dress up to go to the party?"
Kiss' party began humbly enough in New York under the moniker Wicked Lester. By 1973, bassist/vocalist Simmons and guitarist/vocalist Paul Stanley had recruited lead guitarist Paul "Ace" Frehley and drummer Peter Criss. Performing in makeup and androgynous costumes, Kiss was critically panned and publicly laughed at, but starry-eyed enough to keep chasing the dream.
"We've always been the quintessential American band, critics be damned," Simmons said. "The critics tell you frog legs are cuisine, but I'd rather have a good, juicy Whopper. Kiss has always been out of fashion. We're out of fashion now, we were out of fashion yesterday and we'll be out of fashion tomorrow."
After ruling music in the '70s, Kiss found itself without Criss and Frehley by the early '80s. Drugs and booze had consumed the drummer and guitarist, and the substance-free Stanley and Simmons bounced them out of the band. With drummer Eric Carr (who died tragically of cancer in 1991) and guitarist Vinnie Vincent added to the lineup, Kiss publicly unmasked for the first time ever and started a makeup/costume-free second career phase with the 1983 release, "Lick it Up."
"It was very strange," Simmons said, regarding the no-makeup adjustment. "We were going through a period of self-analysis. We were asking ourselves if makeup and bombs was all we were. We probably should have left it alone. It's like Clark Kent and Superman. Both are just as strong as the other, but let's face it, Superman is cooler."
Kiss managed to do big business in the '80s, but the mystique and hard-core fans were gone – until a clean and sober Frehley and Criss agreed to a full-blown, dust-off-the-costumes, put-on-the-makeup reunion tour that became the highest-grossing tour of 1996-97. Considering the band's immeasurable riches, you'd think a makeup artist would be on staff.
"We (applied the makeup) the first time and we'll do it the last time," Simmons said. "I once put it on in under an hour, but we usually close the doors, take our time, talk about what's going on. Incidentally, that last time will be a heart-wrenching experience."
Kiss' Farewell Tour
Where: Alamodome, Interstate 37 downtown When: 7 tonight For openers: Ted Nugent, Skid Row Tickets: $35-$50
KISS DISCS
Kiss has its share of latter-day stinkers, but the classics are mandatory.
"Kiss" (1974): Released without fanfare, this album introduced the world to the Fearsome Faces. Contains staples such as "Strutter," "Firehouse," "Cold Gin," and "Black Diamond."
"Dressed to Kill" (1975): The cover features the band out of costume and dressed in suits. The music is all business, too. Contains the classics "Rock Bottom," "C'mon and Love Me," "She" and "Rock and Roll All Nite," but is also recommended for sleepers such as "Room Service," "Love Her All I Can" and "Getaway."
"Alive!" (1975): The one that burst the dam, saved Casablanca Records from bankruptcy and made the shouted "You wanted the best …" intro as immortal as "Freebird." A life-altering album for future rock stars Kirk Hammett, Sebastian Bach, Dimebag Darrell and others too numerous to mention, this double live package of eye and ear candy is widely regarded as one of the greatest live albums of all time.
"Destroyer" (1976): Considered Kiss' greatest studio album, this monster featured Ken Kelly's apocalyptic artwork and Kiss' biggest hit, "Beth." Add "Detroit Rock City," "King of the Night Time World," "God of Thunder" and "Shout it Out Loud," and "Destroyer" is to heavy metal what the swimsuit issue is to Sports Illustrated. (Side note: the first album I ever bought with my own money.)

"Rock and Roll Over" (1976): "Destroyer" will never be topped, but this potent shot was a top-shelf chaser. Contains "Calling Dr. Love," "Ladies Room," "Hard Luck Woman" and the overlooked killer, "Makin' Love."

"Love Gun" (1977): Another amazing Ken Kelly painting finds our mighty heroes surrounded by a bevy of Vampira-like babes. Inside, Kiss cranks out the classic title track, "Christine Sixteen," and "Shock Me." The sleepers, "Got Love for Sale," "Plaster Caster" and "I Stole Your Love," are full-on headbangers.
"Alive II" (1977): The second eye-popping, double-live package is a rock-solid collection of revved-up classics that found the marketing machine going full-tilt with inserts that included a color photo booklet and temporary tattoos. The gatefold sleeve features Kiss in all its blazing, on-stage glory.
"Dynasty" (1979): A left turn for Kiss as it made concessions to the disco era. Still a rocker at heart, this one contained the hit "I Was Made for Lovin' You" along with "Charisma," "Sure Know Something" and "Hard Times." Cover photo and inserted poster are Kiss classics.
"Creatures of the Night" (1982): The last album and tour with makeup (it stopped at the HemisFair Arena with the Plasmatics replacing Riot as openers … my first concert!), "Creatures" marked a return to the band's more sinister looking, harder-rocking roots. The title track, "I Love it Loud," "Killer," "War Machine" and "I Still Love You" brought long-time turncoats back to the Kiss Army.
Kiss-tory quiz
Kiss die-hards pride themselves on knowing the most obscure facts. See how you fare (answers follow questions).
Peter Criss is best known for singing the ballad "Beth," but he was a prolific lead vocalist throughout his tenure with Kiss. Of the 10 songs he's sung, name his two lead vocals on the "Hotter than Hell" album.

Whose kids are speaking on walkie-talkies at the beginning of "God of Thunder"?
Kiss current road manager is Tommy Thayer. What '80s hair band did he play guitar in?
What Motor City rock star contributed backup vocals to "Radioactive" and "Living in Sin" on Gene's 1978 solo album?
Two of the guest musicians on Ace's solo album are now part of Paul Schaffer's CBS orchestra ("Late Show" with David Letterman). Name them and their instruments.
Who originally wrote "2,000 Man" from Kiss' "Dynasty"?
One Kiss album was released with two different covers featuring two different guitarists, neither of whom contributed to the record. What was the album and who was the actual guitarist?
Who is the unlikely pop star that helped Gene write "War Machine"?
What superstar rock band is Gene credited with discovering?
Name the guitarist on "Animalize."
Answers 1. "Mainline" and "Strange Ways." 2. Producer Bob Ezrin's 3. Black-n-Blue 4. Bob Seger 5. Drummer Anton Fig and bassist Will Lee 6. Mick Jagger/Keith Richards. 7. "Creatures of the Night" w/"invisible" guitarist Vinnie Vincent 8. Bryan Adams 9. Van Halen 10. Mark St. John