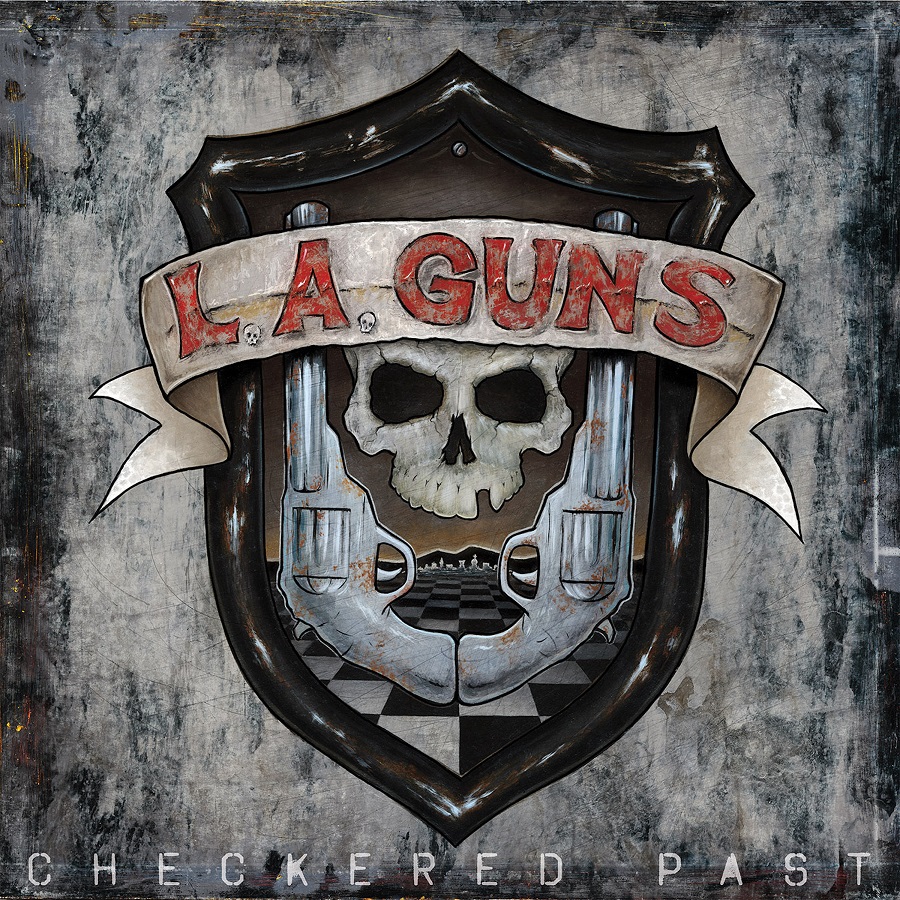 By Metal Dave
Originally published Nov. 8, 2021
Good luck finding a vintage hard-rock band with more latter-day firepower than L.A. Guns. Actually, scratch "vintage" as such a time-stamped qualifier is a needless crutch for a band standing firm as a wall.
Reloaded to deadly effect since the 2017 reunion of singer Phil Lewis and guitarist Tracii Guns, L.A. Guns is back with new album "Checkered Past," continuing a prolific – and top-notch – streak started with 2017's "The Missing Peace" and reaffirmed with 2019's "The Devil You Know." Three great studio albums (plus two live releases and an Xmas EP) in less than five years? Maybe these guys really are vampires.
Opening with the shattering blast of "Cannonball," Capt. Lewis sings a seafaring tale of going down with the ship as pummeling drums and bass let all comers know it's unwise to bring a knife to a Guns fight. What a delight to have your head blown off right from the very first track!
Other hinge crackers include the slinky, Cult-like guitar riff and hard-driving build of "Living Right Now;" the AC/DC-style menace of "Knock Me Down;" the Aero-boogie of "That Ain't Why" and the punky attack of "Dog." Woof! Through it all, Lewis sounds as youthful and fresh as he did in '88.
As for (criminally underrated) Guns, he's always shown an appreciation for Randy Rhoads, but it's more evident than ever over these last three albums (see 2017's "Sticky Fingers" and 2019's "Stay Away"). In 2021, "Better Than You" is his nod to the trademark chug-and-squeal of Saint Rhoads. Yeah, Lynch and DeMartini get all the '80s guitar-hero glory, but Guns gets my money. Every. Single. Time.
In the hands of lesser bands, slower songs often translate to candy-ass ballads, but L.A. Guns has a knack for something darker and more atmospherically chilling (again, see 2017's "Christine" and "The Flood's the Fault of the Rain" or 2019's "Another Season in Hell"). The soaring drama of "If It's Over Now" is as good a song as L.A. Guns has ever recorded. Ditto and then some for "Let You Down." Both are haunting to the bone and, at any given moment, the highlights of "Checkered Past."
Also slower, but a bit more breezy, is "Get Along," an acoustic-based, harmonica-flavored campfire number that's more reflective and hopeful in its take-life-as-it-comes sentiment.
If pressed to name the album's weaker moments, "Bad Luck Charm" and "Physical Itch" get the call. The former is a bit too sing-songy, but scores points with its eerie, Maiden-esque guitar solo/breakdown; the latter continues the plodding Black Sabbath worship heard on 2019's title track, "The Devil You Know," which is hardly a bad thing (of course!), but perhaps left-of-center for fans who gravitate toward "Never Enough" and "Sex Action."
Obviously, Lewis and Guns are the big shots of L.A. Guns, but after three great albums, bassist Johnny Martin has earned his honorable mention. As a player and performer, Martin is the resident Ramone complete with bowl-cut bangs and neck-snapping energy. As a songwriter, he's been a steady contributor, which says a lot about the confidence entrusted in him.
As for the rest of the band, "Checkered Past" features second guitarist Ace Von Johnson (who was pictured on the "The Devil You Know," but joined after the recording sessions) and former L.A. Guns bassist Adam Hamilton on drums filling in for full-time drummer Scot Coogan who was temporarily sidelined due to Covid logistics (and has since been replaced — at least temporarily — by returning drummer Shane Fitzgibbon).
How these guys remain so impressively consistent is a secret their peers would love to uncover. As with the previous two records, "Checkered Past" rivals L.A. Guns' classic albums and proves the band is still packing heat.
Overall Rating: 9/10