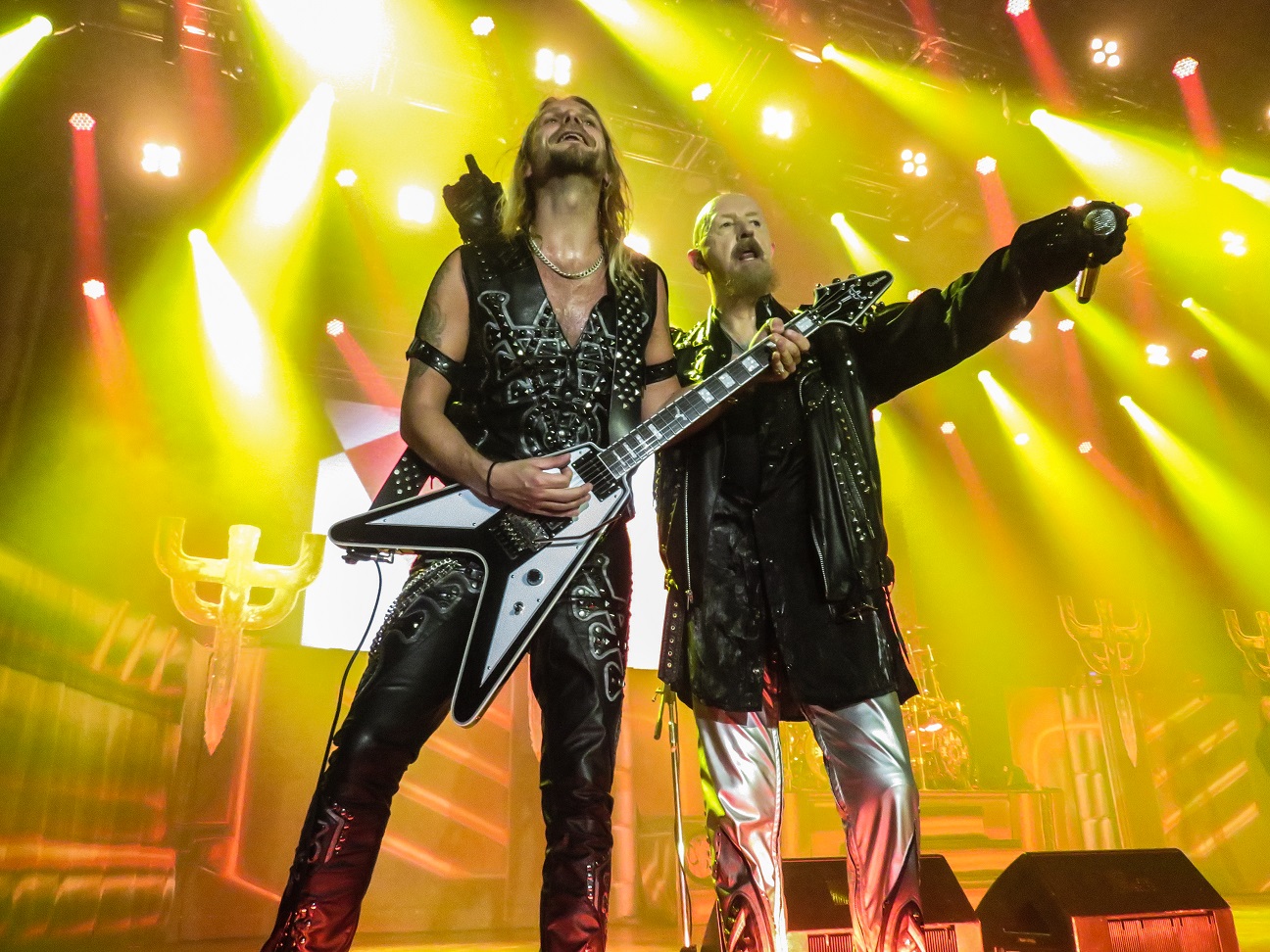 By Metal Dave
Does this town know how to rock? If the town in question is San Antonio, you can bet your denim and leather.
Proudly known as the Heavy Metal Capital of the World — especially during the late-1970s through the 1980s — San Antonio has a long and storied love affair with hard and heavy music. Just ask Iron Maiden, Rush, Scorpions and countless other world-renowned metal bands that got their American break in Alamo City.
No surprise whatsoever that two of the city's all-time favorites — elite metal titans Judas Priest and Saxon — received a roaring, gladiator's welcome Tuesday at San Antonio's sold-out Freeman Coliseum. As was rightfully noted several times from the stage, the night would offer another chapter of heavy metal memories past, present and future.
First to hold court on this bill of rock royalty was former Thin Lizzy guitar god Scott Gorham who led his Black Star Riders — rounded out by singer/guitarist Ricky Warwick (The Almighty), guitarist Damon Johnson (Brother Cane/Alice Cooper), bassist Robbie Crane (Ratt/Vince Neil) and drummer Chad Szeliga (Breaking Benjamin/Black Label Society) — through a set of tracks from their three albums, plus a cutthroat cover of Thin Lizzy's "Jailbreak." All told, the band was a solid blend of tough-guy rock-n-roll sharing pints with Thin Lizzy's swagger. Yeah, that's a good thing. Go buy their albums.
Next up was Saxon whose heavy touring in recent years has turned the British metal legends into a well-oiled tank. Fronted by singer Biff Byford and driven by the propulsive churn of bionic drummer Nigel Glockler (is this man really 65?), Saxon is promoting its enthusiastically-received 22nd album, "Thunderbolt," which offered a few new songs, including the title track, "The Secret of Flight" (a personal fave) and the Motorhead tribute, "They Played Rock and Roll." The classics were plenty — "Power & the Glory," "Dallas 1 P.M.," "Motorcycle Man," "20,000 Feet (with producer, friend and current Priest guitarist Andy Sneap on guest Flying V)," "Crusader," "Wheels of Steel," "This Town Rocks" "Princess of the Night" and "Denim and Leather" — as the band strong-armed every last decibel out of its allotted time.
Founding guitarist Paul Quinn and his counterpart Doug Scarratt kept the soloes sharp and slicing while bassist Nibbs Carter made Angus Young look stiff and hamstrung as he spun his hair like a hyper-speed windmill. On record and on stage, Saxon still swings the hammer like conquering warriors.
And then came the call for the Priest. Perhaps San Antonio's most-loved metal band (the Priest vs. Maiden arguments between high school stoners remain the stuff of legend), Britain's Judas Priest is soldiering through a tour that is somewhat bittersweet as they promote their wildly successful album, "Firepower," while reluctantly conceding to the departure of original, fan-favorite lead guitarist Glenn Tipton who, at 70, is battling the onset of Parkinson's Disease. In his place is the aforementioned prolific metal producer extraordinaire, Andy Sneap (Saxon, Accept, Kreator and more). Sneap, alongside co-guitarist Richie Faulkner (who himself, replaced longtime, fan-favorite guitarist K.K. Downing nearly seven years ago) brought renewed, youthful vigor to the overall Priest performance. Faulkner, in particular, spent the night moving like a shark to chum and damn near stole the show with a mind-bending guitar solo during the 1977 deep cut, "Sinner." Holy Judas Priest!
Front and center, of course, was legendary 66-year-old, shaved-skull singer Rob Halford who proved still capable of screaming like an eagle. Having seen Priest numerous times on recent tours (and many in the past), I dare say Halford's impossible wail has somehow improved in recent years as he led Priest through the expected staples while also dusting off such long-buried gems as "Bloodstone" (a personal fave), "Some Heads Are Gonna Roll," the never-before-played-on-tour "Saints in Hell," "Running Wild" and a blistering "Tyrant." Whoa! Truly impressive. Slayer and Metallica would be quick to agree.
From a catalog that offers more diamonds than rust, Priest fueled the fever with "Grinder," "The Ripper," "Electric Eye," "Turbo Lover," "Painkiller," "You've Got Another Thing Coming" and the Harley-driven "Hellbent for Leather." The brand-new "Firepower" tracks were fully worthy and included the title song, "Lightning Strike" (amazing) and "Evil Never Dies" (also amazing). Throughout, original bassist Ian Hill swung his axe like a lumberjack while drummer Scott Travis went storming on a one-man stampede.
As if the night's ironclad triple bill needed another stud in its fist, an unannounced Glenn Tipton walked on stage in time for the closing trifecta of "Metal Gods," "Breaking the Law" and the aptly-titled "Living After Midnight" (which had arena staff triple-checking their watches and reaching for the brooms). It must be said that Tipton looked painfully frail, but as he's done in select cities throughout the tour, he rose to the occasion to greet his fans — and nowhere was that gesture more appreciated than in Priest-crazy San Antonio on the last night of the tour. If this turns out to be the final bow for one of metal's greatest guitarists, we humbly say thank you, Glenn, for all the music and memories. We wish you well, good sir.
So, yeah, if it sounds like the gig exceeded expectations, well, that's because it did. And, as Halford alluded to toward the end of the night, somewhere beyond the realms of death, Joe "The Godfather" Anthony was surely beaming on his heavy metal faithful.